What is the secret behind having shiny skin? Face toner is a weapon for you! All the last traces are deep cleansed by a toner to make your skin healthier and hydrated. You will see a remarkable change after the use of it in your daily routine.
There's more, though! Toner also helps to moisturize and soothe your skin, which is like to giving it a huge drink of water. By doing this, you may maintain the fresh-out-of-the-spa appearance of your skin. However, if you want to be the hero of your skincare tale, include face toners in your skincare routine every day and watch your skin evolve into something spectacular!
Different Face Toners For Your Skincare
Everyone's skin is unique, so it's important to choose a toner that suits your specific skin type and concerns. These are a few of the best toners for your skin that you must give a try:
Thayers Witch Hazel Face Toners
Who wouldn't love to keep their skin refreshing and smooth with no amount of dirt on it, Thayers Witch Hazel Toner hydrates your skin to the best without over-drying it and causes no itching. Tightening the pores has now become easier for people. You can order Thayers hazel toner and get rid of inflammation and pores right away. This toner is manufactured with witch hazel extract that leaves your skin feeling soft and supple.
People with dry and sensitive skin can trust this toner because it provides a gentle exfoliation that removes dead skin and impurities from the skin and also helps to soothe and calm the skin. Aloe vera is a great hydrating source that doesn't have any side effects and the best part about this toner is that it is enriched with aloe vera in it. If you're looking for a toner that is gentle, natural, and effective, Thayers Witch Hazel Toner is worth a try!
Paula's Choice Skin Perfecting 2% BHA Liquid Exfoliant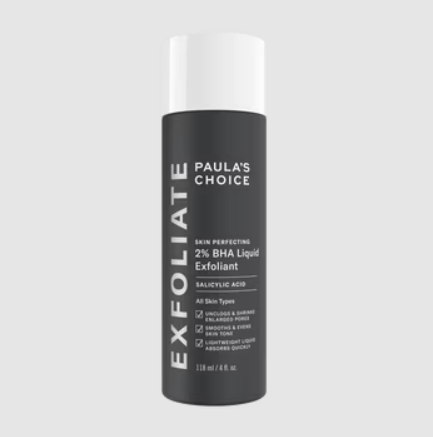 Like a miracle elixir for your skin, Paula's Choice Skin Perfecting 2% BHA Liquid Exfoliant works wonders! It is a strong exfoliating toner made with salicylic acid, which works to open up pores and gently scrub away dead skin cells to reveal skin that is lighter, smoother, and more even in tone. It helps to lessen the appearance of blackheads, whiteheads, and blemishes, which is especially helpful for people with acne-prone or oily skin.
Green tea extract, which enhances the formula's antioxidant content and helps to shield the skin from environmental stresses, is also added. Paula's Choice Skin Perfecting 2% BHA Liquid Exfoliant is certainly worth it to try if you want clear, vibrant, and healthy-looking skin.
Klairs Supple Preparation Face Toners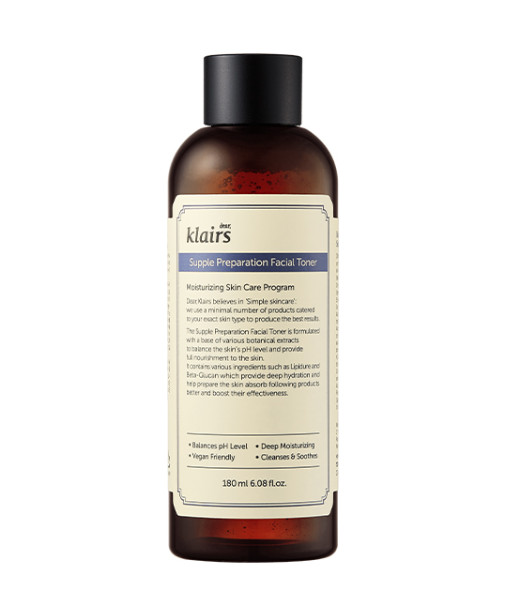 Klairs supple toner is popular for its hydrating properties. It has a softening and moisturizing effect on your skin and fully moisturizes it. It contains botanical extracts and easing ingredients such as Centella Asiatica, hyaluronic acid, and aloe vera. Because of the moisturizing boost it provides to your skin, you feel soft and refreshed. And don't forget about hyaluronic acid, which provides an extra dose of hydration, plumping up the face and leaving it looking fresh and healthy.
Pixi Glow Tonic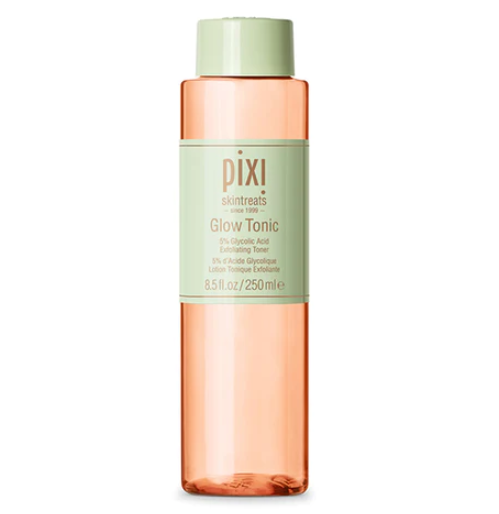 Want a flawless glow on your skin with only one product and no hard and fast rules? Pixi Glow will save your life! This toner contains glycolic acid, which tends to get rid of dead skin cells, making it a must-have. This toner is loved by all the beauty enthusiasts around the world, and for good reason.
Pixi Shine transforms your skin brighter and smoother. It also has aloe vera and ginseng in it, which help to soothe and moisturize the skin. Pixi Glow Tonic is appropriate for all skin types, but it is especially excellent for people who have dull, uneven, or acne-prone skin.
Fresh Rose Deep Hydration Face Toners
Looking for a facial toner that gives your skin a hydrating and relaxing effect? Say less, there is none other better than the 'Fresh Deep Hydration Facial Toner' for you! It's the best option if you're looking for something that contains organic components, which assists my other statement. The toner contains hyaluronic acid, rosewater, and real rose petals that give a calm, hydrated effect as well as balance the skin. The hyaluronic acid moisturizes the skin and makes it look fresh and full.
This toner is particularly recommended for individuals with dry and sensitive skin. The avoidance of parabens, sulfates, and phthalates makes this toner milder and more of a natural product, which, of course, is what you all should go for. Overall, Fresh Rose Deep Hydration Facial Toner is an ideal product for all those who desire skin that is hydrated, healthy, and beautiful.
Homemade Face Toner
Most people prefer organic products, and creating your face toners at home may be a fun and inexpensive way to personalize your skincare regimen. Here's a quick and easy face toner recipe:
Instructions
Take a bottle or a jar, add witch hazel, and into the distilled water.
You can also add apple cider vinegar to the mixture. It is good for the bacterial purpose.
Optionally, you can add a few drops of any essential oil for added fragrance or skincare benefits.
To make sure all the components are fully combined, securely shut the container or jar. Your homemade facial toner is now ready to use!
Conclusion
Toner plays a big role in any skincare routine. Your Skin's pH level is balanced with the everyday use of it. All the impurities left on your skin after cleansing, such as oil, dirt, or makeup, are removed thoroughly. You are all prepared to put on other skincare products, such as moisturizers and different serums.
If you have acne-prone skin and your face gets extra oily every other hour, toner is a secret weapon for you. It helps to control excess oil and enhance the overall texture of your skin. So, if you want to achieve healthy, radiant, and beautiful-looking skin, consider adding a toner to your daily skincare routine.