The cherry blossom season is a truly fascinating time of the year that people all over the world eagerly await. When the delicate pink blooms grace the trees, they bring a feeling of renewal and glamour that deeply touches our emotions and creativity.
Among the most popular forms to hug the essence of cherry blossoms is through perfumery. The soft, floral aroma of cherry blossoms has been a cherished element of perfumes and various fragrances for a considerable time, and with good reason. Cherry blossom perfumes provide an ideal means to capture the very spirit of this gorgeous flower and keep it with you, wherever you may roam, all without the overt sweetness of a purely cherry-centric smell.
Today, there are various perfumes accessible, incorporating a more mature understanding of the timeless fragrances we have all cherished. Should you be seeking to introduce a new, floral-scented fragrance into your collection, continue reading to uncover the best-selling fragrances of cherry blossom that perfectly resonate with you and your scent taste.
Best Cherry Blossom Perfumes: Our Top Picks
Let me walk you through some of our top picks of cherry blossom perfumes that suit various styles and personalities.
Escada Cherry In Japan
Engage yourself in the radiant essence of Escada Cherry In Japan. This fragrance opens with a sparkling accord of cherries, paired with the natural allure of jasmine petals that gracefully combine into an addictive base of Tonka. It's a sublime cherry blossom fragrance that stands as a timeless masterpiece.
L'Occitane Cherry Blossom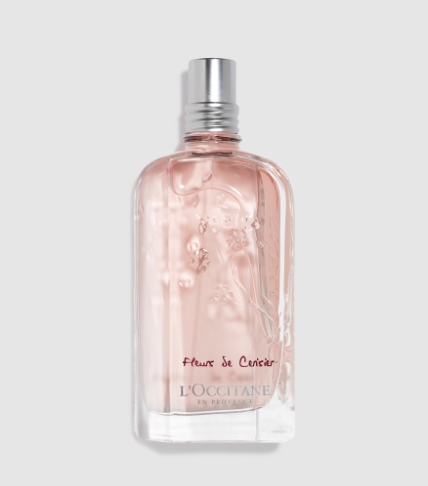 Transport your senses to the picturesque hillsides of southern France with L'Occitane Cherry Blossom. This floral and fruity Eau de Toilette unveils the delicate and fresh aroma of cherry trees in full bloom.
Crafted with a cherry extract from the Luberon region of Provence, it indulges you with notes of freesia, cherry, and lily of the valley, underscored by a base of amber and musk that lingers beautifully.
The Body Shop Japanese Cherry Blossom
Imagine the delicate, silky-soft pink petals of the Japanese cherry blossom, known for its ability to transform landscapes. Capturing the essence of spring, The Body Shop presents the Japanese Cherry Blossom fragrance and body care range.
Envelop yourself in the allure of cherry blossom, sweet magnolia, and hinoki wood with a spritz of Japanese Cherry Blossom Fragrance Mist—a slice of cherry blossom bliss all year long.
Calvin Klein's Endless Euphoria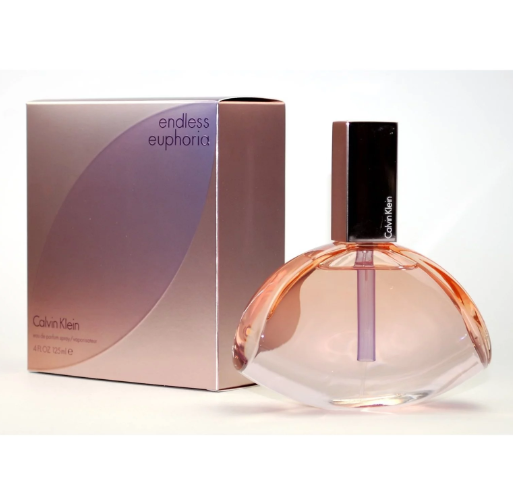 Elevate your senses with endless euphoria by Calvin Klein. This fragrance, designed with women in mind, intertwines floral notes of rose, violet, and cherry blossom with succulent hints of mandarin orange and bergamot. Created in 2005, it envelops you in a lush aroma, perfect for those romantic nights out.
Bath & Body Works Japanese Cherry Blossom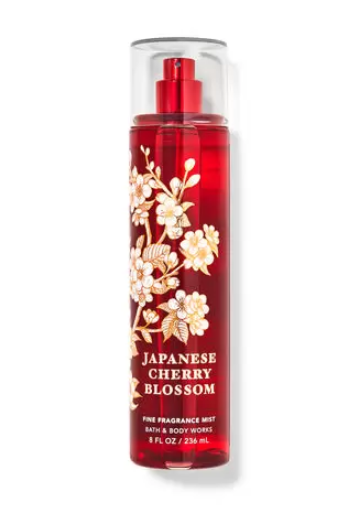 Much like your timeless little black dress, Bath & Body Works Japanese Cherry Blossom exudes beauty, timelessness, and undeniable femininity. It's a fragrance symphony with notes of Japanese cherry blossom, Asian pear, fresh mimosa petals, white jasmine, and blushing sandalwood.
Elizabeth Arden Green Tea Cherry Blossom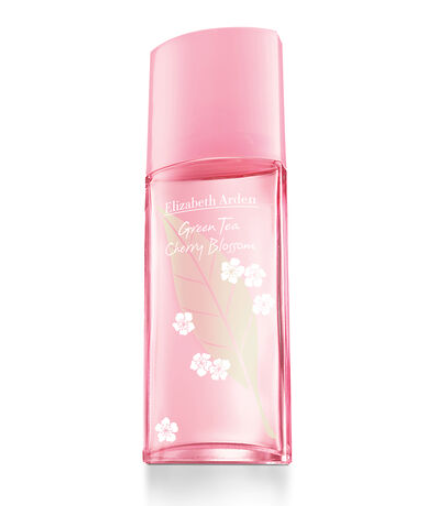 Unveil an ethereal, fresh, and feminine fragrance experience with Elizabeth Arden Green Tea Cherry Blossom. This scent captures the mesmerizing beauty of cherry blossoms at the height of spring, combining the sparkling allure of delicate pink petals with the invigorating freshness of green tea leaves—a truly exceptional olfactory journey.
Pacifica Cherry Moon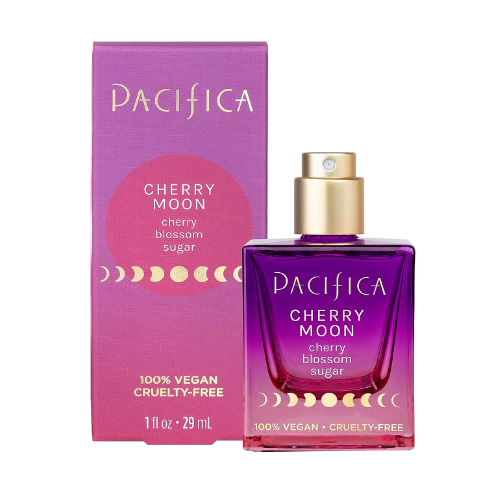 For an incredible value of approximately $36, Pacifica Cherry Moon stands out as an ideal floral fragrance, especially for those on a budget.
This fragrance draws inspiration from the pink full moon, which might not be familiar to everyone—indeed, we had to look it up ourselves. Named by The Old Farmer's Almanac, a pink moon is the full moon in April, coinciding with the blooming of numerous flowers during that time.
Solinotes Fleur de Cerisier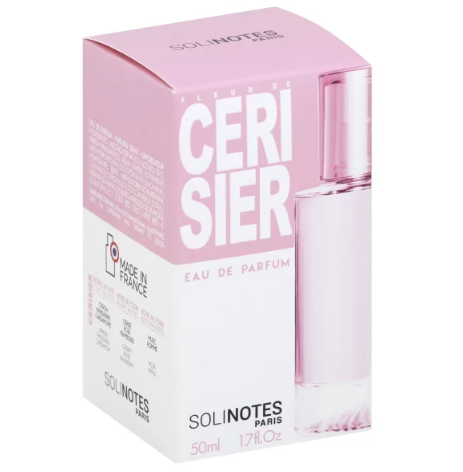 Offering an excellent budget-friendly choice, Solinotes' Fleur de Cerisier presents a superb French-made perfume option.
Available in both 15-ml and 50-ml sizes, this lightweight fragrance is described as purifying and capable of providing a moment of relaxation and tranquility for its wearer. Reviewers praise its fresh and floral scent, noting impressive longevity when applied to the skin.
Guerlain Flora Cherrysia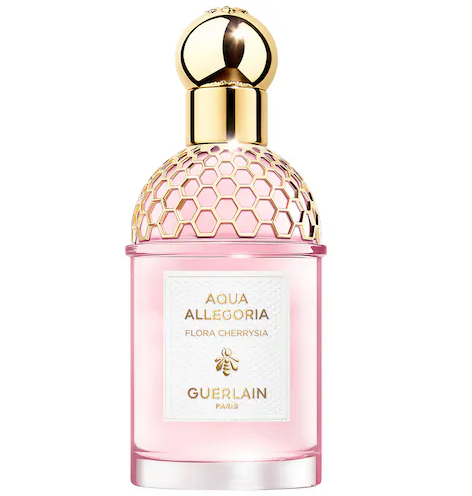 Among Guerlain's Aqua Allegoria collection, Flora Cherrysia shines as one of the most environmentally-conscious perfumes in the market.
The brand prioritizes sustainability and luxury, utilizing up to 95% naturally sourced ingredients and packaging fragrances in bottles containing up to 15% recycled glass. With an emphasis on bee preservation and various related programs, Guerlain is dedicated to minimizing its environmental impact while delivering exceptional products.
Floris Cherry Blossom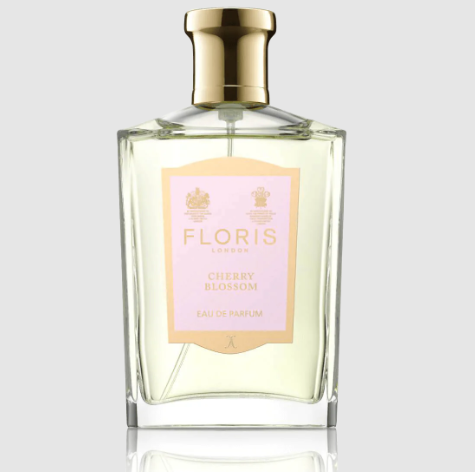 Harmonizing delicate floral notes with delectable fruity elements, Cherry Blossom Eau de Parfum captures the elegance of the natural world and evokes the delightful aroma of springtime air in a single, invigorating fragrance.
A splendid addition to your daily fragrance collection, this scent is perfect for boosting your mood during moments of self-care. With its gentle and revitalizing notes reminiscent of the finest natural offerings, a spritz or two of this fragrance is an excellent way to enliven your senses wherever you may be, celebrating the promise of brighter and lighter days ahead.
Conclusion
These cherry blossom perfumes offer diverse options to suit various preferences and budgets. Whichever fragrance you choose, you're sure to find a perfect olfactory companion for embracing moments of self-care and welcoming the brighter days ahead.