All over the world, people love to put their feet in a pair of cozy shoes since they are both practical and fashionable. Qualities that have made them popular are comfort, appealing design, practicality, longevity, and many more are just a few of the many possible explanations.
Whether you serve 9 hours in an industry or dash from one class to another while teaching, you will opt for casual shoes only, staying in tune with the current fashion trends.
Best Casual Shoes For All-Day Comfort: Our Top Picks
In this piece, we'll dive into the details of the seven most comfortable and attractive casual shoes you can wear all day.
Nike Air Force 1 Sneaker
Nike Air Force is a popular sportswear shoe that represents timeless design, straightforward silhouette, and bold appearance making it easy to mix and match with outfits. They are crafted from high-quality materials: the upper layer is made of real leather, while the midsole feature a hidden air unit for cushioning and impact protection.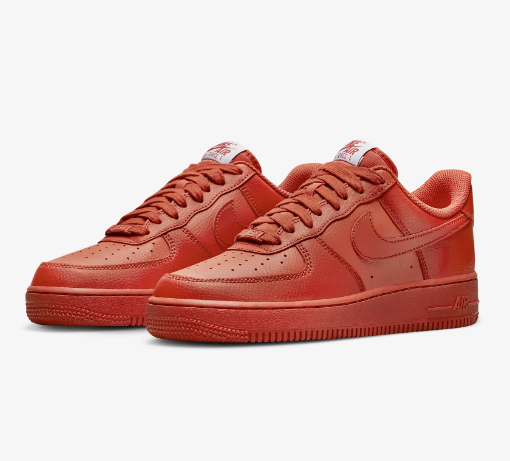 Nike Air Force 1 Sneaker ($77.97)
The Air Force 1's adaptability makes it suitable for both casual streetwear and dressier outfits. Its unique feature is its "Nike by You" platform, allowing users to select their preferred color, material, text, and graphics. It is one of my favorite features that set Nike apart from other competitors, making it a popular choice for both basketball and fashion enthusiasts.
ALSO READ: 12 All-Time Best Jordan Sneakers Colors
Toms Alpargata Slip-on Shoes
Why Toms Alpargata Slip on have garnered a massive following worldwide? Their simplicity, comfort, versatility, durability, and lightweight make them preferable for all-day wear. Its simple design and slip-on construction without any laces or straps make them adaptable and a convenient choice. They're great for those who are always on the go and prefer not to fuss with their footwear.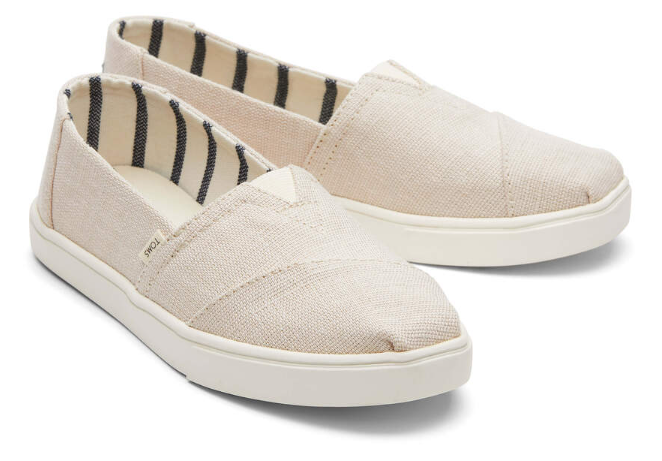 Toms Alpargata Slip-on Shoes ($59.95)
Reflect your personality and style with a wide range of colors and patterns available in TOMS Alpargata Slip-Ons. When it comes to the environment and future generations, TOMS is all in. By using eco-friendly materials like recycled polyester and organic cotton in their footwear, they help make the fashion business more sustainable.
Birkenstock Arizona Sandals
How Birkenstock Arizona sandals have captured the hearts of people? One of its unique features is a contoured footbed that molds to the shape of the wearer's foot, making the shoe fit better. The sandal is made with a lightweight and flexible material that is cork to provide comfort and support to the wearer's feet, while the straps are crafted from high-quality leather to last for years.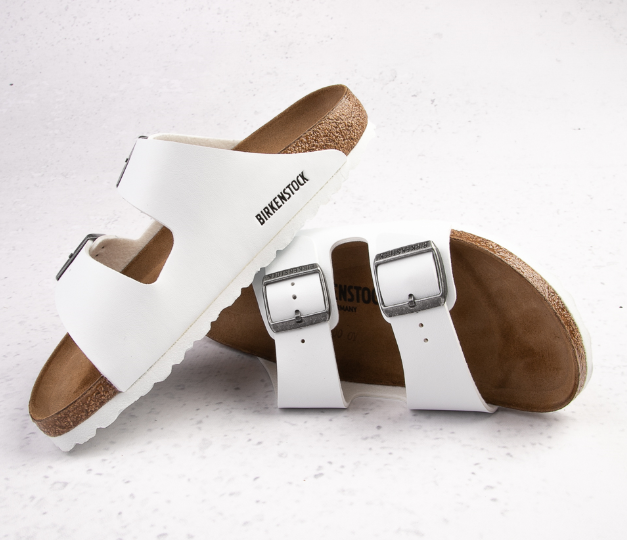 Birkenstock Arizona Sandals ($109.99)
Thanks to Birkenstock Arizona sandals for elevating the sandal game by introducing the resoleable design to reduce the need for frequent replacement. The shoes' sturdy construction and comfy footbed make them a good choice for a wide range of activities and terrains, from casual walks to light hikes and outdoor experiences.
Timberland Tillston 6-inch Boots
If you do not want to compromise on style despite the harsh weather conditions then without giving a second thought, opt for Timberland Tillston 6-inch boots. The upper is made out of high-quality leather that makes it water and moisture-resistant. Moreover, it has sealed seams so that no water can enter into the boots, so keeps the wearer's feet dry.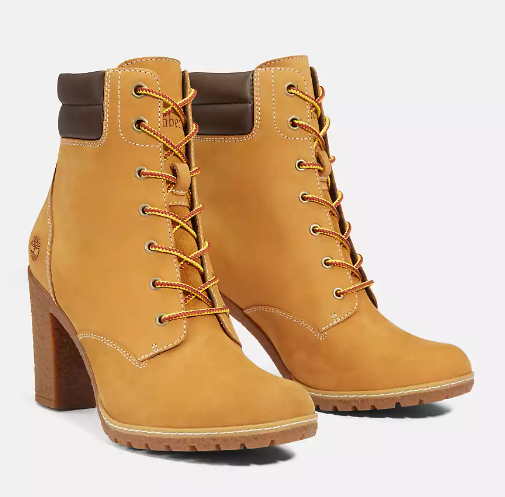 Timberland Tillston 6-inch Boots ($99.99)
Its durability cannot be questioned as boots are made out of full-grain leather known for its strength and resistance to abrasion. Their triple-stitched seams and rustproof hardware can withstand the roughest conditions and can be used for years if handled with proper care.
One of the best things about these shoes is their versatility, making them a perfect fit for any season, which is why they are among the Best Casual Shoes. They keep feet dry and warm in rain and snow and provide breathability in warmer months, enabling year-round use.
ALSO READ: 8 Best Denim Boots For Fashion-Forward Feet
Converse Chuck Taylor All-Stars Shoes
Iconic style and enduring quality have made them a must-have for any fashion-forward individual. The unchanged design canvas upper, rubber toe cap and the iconic All-Star emblem give these sneakers a classic look and feel. The canvas top enables air to circulate, keeping the feet cool, while the rubber bottom offers support and cushioning thus, makes them a comfortable fit.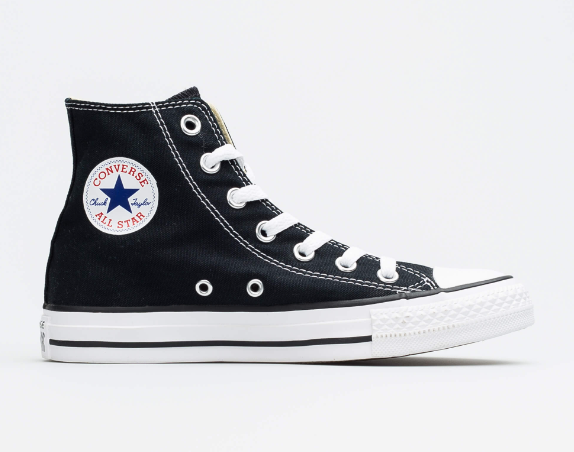 Converse Chuck Taylor All-Stars Shoes ($80)
Converse Chuck Taylor All-Stars offers a timeless style s they blend into a wide range of fashion styles. You can express your individuality by wearing them with streetwear or formal ensembles. Its versatility and timeless style have made them a staple in any wardrobe.
In my opinion, to capture the maximum audience, the marketer needs to prioritize customer's needs and preferences. This is what Converse did. Apart from the canvas version, there are leather uppers, platform soles, and partnerships with famous artists and designers. This variety means that there is a Chuck Taylor All-Star for everyone, increasing their popularity and appeal.
Tieks by Gavrieli Ballet Flats
When it comes to Tieks' convenience and elegance, they are never out of reach. They are designed by skilled craftsmen who cut, sew and assemble every shoe component with precision and care to guarantee durability and worth the splurge.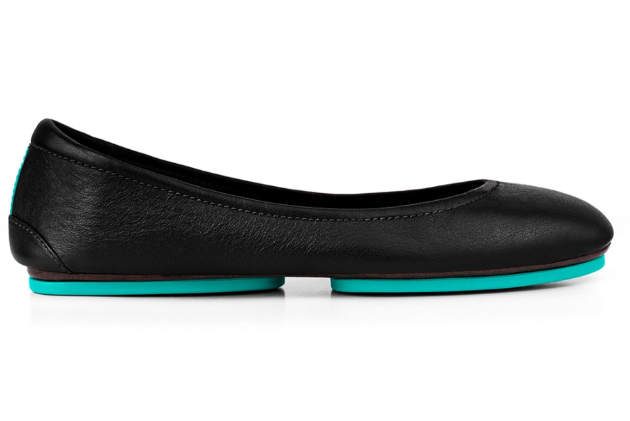 Tieks by Gavrieli Ballet Flats ($185)
Tieks are one-of-a-kind to introduce foldable designs to make them the perfect choice for those who value both style and practicality. They are convenient to bring along on trips or use as a backup piece of footwear. Interestingly, Tieks mold to your foot as they are manufactured with a cushioned back for the perfect fit along with lasting comfort and support.
You can express your individual style with different colors, patterns, and finishes of Tieks ballet flats to complement your outfit and occasion.
Reebok Classic Leather Shoes
How has classic leather remained a staple in the sneaker community? Reebok Classic Leather offers a simple design so they can effortlessly be styled with different outfits. Its timeless design has cemented its place among the Best Casual Shoes.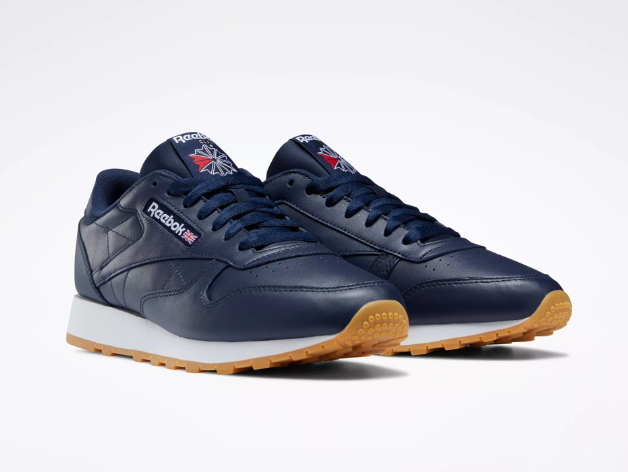 Reebok Classic Leather Shoes ($80)
The Reebok Classic Leather is a simple shoe with a leather top, a soft foam sock liner, and a rubber base that ensures longevity and breathability to keep you comfortable and cool. Even though Reebok Classic Leather shoes are known for their casual style, they are also known for their steady performance. The sneakers have a sturdy rubber base with a pattern that is intended to give the best grip on a variety of surfaces. Because of this, they are good for both city life and light sports.
Conclusion
Get yourself ready not to miss out on the adventure of finding the perfect pair of Best Casual Shoes to wear all day long. These shoes provide long-lasting comfort and support, making them great for walking or standing. These sneakers are stylish and comfortable for doing errands, touring the city, or just going about your day. Go and grab your own favorite from the plenty of options provided.