Are you tired and embarrassed of carrying your lunch in your hand, or in a lunch bag that is not delivering what a lunch box should deliver? Well, I feel you all. That was the exact reason I ditched my regular lunch bag that I had to clean every single day and that was too time-consuming and nasty. While I was still searching for a lunch bag, I searched the internet, brands, and all the socials to just find THAT lunch bag that looks and offers a great lunch experience. So, I came across this Calpak lunch bag, and the colors, patterns, and the drawstring closure made me place an order right away!
When I was looking for a lunch bag I was considering three simple features in a lunch bag to get the perfect one. First thing that I had in mind was to stop packing all the cooler items in a fancy bag so I needed a stylish vessel. The second thing I was looking for was a well-insulated lunch bag that is water-resistant, leak-free, and easy to clean. Lastly, I wanted a lot of space for the extra large meals, whether it's a loaded salad, big containers, or a large sandwich that satisfies my cravings right away. So, I checked all these features before getting my hands on a Calpak lunch bag. Let me give you deeper details about the Calpak lunch bag ahead to make it easy for you to decide whether it's worth it or not.
Calpak Lunch Bag Review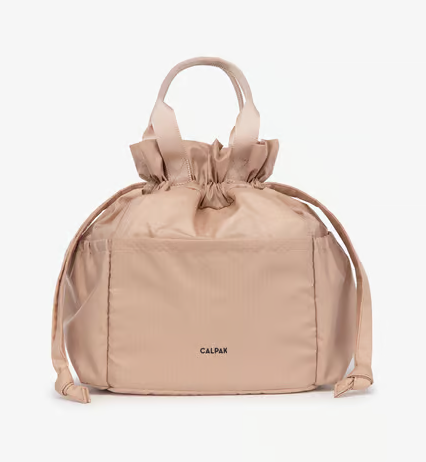 Let's start it with the basics, So what does $45 sound to you when it comes to a lunch bag? Not everyone will quickly draw its appeal but after having a lot of thought and thinking about that we should always go for the quality instead of the affordability especially for the items that we use in our daily life, or those items that we utilize enough to spend a lot of dollars on. When I got my order, I instantly started unpacking and I was too excited to open up, check everything out, and observe that does it even have what it claims. Here we go.
Other than the price, the coolest thing was the variety of color and trendy prints this Calpak lunch bag comes in. No doubt, everyone has different tastes when it comes to colors and patterns, some people want minimal and solid colors while some are on the fun and playful side craving for bold colors and patterns. Calpak understands this so well, as this lunch bag comes in twenty gorgeous colors and prints which are more than beautiful and appealing. You will find some classic solid colors to highly playful and bold prints like abstract, checkerboard, cheetah print, polka dots, and much more.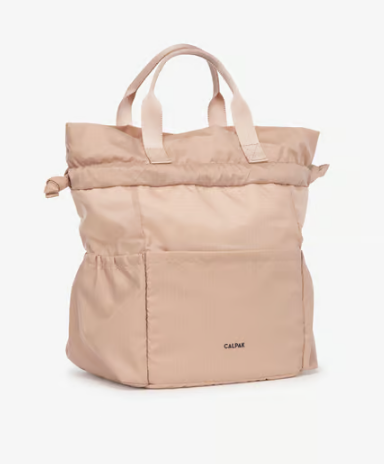 Now, let's come to the practicality which we wanted in a lunch bag, so does it offer that? Well, let's see. The Calpak bag claims to be water-resistant lining, and guess what? It actually delivers! It helps in easy wiping and cleaning of the inside so there's no nastiness and only fresh and clean lunch for you. Other than that It has a lot of pockets to carry all your essentials and your lunch boxes so effortlessly. Also the thing about pockets is that they are handy, and help you with the smooth organization. After cleanliness you can use this just as a new bag, really. It claims to be a reusable water resistant bag and it actually is. This bag is made with polyester, nylon,polyethylene and it weighs around 0.4 lbs while the dimensions of the bag are 10" x 9" x 7". Now, let's just have a look at it as it's just too stylish to be a lunch bag but has all the features that we look for in a lunch bag. The most stylish thing about this is its drawstring closure and the gorgeous colors. I got it in this classic pink shade which looks great and goes well with almost any outfit.
Is It Worth It?
YES! Calpak's lunch bag is a great investment for those who value style, functionality, and durability. Its features make it worth the money for anyone looking for a high-quality lunch bag.