Black! The name is enough right? Black has always been a go-to whether it's in the fashion trends, beauty trends, and even nail trends. Also, black is a color that goes well with everything, yes everything! Now what about if we mix the acrylics and black? Acrylic nails are easier for so many womens to get their desired nail length, designs, and shapes in a blink of an eye. They both combined give us a great opportunity to play around and achieve unique and stunning designs without a lot of effort.
Black acrylic nails are extremely gorgeous and luxurious, that totally depends how you wear it. Whether you just want achieve solid black acrylic nails or you wanna go all out by opting for black stiletto nails or rhinestone black acrylic nails that are enough to make you stand out in the crowd, there are endless ways.
Black Acrylic Nails That Looks Amazing
Whether you want classic solid nails with a hint of fiery tips or you want to go all out with pearl embellished black acrylic nails, the possibilities are endless.
Ombre Black Acrylic Nails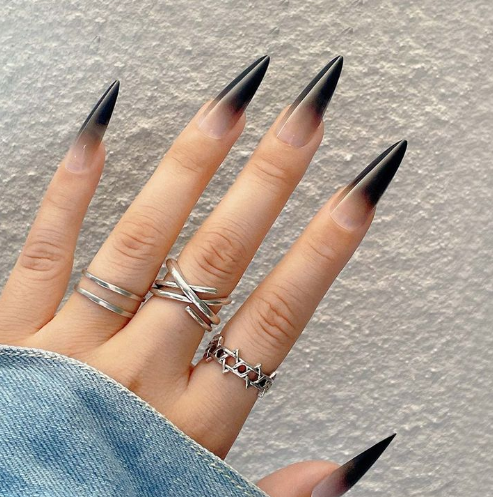 If you want to give yourself a french manicure but in a modern twisted way then opt for an ombre instead of solid tips. This looks great on every personality as it is a perfect balance between minimal and bold. Also the soft ombre effect to the bottom is what makes it a perfect french ombre mani for everyone.
Croc Black Acrylic Nails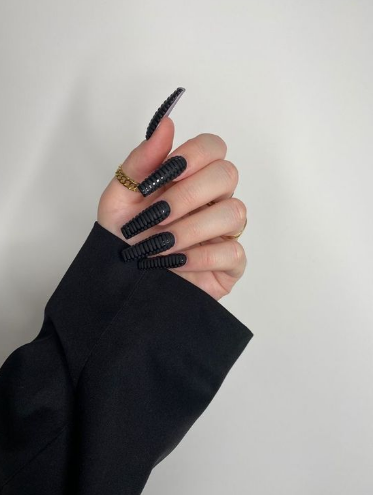 We all love an animal print in our wardrobes so why not bring them to our manicures too? Just like gorgeous zebra nails, leopard, or even tortoise nails this croc nails looks equally appealing and goes well with any look of yours.
Confetti Black Acrylic Nails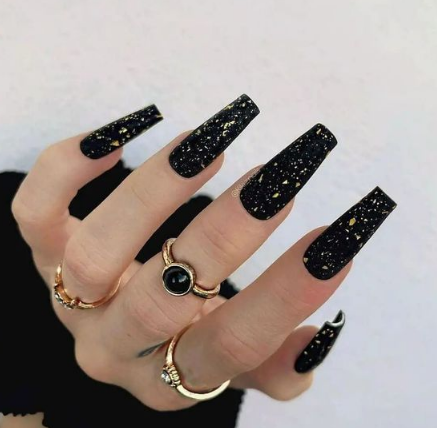 A little confetti never killed anybody, we are taking this seriously this year! Just like stardust effect confetti is a great option for the days when you want a perfect fancy manicure to slay as a wedding guest, or a bridesmaid, or even a night clubber.
Half French Half Solid Black Acrylic Nails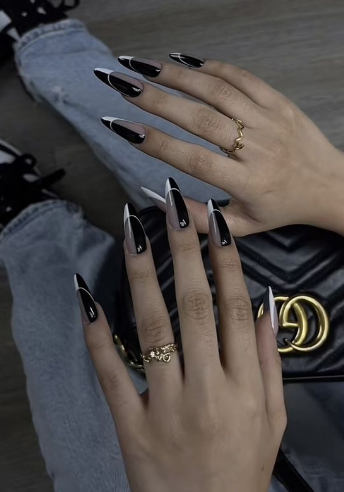 For the days when you don't want a minimal manicure but also not solid nails then go for a mix and match like this. French and solid looks great together as we see, and the classic color combo is just timeless and always in style no matter what trends are roaming around.
Fiery Black Acrylic Nails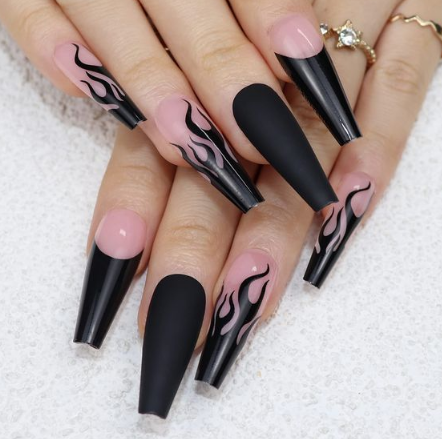 Flame tips always look cool, while these fiery nails look great with solid nails and french mani. These are great for the baddies who want a playful look and for the minimals who want to switch their regular manicure to a playful one.
Aura Black Acrylic Nails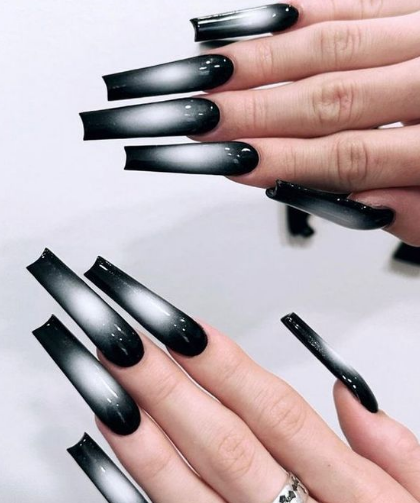 If you have been checking instagram of nail artists and celebs then you must know how trendy are these aura nails this year. They are the top of the trend as we spotted many celebs flaunting them with their street style and as well as with their red carpet looks.
Marble Black Acrylic Nails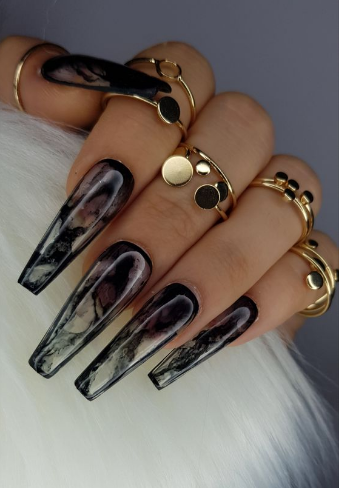 Marble nails look so gorgeous and luxurious that I cannot even explain. The in-depth texture of them and the gorgeous details are what makes marble nails suitable for everyone and every occasion. These also look like an artwork so if you like abstract art this will appeal to you even more.
Pearl Accent Black Acrylic Nails
Pearls are so precious, gorgeous, and look like quite luxury without a lot of effort. Just look at this manicure, even a tiny pearl accent doing a great job to this look and perfectly taking this to the whole next level. Also the silver accents on solid black nails are making this perfect to slay anytime anywhere.
Pop Of White Black Acrylic Nails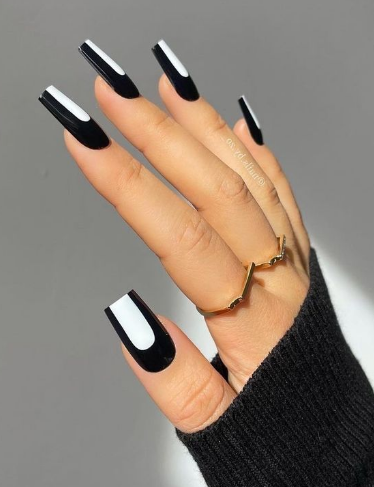 Another manicure with the classic color combo of all time. Just like those half solid half french here is another way you can do white and black nails in a unique way. Too simple to achieve, do black solid manicure and create white square accents in the middle of the nails to achieve the perfect pop of white to your look.
Polka Dots Black Acrylic Nails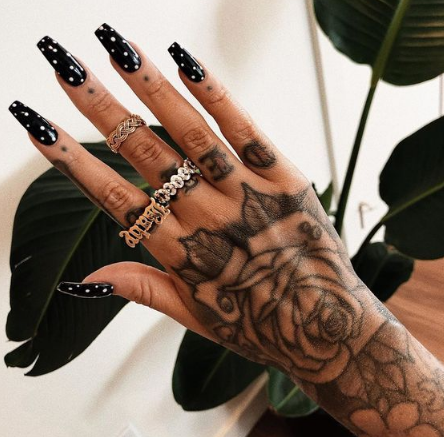 Ahh, satisfying my 90s manicure cravings! Polka dots came in the 80s and 90s and just never went out of style. Looks great with so many other colors but the most iconic color combo for polka dots are always black and white. A solid black nails with a white dots looks like a great choice for every fashionista.
Conclusion
If you're looking for a bold and dramatic nail style, black acrylic nails are definitely worth considering. With these 10 ideas, you can keep your style on point and make a statement with your nails. From glossy to matte finishes, there's something for everyone.
UP NEXT: 10 Bold And Beautiful Black Nail Designs To Try Today