Most of us are tired of trying our best to make our eyelashes look longer and fuller with so many things, we try to apply mascara on our lashes to make them look thicker and longer but most of the time we end up smudging our mascaras and looking like we have overdone it. So, here comes the eyelash extensions! Eyelash extensions are a great option to make our lashes look fuller and thicker without applying a lot of mascara to our lashes and end up in a smudgy effect. We have used eyelash extensions but there are different styles in that too. One of them is hybrid eyelash extensions, ever heard of them? Well, let us explain to you everything about hybrid lashes, what they are, how they work, and what is the difference between hybrid and classic eyelashes.
Are Hybrid Eyelash Extensions Good?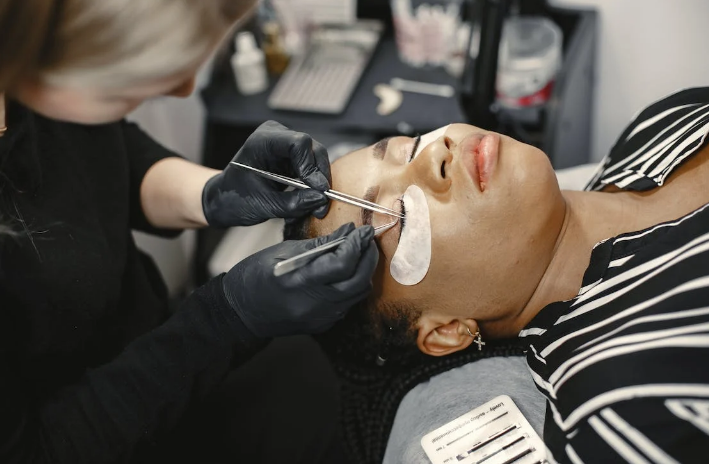 Hybrid lashes are actually for someone who is looking for something that adds volume in a natural way. Some lashes give a fake effect to us but that's why Hybrid eyelash extensions are most wanted and mostly get a lot of appointments as they are just perfect for every kind of personality. Hybrid eyelash extensions help us achieve a natural look with the perfect amount of volume which makes it a perfect blend between traditional lashes and eyelash extensions.
Also Hybrid eyelash extensions provide you options that serve your needs, whether if you need just a few strands of hybrid lashes or a full-glammed up lashes with insane volume they are here to provide according to your personal preferences. This is actually a great feature as if you want a full-length and messy voluminous lashes it can provide you the look in the most effortless way possible.
For getting hybrid eyelash extensions, you have to take an appointment from the best and the nearest salon. After taking an appointment keep this in mind that there are some things you have to take care of before, during and after the appointment. First thing first, One should always appear at the appointment bare-face, that means no makeup, no other chemical-infused products around your eye area and keep your lashes neat and clean. Secondly, you need to understand that the process will take time and that it will take at least two to three hours according to your lashes. And during that time you shouldnt be panicking as it will ruin the process, you should be calm and let them do the work. Lastly, After getting hybrid eyelash extensions let them dry and don't even try to get them wet before 48 hours. After the lashes get dried, clean and wash your lashes with an eyelash cleanser and ta-da you are done!
Now, what about the cost? It totally depends on where you set your appointment, While no matter what the salon hybrid lashes are mostly sold in the market for around $200. This would be the one time amount for you as hybrid lashes need refinements which can be done anytime you feel the need to. For the refill salon charges around $50-$90 depending on their specialists and reputation.
Conclusion
Hybrid eyelash extensions offer a beautiful and natural-looking enhancement to your lashes. They combine the best of both worlds, offering volume and length. A must-try for anyone looking to elevate their beauty routine.