Every girl dreams to look just as she imagined herself on her big day, simply gorgeous! So, we always choose fashion clothes, accessories, and shoes that give us princess feels on our day. With our gorgeous wedding dresses, whether they are flowy gowns with long train or slip dresses, or even lace dresses, we always want footwear that gives us height, right? So heels right? But what if we choose embellishment on them too? Here the stunning pearl heels enter!
Pearls are just too gorgeous whether in footwear or any other accessory, and as much as they scream luxury and sophistication I think pearl heels are a great choice for the big day. While pearl heels are so versatile today, you can find them as mule heels, stilettos, ankle strap heels, and slingbacks as well. About choosing pearl heels, I would say to keep in mind what type of pearl accents you want in your footwear, how long you want your heels to be, and which shoe style you wanna wear. These are the most important factors to consider when choosing a perfect pair of pearl heels for your special day.
Best Pearl Heels For Every Style
So, let's have a look at the most gorgeous pearl heels styles for your big day to slay like a queen.
Dolce Vita River Pearl Wide Heels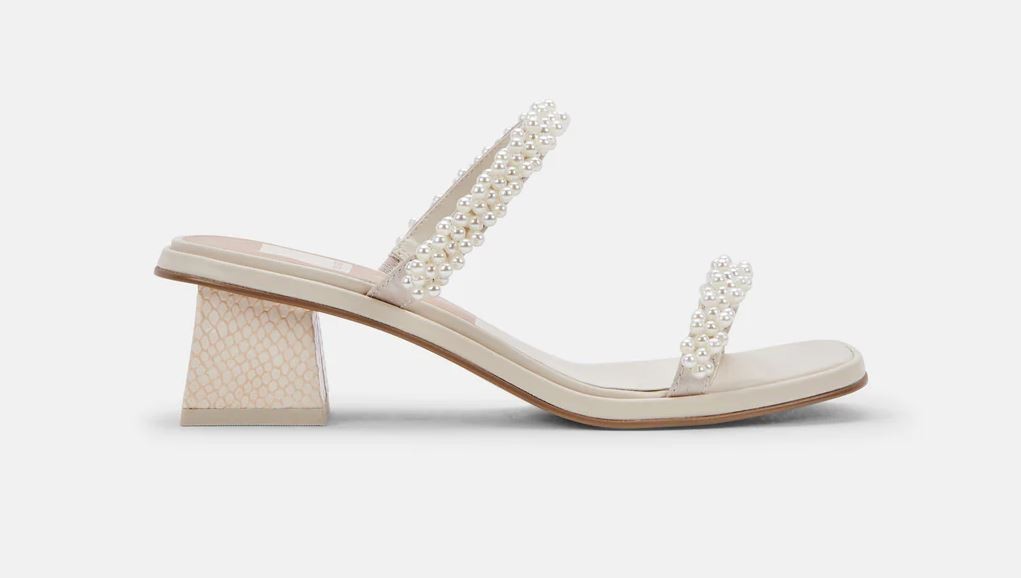 If you are having a beachside wedding ceremony, I would highly suggest you to go for this gorgeous pair of pearl heels as they are extremely comfortable and stylish and just look perfect for a special event. The textured block heel is grabbing all the attention for sure and the pearls accent on the straps will surely make the bride feel luxurious and sophisticated in many ways.
Kate Spade Pearl-Embellished Mule Heels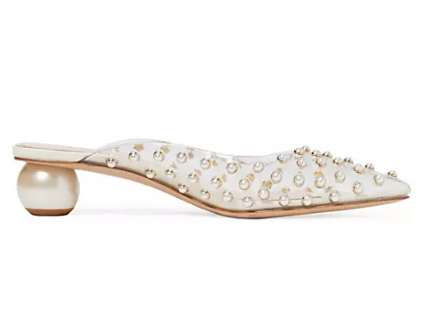 Not every bride wants to ditch their regular mule sandals, so here we are with a great option that looks just perfect for a big day and has perfect 1.5 inch heels that are comfortable and so trendy. This mule heel can also be called kitten heels because of their tiny heel detailing and what we love most is its pearl accents and a barely-there polyester material of these heels.
Sam Edelman Philippa Kitten Heels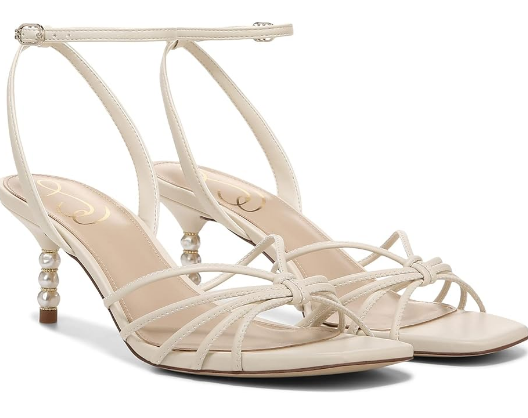 Strappy heels always give "extra feminine vibes" for at least. The sensuality it has and the charm of these heels are just great to have in our wardrobe. The front knotty straps are making these heels even more gorgeous and the pearl accents on those adorable kitten heels are just giving a true angle vibe for a feminine girl. This one looks best with slip dresses and lace detailing dresses.
Betsey Johnson Sb-Halo Pearl Pumps Heel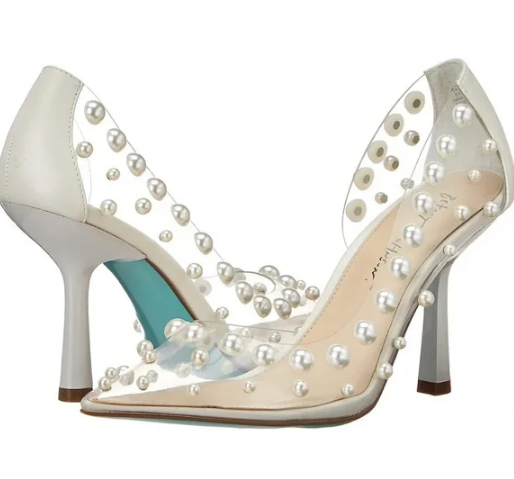 If you are a fashionista you must have spotted a lot of transparent pump heels recently. These transparent pump heels are so on trend these past years and loved by so many that at most brands these are out of stock. With the transparent feature pearls give a dreamy vibes like they are giving in these pump heels. These look great with lace and embellished detailing dresses and the 3.75 inch heels are just the best choice for the bride who loves to wear high heels.
Jimmy Choo Sacaria Pearl-Embellished Platform Heels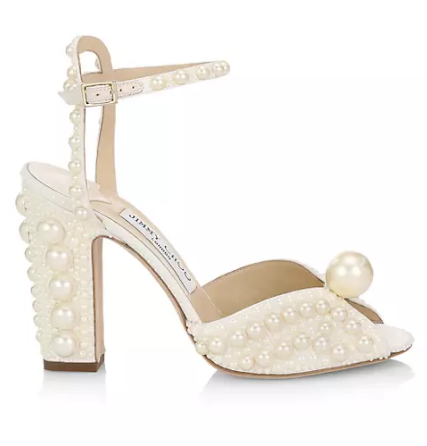 What's more standout than platform heels? If you want to make a bold statement with your footwear on your big day, choose no other than these pearl platform heels that are enough to win your big day alone. These heels are highly elegant featuring a 4.8 inch heel, peep toe, pearl embellishment, satin, and leather material and all these features of this heel makes it more charming and desirable.
Conclusion
Choosing the perfect pair of pearl heels for your big day can be a daunting task, but with a little research and a clear idea of what you're looking for, you're sure to find the perfect pair that will complement your dress and make you feel like a princess. Opt for these gorgeous pairs that are suitable for every style and personality.
UP NEXT: Best Gold Platform Heels To Bring Out Your Golden Goddess