Who doesn't like a hint of gold and glitters in their heels? We all do. Just like our white platform heels that we almost flaunt anywhere with any outfit, Gold platform heels are equally versatile and gorgeous. Today, you can find a lot of variety in classic gold platform heels, from high heels to block heels and from knotted to sculptural design, there is actually a lot when out there. Wait wait, don't be overwhelmed as we have picked out some of the most stunning gold heels from well-known brands so you know you are getting stylish as well as quality heels.
6 Must-Have Gold Platform Heels
Whether you are into soft gold hues or metallic gold, there's a gold platform heel for every style and preferences. So, let's get right into it.
Square Toe Gold Platform Heels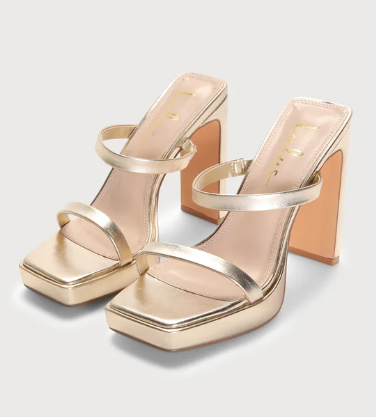 Lulus - Gold Metallic Square Toe Platform Sandals ($20)
We all have that one platform slide minus the heels, right? This is an upgraded version with a high heel that's perfect for fancy dinners, cocktail parties, wedding ceremonies and even your graduation or farewell. So, style these with your floral dresses to add even more beauty to your overall look.
Rhinestone Metallic Gold Platform Heels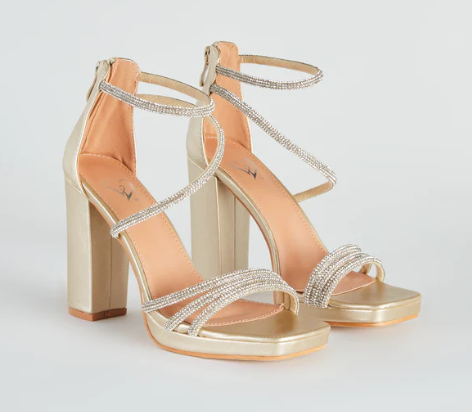 Windsor - Glam Mode Rhinestone Metallic Platform Heels ($34.90)
This heel is a perfect addition to any of your fancy outfits, the metallic and rhinestones detailing is as gorgeous as it can get. The charm of this gold platform heel is just too good to be true. It has a perfect soft shade of gold and a feminine design that includes straps, square-shaped toe detailing, a high block heel, and a platform sole. What else does a girl need to channel her inner goddess?
Ankle Strap Gold Platform Heels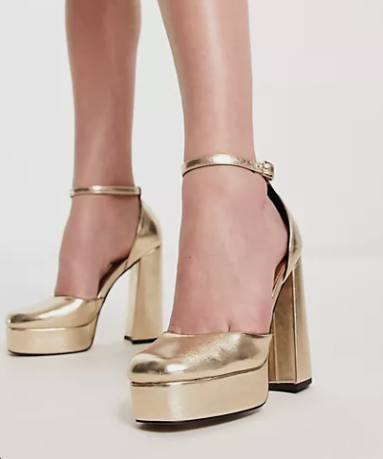 Asos - Ankle Strap Gold Platform Heels ($49)
A little support at the ankle with a high heel is a must, right? Well this pair of gold heels is doing just the job. It has a classic design, a perfect shade of gold that mostly our dresses have, and a high heel which we can even rock at the dancefloor.
Knotted Gold Platform Heels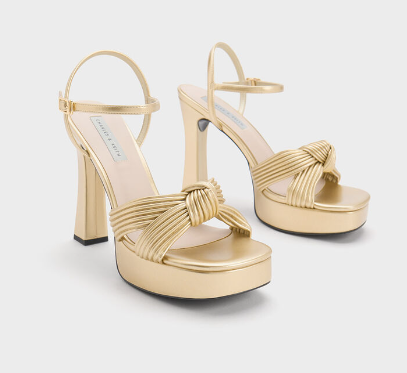 Charles Keith - Pleated Knotted Platform Heels ($53)
Every girl owns at least one pair of shoes that have a knotted, bow or asymmetrical detailing because it's very trendy and turns any boring look into a trendy one. Well, I just cannot believe how charming these pairs are, a perfect soft gold shade with just the right glitters and pleats. And of course, the knotted detailing adds sophistication to your style wherever you are heading.
Strappy Gold Platform Heels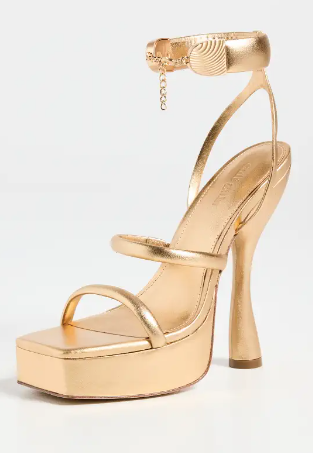 Cult Gaia - Strappy Gold Platform Heels ($528)
All things strappy in heels, a gold color, a sculpted heel, chain ankle straps, what else do you need to add drama to your boring dresses and outfits? These are perfect to pair with all your mini and midi dresses so you can flaunt and show them off to everyone and get all the attention and compliments from others.
Snake-Print Gold Platform Heels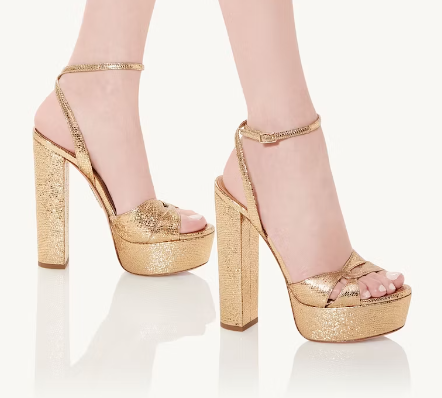 Aquazzura - Snake-Print Gold Platform Heels ($950)
Why not add a little drama to your outfits and wherever you walk with these? Snake-print is not only limited to clothing and accessories, but it also looks good in footwears. If you are someone like me always hunting trendy shoes you must have seen snake-printed loafers, slides, pumps and boots, but these heels are as good as any other.
Conclusion
I am sure you loved these stunning pairs of gold platform heels we picked out, from classic platform heels to a knotted and sculptural detailing high platform heels. These are a perfect addition to any wardrobe to rock at a number of events, from fancy dinners to weddings.