Over the past few years, Megan Fox has undergone a remarkable transformation in her hair journey, bidding adieu to her signature jet-black locks. From Targaryen blonde to a nod to Pamela Anderson, she's explored various hues, including a daring dark copper and a vibrant Barbiecore pink. The latest and most striking change saw her not only chopping off her locks into a red velvet bob but also infusing a burst of color into her styling.
In a recent Instagram post on November 8, the actress unveiled her debut poetry book, "Pretty Boys Are Poisonous," and showcased her revamped bob. This time, she opted for a voluminous mushroom cap shape, giving her bob a distinctive flair. The ends of her hair curled inward, creating a playful and reverse malt-shop flippy bob that's been dubbed the "mushroom bob."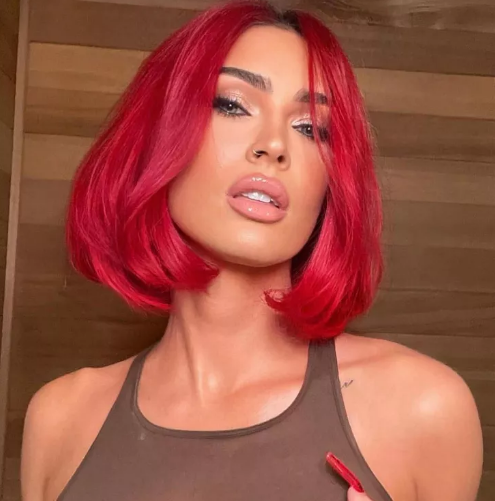 Adding an extra touch of whimsy, Fox adorned her fiery bob with butterfly hair clips. Pulling off the faux bangs look, she gathered her hair behind her ears and secured it with three butterfly clips, each contributing to a tiny upward turn at the ends. Complementing the style was a side-swept curtain fringe that elegantly extended past her eyebrows, completing the ensemble.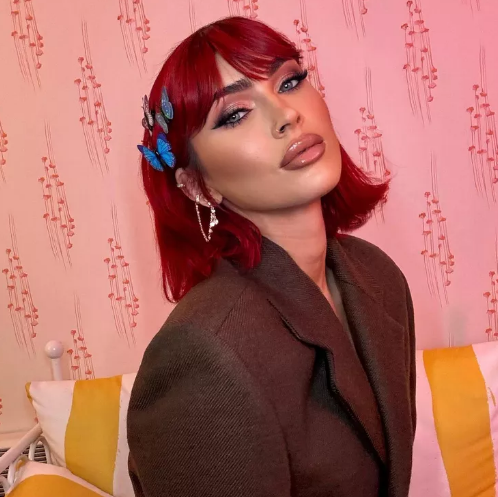 Her radiant makeup look was equally noteworthy, featuring dewy, hydrated skin accentuated by highlighted high points and sculpting contour on her cheeks. Perfectly filled brows framed her face above shimmery eye makeup, complete with long, fluttering lashes and a sharp cat-eye shape. The inner corners of her eyes boasted a white-gold pop of reflective color seamlessly blending into rose-gold eyeshadow. The glamour concluded with lips adorned in a dark pink liner and a lighter pink gloss.
Extending the mushroom fall update to her outfit, Fox sported a tan semi-sheer tank top paired with an oversized blazer and dainty gold earrings. With this captivating look, she was undoubtedly ready to enchant and poison all the pretty boys.