Be ready to cozy up in style without emptying your wallet every time you shop for hooded sweaters! Thanks to some well-known retailers, you can now save significantly on trendy hooded sweaters and other fashionable clothes. Hooded sweaters are a must-have in every fashionista's wardrobe, as they are a perfect blend of comfort and fashion.
A hooded sweater is your best friend if you are a cocoa person and like to sit by a fireplace and enjoy your coffee or even if you are taking an evening stroll at the beach. But finding a perfect pair of hooded sweaters for you can be daunting; that is why we have curated a list of retailers and narrowed down the best sweaters so you can shop hooded sweaters under $50.
Shop Hooded Sweaters Under $50: Our Top Picks
From an extra warm plush hooded sweater to a lightweight ribbed crop sweater with a hood, you will surely find one below that perfectly fits your personality and latest fashion trends. So, let's get right into it.
Walmart
Of course, Walmart has to be on top of the list, as it always saves us some bucks whenever we shop for something from here. Say hello to the winter winds and extreme colds in a cozy way by pulling on this Eytino hooded sweater with a thick cashmere design, a classic black shade, and a hood perfect for chilly days and nights. The hood adds a touch of style to the sweater and provides a layer of protection against cold breeze.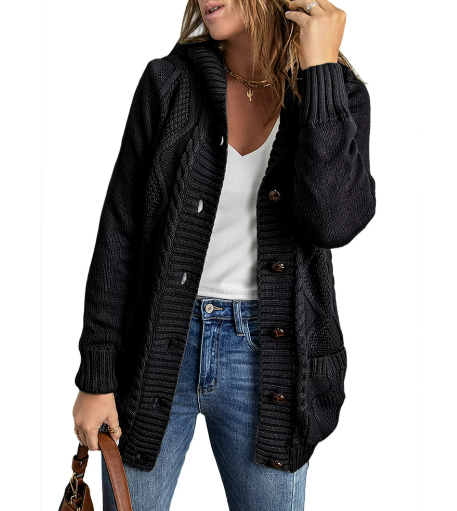 What is unique about this classic hooded sweater in solid color is its stunning knitting pattern and the minimal details it has, including buttons, pockets, and squeezed sleeves. The pockets are a perfect addition to this sweater as they can warm your cold hands by keeping them there for a while and even hold your mini essentials wherever you go. This sweater is a great deal for $34, offering a perfect blend of minimal and chic vibes.
Macy's
Macy's has made its name by offering a diverse range of high-quality clothing options and so much more. Sweaters do not always have to be oversized and full of heavy knits and everything, in today's world we fashionistas want something that's easy to carry and does not take a lot of space, and not always make us look relaxed and casual chic.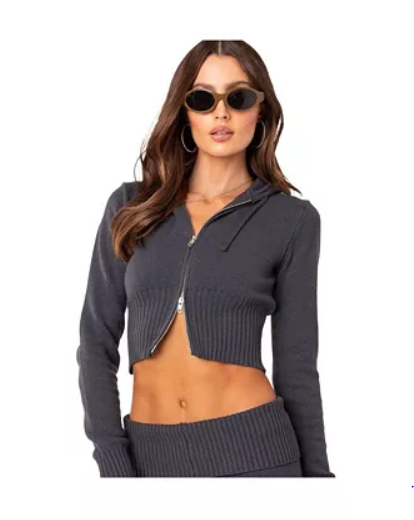 This cropped knitted hooded sweater is just the perfect vibe for a woman of high fashion needs. A perfect blend of modern and chic vibe that's every girl's dream, the adjustable two-way front zip feature adds a touch of versatility allowing you to play with different looks for different occasions.
From running errands in casual look by pairing this with your favorite pair of sweatpants to hitting the gym by pulling off a sporty look by pairing a matching trouser with this cropped sweater, and from styling with your favorite pair of jeans for a perfect hangout vibe to a carefree night when you want to be cozy as well as need a chic look to hit the bars, this $46 sweater can truly be your best friend for life if styled sensibly.
Revolve
From trendy fashion finds to the timeless pieces that every wardrobe needs to build a capsule wardrobe, Revolve has always got us fashionistas' backs. While at Revolve you will find a wide variety of high-end fashion finds, they also cater to budget-friendly fashionistas that do not want to compromise on their style.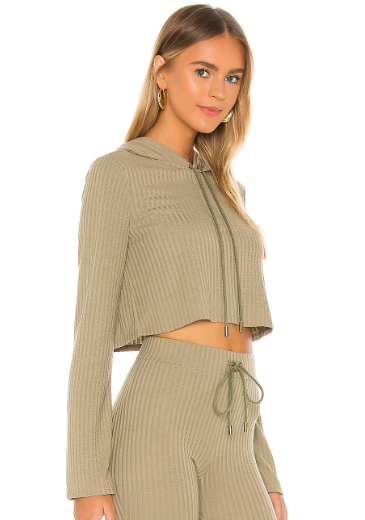 This hooded sweater top is a perfect combination of style and comfort which we all desire in today's world. The relaxed fit and a hood for an extra touch of coziness are perfect for lounging at home or meeting up with friends. The sage green color suits all skin tones and the style and fit compliments the features and body of everyone.
The knitting pattern of this sweater adds a uniqueness that stands out from many other sweater designs. This $35 hooded sweater top is versatile enough to be styled differently, from pairing this with jeans to get a chic look to putting on leggings for a relaxed and casual look if you are someone who loves to play around with different styling techniques then add a twist to the outfit by pairing this with a skirt.
Amazon
On the other hand, Amazon is not behind any other retailer; it has enough popularity to be on this list. From home decor pieces to our favorite fashion finds, Amazon never disappoints. We have selected an eye-catching, cozy, and high-quality hooded sweater that is just the perfect addition to your wardrobe to add warmth to your style and wardrobe staples.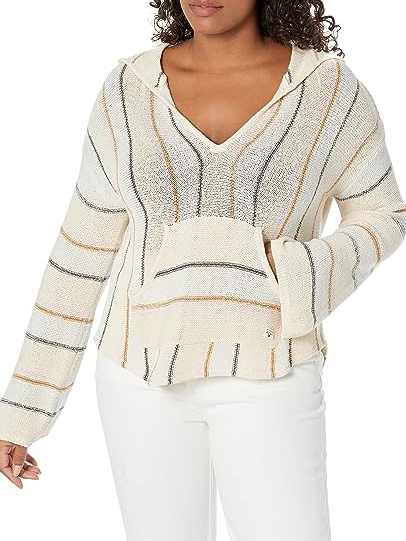 After looking at this Baja-inspired sweater, if you think of beach days and carefree nights, the Bonfire Sweater is just the fitting addition you need to cozy up. At just $48, this offers a perfect blend of comfort and an effortless chic vibe, and the relaxed fit is perfect to pull off on any occasion.
From the laid-back moments when you want to look stylish without putting a lot of effort into the outfit to the days when you have to enjoy carefree nights looking like a treat to the eyes, this is highly versatile to style again and again. Pair it with your favorite pair of jeans, cozy leggings, or a woven skirt to create the desired look.
Final Words
Now you know you don't have to sacrifice style and quality when you want to shop hooded sweaters under $50. With stunning options I have picked from well-known retailers from Walmart, Macy's, to Revolve, you can find one that fits your needs perfectly, providing enough warmth to walk through the cold season fashionably.
Whether you want to hit the beach or hang out with friends at night, these sweaters are versatile enough to be styled for any occasion without being heavy on your wallet.
UP NEXT: Best Online Retailers To Shop Quilted Jacket Under $50