Selena Gomez has had some of the best Coachella outfits over the years. I adore this girl a little extra than others because of her unique personality and how elegantly beautiful she looks at every event she comes in. All of her Coachella outfits are loved because she captures the festival spirit with her fashion choices.
All the attires she selected for herself capture the essence of the bohemian Coachella vibe while also staying in line with the fashion trends. All of her followers just love how she adds her personal touch to the outfits, making each one of them unique and memorable. Her outfits reflect her creativity and personality in the world of fashion.
Best Selena Gomez Coachella Outfits
Don't miss out on Selena Gomez's Coachella Outfits in any way because they are like a fashion explosion. She has gotten it all covered from the sheer suits to the fringed jackets. What actually caught my eye was her two-piece outfit, which instantly became my favorite outfit as it made her look like she stepped right out of a fairy tale. Not leaving behind mention the flowy dress that she wore in floral print, simply amazing. Who else can rock a dress like this at a festival like this? I bet no one. Selena definitely knows how to bring the glam to Coachella.
Selena Gomez Boho-Inspired Flowy Dress In Coachella 2014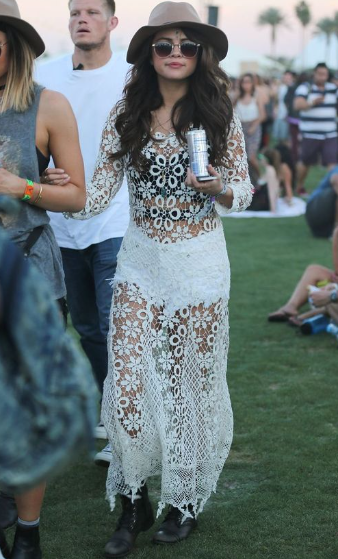 Selena Gomez's boho-inspired flowy dress in 2014 was stunning with intricate patterns paired with a wide-brim hat. The dress had a whole chic vibe giving her a whimsical and free-spirited look. It perfectly captured the essence of Selena Gomez's Coachella Outfits in Bohemian style. It was a standout and she made a fashion statement that year.
Selena Gomez In A Pastel Blue Dress With A Floral Design In Coachella 2017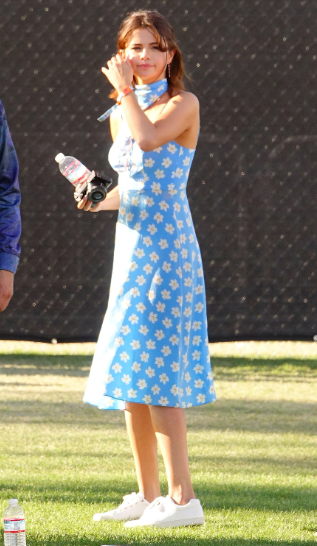 Selena Gomez's pastel blue floral frock at Coachella 2017 was one of my favorite looks. The delicate blue color and the floral touch made the dress look unique and extremely gorgeous, ending up adding elegance to her overall look. It went perfectly with her style and showed how out-of-the-box her decisions were. Selena knows how to rock in every dress she wears, and her pastel blue floral frock was actually extraordinarily stunning at Coachella.
Selena Gomez Sheer And Sexy Coachella Outfit In 2019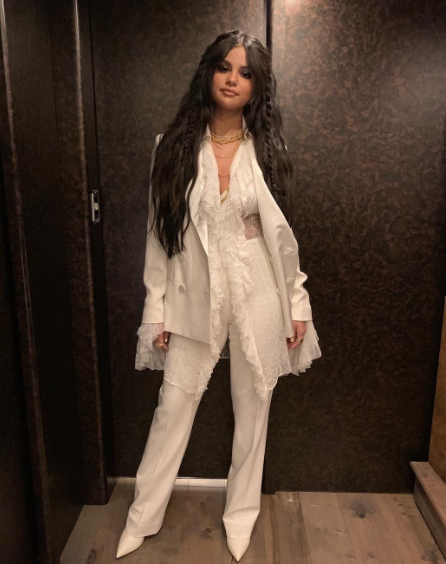 Selena Gomez has always been a Fashion icon and she made people drool over her 2019 Coachella look for real. She wore a sexy outfit that gave a whole playful and feminine vibe to the look.
She wore a Versace and Ralph Lauren two-piece outfit, the former being an oversized blazer and matching pants, the latter being a sheer Versace shirt with a plunging ruffled neckline that cost $1,500. Her choice of tons of gold jewelry and pointed cowboy boots was a tribute to the classic Coachella style. Her 2019 look was no exception!
Conclusion
I have been observing that Selena Gomez chooses her own style for Coachella, she never follows the trend but chooses to be herself no matter what the occasion is and that should be noteworthy. She has graced Coachella with her perfect style, throwing out some of her unforgettable outfits. Selena has consistently attracted the limelight and sparked trends at Coachella.
Selena Gomez has always chosen bold and standing-out outfits at Coachella all over the years, which portrays a real reflection of her personal style growth. She maintains an eye on fashion, showing that she is not only an exceptional artist but also a fashion icon. I cannot wait to see the gorgeous outfits she puts on Coachella festivities in the upcoming years.