You may believe you have your skin care regimen down pat. What could be better than cleansing, masking, moisturizing, and sunscreen? Well, if you haven't already, you could be missing out. Not sure why precisely you should include a face serum in your regimen or what advantages they offer? If you're interested in improving your skincare game, just add the perfect face serum into it, and Sonage vitamin C serum is one of them.
Face serums help your skin keep its collagen, making it firmer, plumper, and less prone to the signs of aging. One of the key advantages of incorporating serums into your skin routine is that they help your skin keep its collagen, making it firmer, plumper, and less prone to the signs of aging. Serums may help soothe your irritated skin by lowering inflammation.
Vitamin C is well-known for its powerful benefits. Although taking in Vitamin C has several health advantages, the application of Vitamin C to one's face can provide several anti-aging benefits to your skin. It brightens the face, balances skin tone, increases moisture, and reduces the appearance of fine lines and wrinkles. Vitamin C's ascorbic acid produces younger, firmer skin.
Why Choose Sonage Skincare Vitamin C Serum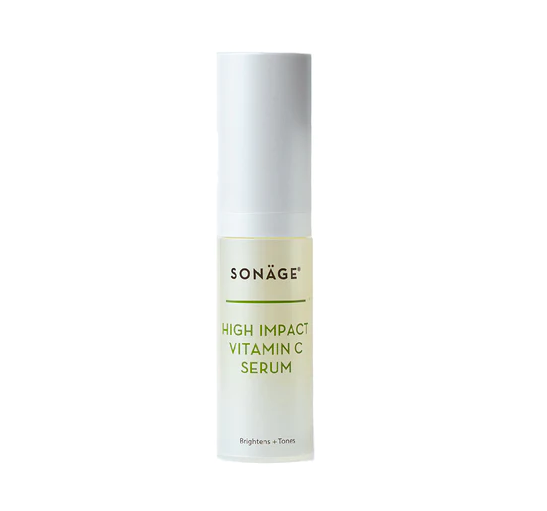 High Impact Vitamin C Serum ($48)
The component list contains a wide variety of powerful ingredients renowned for their ability to increase barriers. Orange fruit extract can help with skin coloring, turmeric root extract can help with oil production, safflower seed oil may help with dry and damaged skin, grapefruit extract can refresh and hydrate, and sodium hyaluronate can help with keeping moisture.
L-ascorbic acid, the most effective and pure form of vitamin C, is found in Sonage serums for the face, which helps lessen the appearance of fine lines, wrinkles, dark spots, sun damage, and acne-prone skin. A skin-brightening serum will balance out your skin tone, minimize fine wrinkles, and give you a more radiant complexion.
Benefits Of Sonage Skincare Vitamin C Serum
There are many benefits of using this serum on your face. Sonage Vitamin C protects your skin against fine lines, discoloration, and UV damage. All the dark spots on your face get reduced from your face and your skin is even toned by this serum. This vitamin C serum boosts elasticity and supports collagen production, and is also known for building immunity. It blocks the skin from blue light, reduces the visibility of dark spots, balances up skin tone, and maintains the skin looking vibrant and renewed.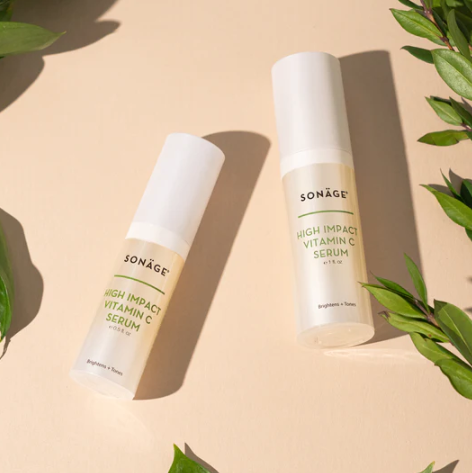 Serum, as far as we are concerned, should be an essential part of any girl's skincare routine. Skipping the serum in your daily skincare routine is a mistake. Because serums have a much lighter and quicker-absorbing consistency than moisturizers, they help hydrate the face without giving skin that gross, greasy feeling we all disgust so much. Additionally, by staying hydrated, your skin won't overproduce sebum, making you less oily over time.
How To Apply It On Your Face
Your skin might lose moisture and volume as you age, especially in delicate areas like your cheekbones and beneath the eyes. Use a hyaluronic acid-containing targeted serum to replace volume and moisture retention and prevent sagging in these areas. Using the serum is very simple, and you can use it overnight or in the morning. Listing down the steps for you:
Cleanse the skin with your favorite face wash.
Use a good toner.
While the skin is still damp from the toner, pat this serum directly into the skin
Apply a moisturizer on your face for more hydration.
Conclusion
I tried this serum on my skin and noticed that it makes my skin look amazing and radiant! Love the smell of it and the fact that how quickly it sinks into the layers of my skin. People with oily skin face the problem of getting their face greasy after makeup, but this serum does well for the skin. I believe this is the safest way to get a glowy kind of skin! With regular usage, it does not cause anyone's skin to break out or make skin too sensitive.
Vitamin C serums have grown in popularity in the skincare industry due to what they might have to offer. Vitamin C is well-known for its antioxidant abilities, which can help protect the skin from free radical damage. It can also boost collagen production, lighten the skin, and level out skin tone.
When your skin is dehydrated, a moisturizer alone may not suffice. Instead of depending on your face cream to do all of the stuff, put a Sonage vitamin C face serum over it to rehydrate your dry skin. Again, serums made with hyaluronic acid are excellent for hydration. To seal in even more moisture, apply the serum on wet skin.