While a lot of fashion trends come and go, platform heels made its place in the world of fashion and we can't help but agree. We have seen a growing popularity of platform heels all over the internet and how can we ignore the fact that they are actually worthy to have a little space in our wardrobes too.
If you have been pleased already with the elegant appeal of platform heels then you must be searching for that one pair that just clicks in your mind right when you see it. Well, there are thousands of styles you can find in a platform heel so let me make it a little easier for you to find one for yourself by putting down all the best heels I have picked from top brands.
Attention-Worthy White Platform Heels
From a classic pair of platform heel to a pair of ankle-hurting heels that's just right for all your night out plans, find one for yourself below:
Square Toe Platform Heels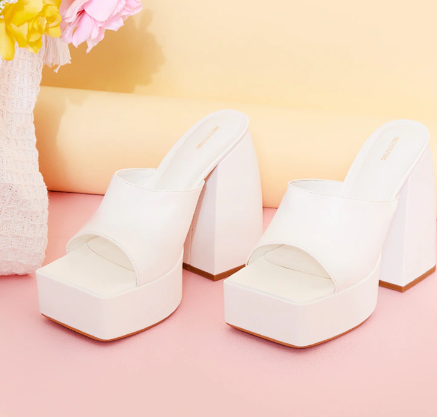 What's better than a twist to a classic and boring platform heel? These platform heels add a perfect amount of drama a footwear requires to stand out in the crowd. Pairing this with all of your flowy mini skirts, mini or midi dresses will take any outfit of yours to the next level, that too effortlessly. The square toe feature adds a trendy vibe to the look while a standout platform heel makes you love this footwear to wear to any occasion.
Pointed Toe Platform Heels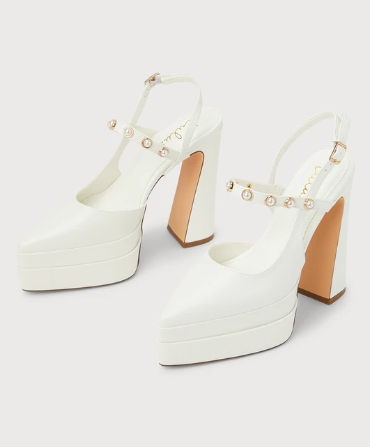 What phrase comes to your mind when you give this a look? Sky's the limit, right? Well same! From chucky pointed toes to sky-high platform block heels, everything we see here is just too good to be true. We all at least have one pointed-toe flat to wedgy shoes in our wardrobes, well it's now time to add a heel with a pointed toe too. This also has a perfect pearl embellishment on the strap and a sleek back strap that secures your foot while you walk in ease and style.
Croc-Style Platform Heels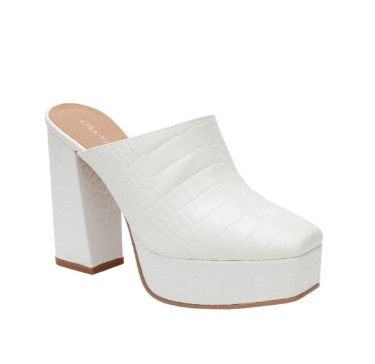 Let's take our casual, relaxing and slipping-into crocs to the next level with this platform heel style. A faux-leather and split suede style features nothing but elegance, confidence, and style. A square toe gives this shoe the right amount of detailing while a chunky block heel makes it a perfect platform and what else are we forgetting? A croc or mule inspired front that's all we need to add a drama wherever we step into.
Strappy Platform Heels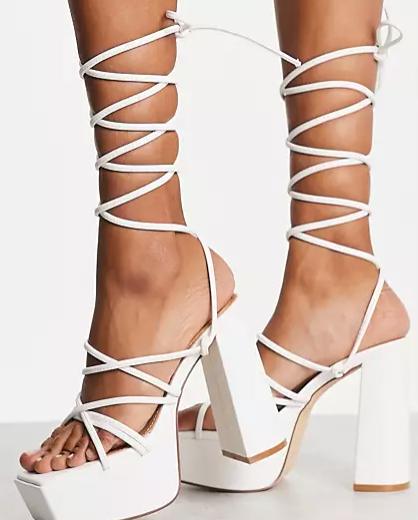 These platform heels make all of your strappy dreams come true with its crisp straps that wrap just right around your legs. A perfect pair to show off your playful side to the world, dress up in a mini dress, midi, or even a maxi dress with a slit to rock this pair wherever you go. This style has an open-toe feature, a chunky platform sole, high heel definition, and of course the attention grabbing straps that hug your leg and give off a romantic and playful vibe to the overall look.
Ankle Strap Platform High Heels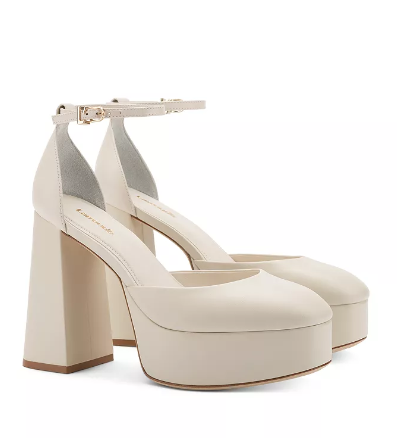 Platform heel, Ankle straps, and high heel, what else a girl's dream are made of? This platform heel style is extremely stunning, sleek, and timeless enough to rock for many years. The pump's feature makes it look effortlessly versatile, while the ankle-strap is giving just the right details the heels were yearning for and last, but not the least (of course) a perfect platform high heel that's doing just the job.
Bow-Embellished Platform Heels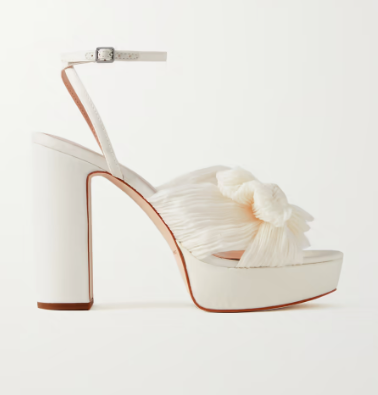 I can't help but keep getting obsessed with the charm and gorgeous appeal of these heels, as they are perfectly suitable to rock at any party, wedding, or even at a fancy dinner. This pair is equally gorgeous and fun to wear with any outfit. The organza knotted bow gives this shoe an elegant twist which is extremely feminine and block heels give the perfect height to the look. And what should I say about the soft white hue? A perfect shade to flaunt anywhere.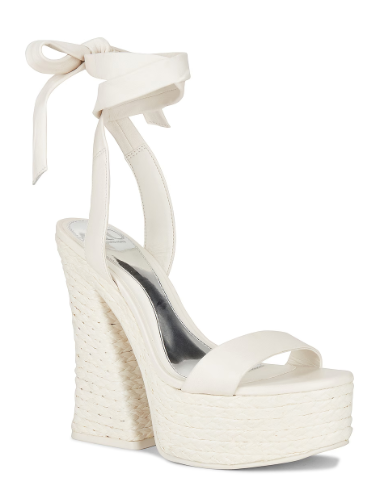 Another bow-detailed platform heel I couldn't resist but add to the list is this gorgeous pair that's highly versatile and beautiful to deserves a small space in our footwear collection. The sky-high platform heels are doing just the right job while the ankle strap with a perfectly defined bow that's simple to wrap around is what we have desired for so long.
Final Thoughts
For everyone looking for a new pair of white platform heels to flaunt everywhere they go, these are the styles you were yearning for and now is the time to finally make a decision and invest in a gorgeous pair that's just your vibe. Whether you are looking for crisp and classic style that's perfect for casual gatherings or you are more into a fancy pair of platforms that will make you rock an event like no other, these seven are perfect to make your decision.