During summers, I prefer easygoing, breathable, and breezy outfits to make the sweltering heat tolerable for me. When it comes to your summer wardrobe, let me tell you that it's the perfect season to stock up on maxi dresses and other fashion clothes. Don't just restrict yourself to one style. Show some creativity and wear them in a variety of ways.
The best thing about maxi dresses is their versatility. They can be worn in many different ways and styles. You can accessorize them elegantly, and you can effortlessly come up with a unique style. Let's have a look at some of the ethereal pink maxi dresses to slay every time you wear them.
7 Best Pink Maxi Dresses For Your Closet
Upgrade your fashion with a range of cute summer outfits, incorporating pink maxi dresses from top-tier brands.
One-Shoulder Maxi Dress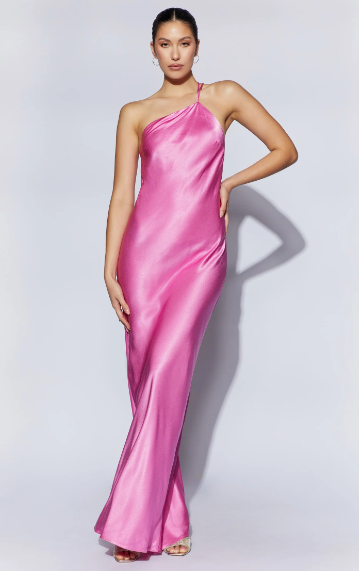 Meshki - Alena One Shoulder Maxi Dress ($125)
Alena maxi dress in pink is featuring a radiant pink-colored one-shoulder maxi dress that is available at Meshki. This maxi is beautifully designed with an open back and single-shoulder cut. The dress creates a unique look at the back with thin fabric straps at the shoulders.
High-Low Maxi Dress In Bright Pink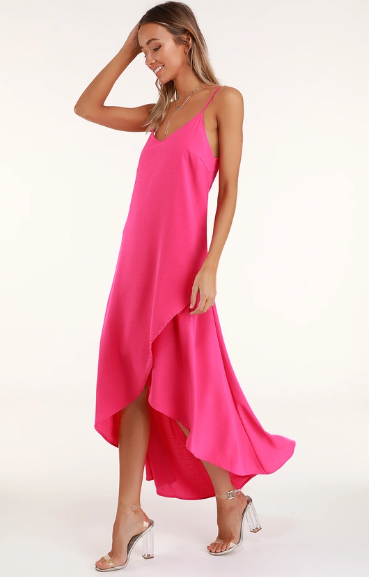 Lulus - Sweet Surprise Bright Pink High-Low Maxi Dress ($62)
Make your summer events from nay to yay with Lulu's High-Low Maxi Dress in a Bright Pink color that has a V-neckline, V-Backline, and cutouts. It has a flowy silhouette making it a maxi-length skirt with a relaxed high-low hemline and delicate ruffling.
Sunlight Glows Pink Maxi Dress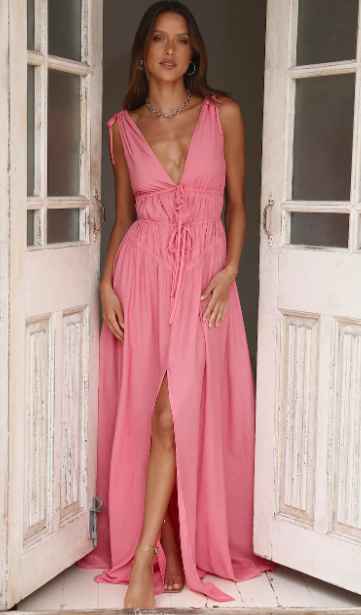 HELLO MOLLY - Sunlight Glow Maxi Dress Pink ($96)
This maxi is made up of non-stretch fabric with a V-neck, straps on the shoulders, a drawstring waist, and a zipper. You can wear this beautiful pink maxi with a Flowy skirt by Hello Molly on beach outings and casual get together.
Tiered Maxi Dress In Bright Pink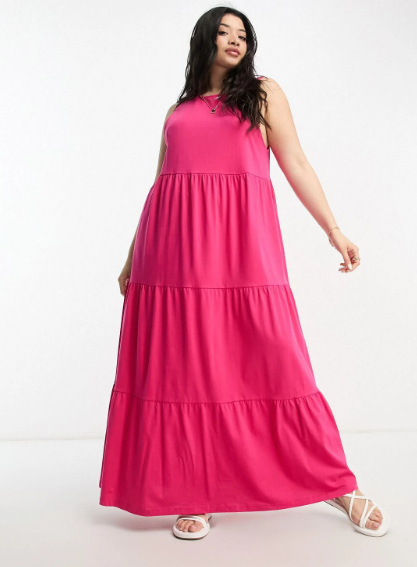 ASOS - DESIGN Curve Sleeveless Tiered Maxi Dress In Bright Pink ($43)
The Tiered maxi dress is a perfect fit for summer that comes in style with a round neck, no sleeves, and a tie-keyhole back. If you are looking for a dress with a loose and comfy fit, then this dress is for you.
Blush Pink Floral Print Maxi Dress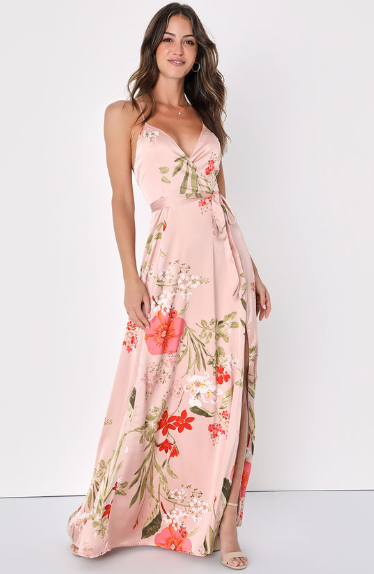 Lulus - Still the One Blush Pink Floral Print Satin Maxi Dress ($99)
Stand out in social gatherings with Lulus' Blush Pink Floral Print maxi dress that is made out of satin is a light and flowy fabric and serves as a good choice for hot summers. The back of the dress has adjustable straps in a crisscross pattern. The dress is beautifully designed with red, pink, white, and green floral prints with a princess-seamed surplice bodice. There is a hidden zipper back and a high, fitting waist with a sash that can be tied.
Frosting Pink Maxi Dress

Free People - La La Maxi Dress ($98)
This is a La La maxi dress from the free-est collection of Free People that has a soft fabric with V-neck flutter sleeves and an elastic waist. This is not just perfect for summer beach outings, but you can also wear this maxi for everyday wear.
Pink Sugar Maxi Dress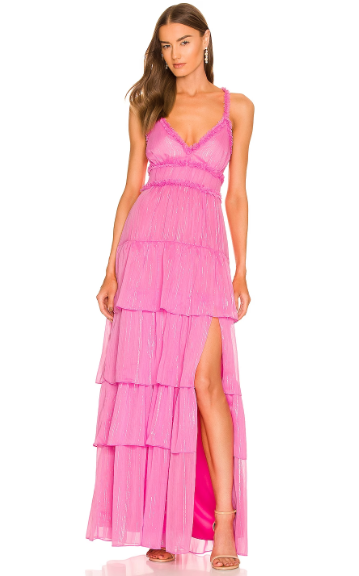 Revolve - LIKELY Athena Maxi Dress in Pink Sugar ($298)
This is an Athena maxi dress having beautiful pink sugar color, a fully-lined silhouette, adjustable shoulder straps, tiered ruffle hem, and is made up of Lightweight georgette fabric. The dress is available at Revolve.
Conclusion
Summer wardrobe essentials that combine adaptability, comfort, and elegance are Pink Maxi Dresses. There is a pink maxi dress for every event with gentle and romantic tints as well as colorful and daring tones. With these must-have pink maxi dresses, enjoy the summer heat and let your sense of style show. These pink maxi dresses will make you stand out in any big event, beach party, or social gathering. So what are you waiting for? Go and grab yours before you miss it!