Every eye shape is beautiful and unique in its own way but today what we are discussing is an eye shape that has attracted us enough to take a deep look into them and delve into the beauty of them. What eye shape are we talking about? Right. Almond Eyes, I love them, do you? Well, you should if you don't.
Almond eyes are extremely beautiful and amazing but they can hide your eyes for the eyeliner to stand out, no worries, with some useful and little deep knowledge of how to choose an eyeliner that's right for your almond eyes, after finding ways to apply eyeliner and what eyeliners are best for your almond eyes. We have come up with a complete guide an Almond eye person needs to know.
How To Choose Eyeliner For Almond Eyes
Just like other eye shapes, the almond eye shape requires practice and experiments with different types of eyeliners to actually find the one that's made for your eyes. So let me guide you on how to choose one for your eyes:
Step One: Eyeliner Type
First and foremost, you should consider what type of eyeliner you need or what type of eyeliner goes with your preferred makeup looks:
For Soft Looks: Pencil Eyeliner
If you are someone like me and always opt for soft and subtle eye looks then pencil eyeliners will be your best friend for life (at least for me). These soft pencil eyeliners can help define the lower and upper lash lines perfectly.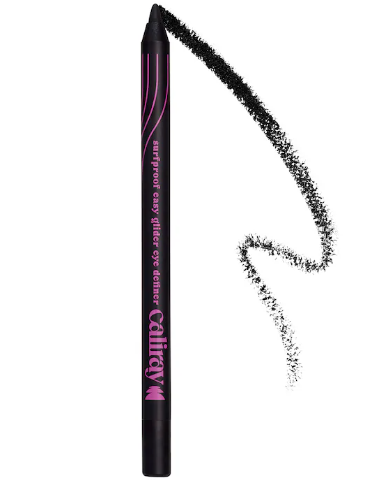 Caliray - Surfproof Waterproof Pencil Eyeliner ($20)
For Bold Looks: Liquid Eyeliners
If you have kept all those bold and stand out eye makeup looks saved in your mind or even on pinterest then liquid liners are what you need girl. Liquid liners offer precision and sharp lines, making them ideal for cat-eye or winged eyeliner looks.

Stila - Waterproof Liquid Eye Liner ($24)
Best Overall: Gel Eyeliners
Here comes the hero of the eyeliner game and that's no other than Gel eyeliners! These liners provide a balance between pencil and liquid liners. They are versatile and can be used to create both bold and subtle eye makeup looks.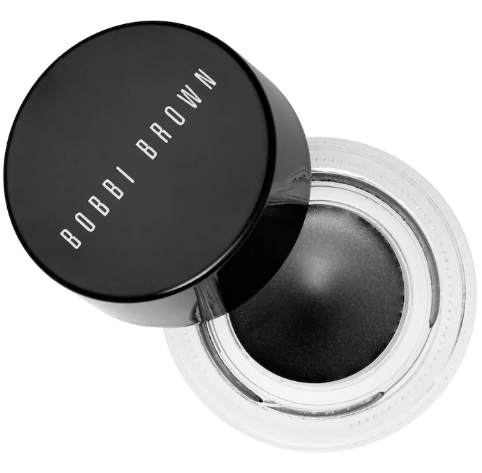 Bobbi Brown - Long-Wear Gel Eyeliner ($34)
Step Two: Eyeliner's Color
Black, brown, white, blue, red, pink, and? Well, the list is never ending you know. So, choose an eyeliner color according to your personality and personal tastes in makeup to get the desired eye makeup look for your almond eyes.
Classic Black & Brown Eyeliners
Classic black and brown eyeliners work well for most occasions and can add depth and definition to your overall makeup, presence and eyes (of course). They help achieve softer and more natural looks whether for daytime or night events, perfectly adding a twist of elegance to the almond eyes.
| | | |
| --- | --- | --- |
| Sephora - Black Eyeliner Pencil ($6) | | Sephora - Brown Eyeliner Pencil ($13) |
Colored Eyeliners
Who doesn't want to add a twist and your playful side to your eyes? Well almond eyes can pull off a variety of colored eyeliners very effortlessly. Experiment with shades like lavender, blue, pink or even yellow for a unique look.

Sephora - Matte Lavender Eyeliner ($13)


Urban Decay - Glide-On Woodstock Eyeliner ($25)


Sephora - Matte Cobalt Blue Eyeliner ($13)


Anastasia Beverly Hills - Yellow Eyeliner ($18)
Step Three: Practice and Experiment
Don't be afraid to experiment with different eyeliner styles and colors to find what works best for your almond-shaped eyes. Practice makes perfect, so take the time to refine your eyeliner application technique.
How To Apply Eyeliner For Almond Eyes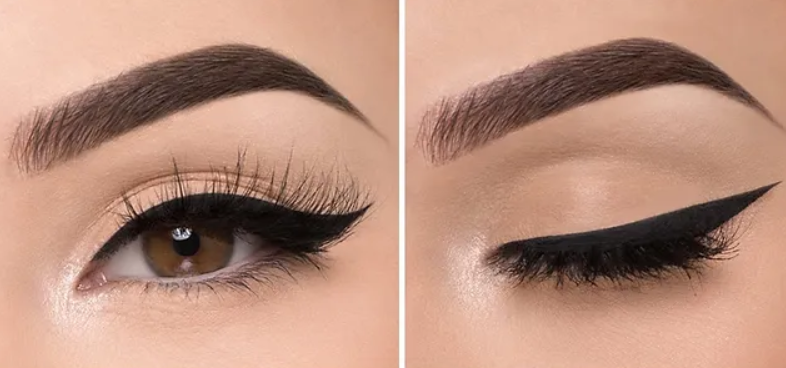 Applying eyeliner on almond-shaped eyes can enhance their natural beauty and create various stunning looks. Almond eyes are versatile and can carry different eyeliner styles. Here's a step-by-step guide on how to apply eyeliner for almond eyes:
Step 1: Prep Your Eyelids
Start with a clean and moisturized eyelid. You can apply eyeshadow primer to help the eyeliner adhere better and stay in place.
Step 2: Start With The Upper Lid
Begin at the inner corner of your upper lash line, as close to the lash roots as possible. Instead of trying to draw a single continuous line, use short, small strokes. This allows for more control and precision. As you move toward the outer corner, gradually thicken the line. Almond eyes can pull off both thin and thicker lines, so experiment to see what suits you best. To create a wing or flick, extend the line slightly past the outer corner of your eye. The angle and length of the wing can vary depending on your desired look.
Step 3: Now The Lower Lid
For the lower lash line, start at the outer corner and work your way inwards. Use a lighter hand than you did for the upper lash line to avoid making the eyes appear smaller. Connect the lower lash line to the upper lash line near the outer corner to create a cohesive look. If you prefer a smoky or softer look, you can use an eyeshadow brush or a cotton swab to gently smudge and blend the eyeliner, especially at the outer corners. This can create a more sultry effect.
Step 4: Clean-Up
Use a cotton swab dipped in makeup remover to clean up any mistakes or uneven lines. This step will help you achieve a polished and precise finish.
Step 5: Mascara (Optional)
Finish the look by applying mascara to your lashes to add volume and definition.
Final Thoughts
Just keep in mind that applying eyeliner for almond eyes is all about enhancing their natural beauty. Choose the right type and color, master your technique, and don't shy away from experimenting with different styles. Whether you opt for a classic look or get creative with colors and wings, practice is key. Don't forget to clean up any smudges for a polished finish. Eye makeup welcomes self-expression, so have fun and embrace the unique beauty of your almond eyes.