People know Anne Hathaway for her timeless beauty, especially her big eyes and bright smile. This Devil Wears Prada actress is also a fashion star. She has done ads for Lancome and advertising, and she made her debut as Cat Woman. Hollywood can't get enough of her. We can't either; as we not only admire her makeup and hair care but also seek insights into Anne Hathaway's skincare routine for that glow.
Anne's hair is dark brown most of the time. Her dark brown hair is long, short, wavy, and straight, which is a beautiful contrast to her pale skin. Anne uses copper and gold accents when she doesn't want to look dark and dramatic.
6 Beautiful Anne Hathaway Hair Looks
In the following, we have piled up a list of amazing Anne Hathaway hair looks for your next style:
Anne Hathaway Side Swept Bangs With Light Brunette Highlights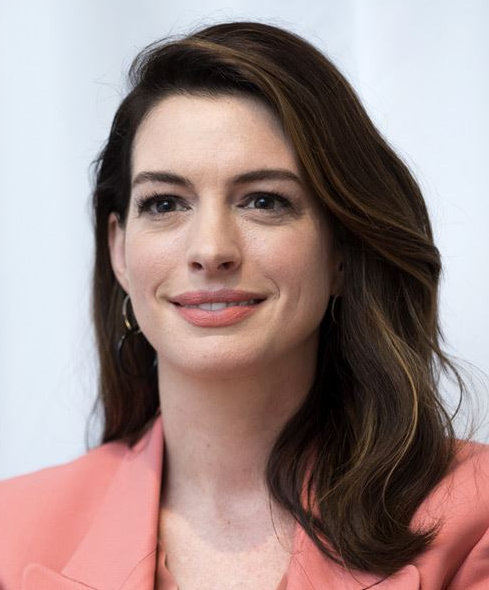 Anne Hathaway is a dream that never ends. The way she cuts her hair shows that she is always happy and upbeat. Her hair is split on the side, which is great because it shows off her face and gives her hair movement. The small highlights stand out because they look natural and give her a different hair color.
Her hair is slightly wavy, which gives this style movement and bounce and makes it easy to keep up at home. To keep your hairstyle in place, all you have to do is spray it with hairspray.
Anne Hathaway Long Straight Black Half Up Half Down Hairstyle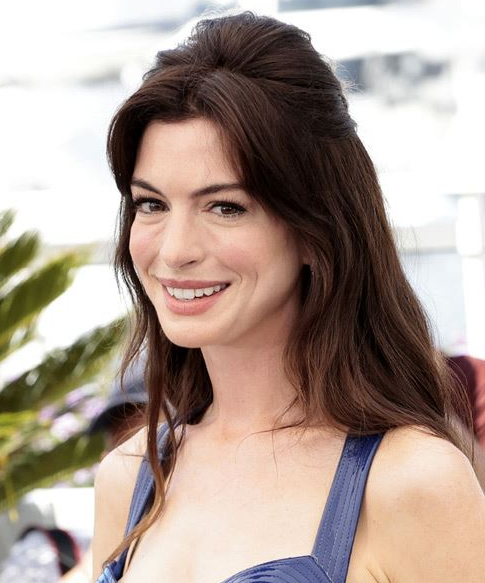 At the 2022 Cannes Film Festival, Anne Hathaway appeared with an updated version of a haircut that has stood the test of time. Her brow-grazing hair has been split down the middle to create a frame effect for her face. She is looking gorgeous in this hairstyle, and I am sure you are going to look prettiest in this hair look. Must try this for your next event!
Anne Hathaway Short Hair Cut With Casual Bangs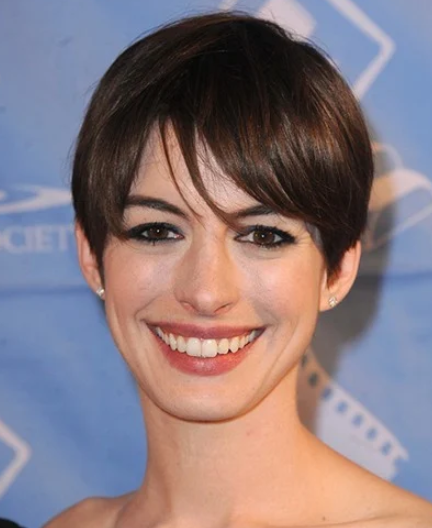 Be inspired by this short haircut on Anne Hathaway, which gives the impression of freedom and casualness and features fine little layers that cover her forehead. The brown highlighter color makes the whole look more glamorous. Try out this haircut if you have short hair.
Anne Hathaway Medium Straight Red Bob Haircut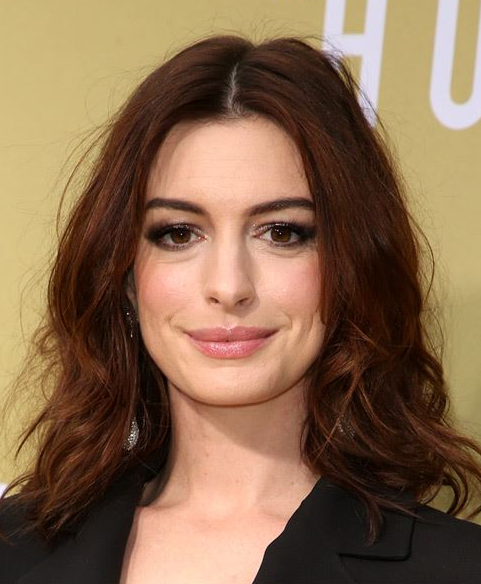 Anne Hathaway looks as beautiful as ever with her hair in a casual style. First, let's talk about the drop. It's neither too long nor too short. This cut is easy to keep up and style, and we like it because it frames the face and neck, which is something to think about when picking a new hairstyle. The small curls make this style brighter and frame her cheekbone and eye area.
This makes your eyes and lips the most important parts of your face. Keep in mind that your curls may lose their shape during the day, so when you style your hair, make sure the curls are tight enough to last until the end of the day.
Anne Hathaway Smooth Blowout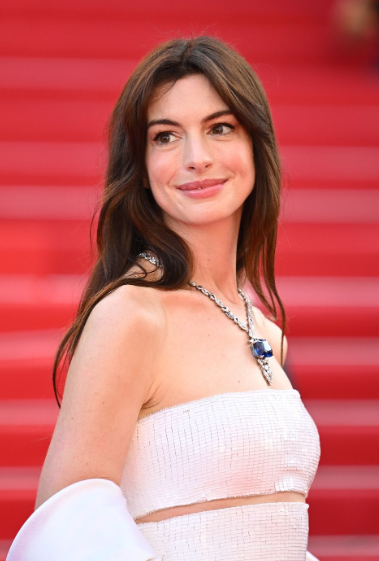 An extremely sleek blowout, combined with an Armani Privé gown that is just as slick. The side-swept, voluminous, and classic blowout styles that were popular among supermodels in the 1970s and 1980s served as the primary source of inspiration for this appearance.
Anne Hathaway Pixie Cut
A pixie cut that ends in a jagged cut and covers the top of Anne Hathaway's head gives her the appearance of childlike purity and makes her look like a picture of innocence. In this picture, Anne is looking beautiful, and if you have short hair, then try out this unique haircut to look amazing.
Conclusion
Anne Hathaway can pull off any haircut with effortless grace and unwavering self-assurance. If you're not one to take risks, try modeling one of her looks after yourself to get started. Anne Hathaway is a great model for anyone who wants to try a new haircut. Throughout her work, she has worn many different styles with ease, each of which shows how versatile and classy she is. These six hairstyles by Anne Hathaway give people who want to look better a lot of different choices.
The key to making these Anne Hathaway hairstyles work for you is to change them to fit your face shape and style. Trying out different hairstyles can be a fun and powerful way to show who you are and boost your confidence.
ALSO READ: Best Kendall Jenner Short Hair Styles To Copy And Rock