The gifted and well-known Hollywood performer Anne Hathaway is not only praised for her onscreen abilities but also loved for her perfect glowing skin. Maintaining healthy and radiant skin is crucial for superstars in general, and Anne Hathaway follows a fantastic skincare regimen. She now uses Essential Products exclusively as part of her skin routine. The reputed skincare brands and the amazing ingredients surely contributed significantly to Anne Hathaway's achievement and maintenance of her flawless complexion.
Today's market is flooded with skincare goods, but Essential Products stands out for its dedication to employing natural and organic components that support healthy skin from the inside out. Many cosmetics lovers, including Anne Hathaway, have taken notice of their commitment to developing safe products free of damaging chemicals.
Anne Hathaway Skincare Routine
Here, we've discussed Anne Hathaway's skincare routine and highlighted some of the best products she incorporates into her daily skincare rituals.
Toner
After cleansing and before moisturizing, a skincare product called toner is applied. It assists in restoring the pH balance of the skin, gets rid of any lingering pollutants, and gets the skin ready for improved absorption of future products. Depending on how it is made, toner may offer other advantages. The purpose of hydrating toners is to moisturize the skin, and Anne Hathaway knows the importance of moisturized skin.
She recommends using Omorovicza Queen Essence Toner. The esteemed beauty brand Omorovicza offers a luxurious skincare product known as Omorovicza Queen Essence Toner. Anne Hathaway emphasized that this toner is intended to provide multiple benefits for the skin, promoting a youthful and radiant complexion.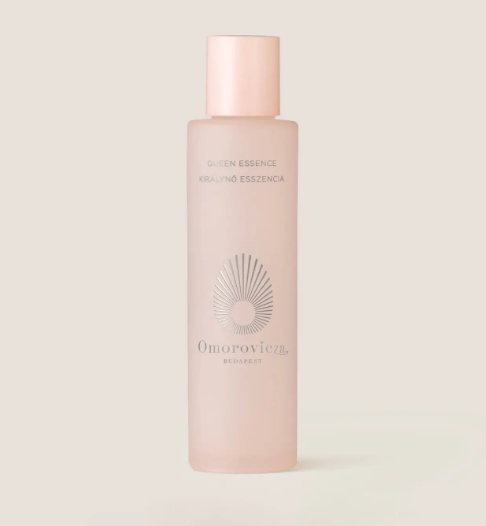 Omorovicza Queen Essence Toner ($110)
Anne Hathaway skincare includes the Queen Essence Toner which is formulated with a potent blend of ingredients that nourish and revitalize the skin. One of its key ingredients is Hungarian Thermal Water, sourced from Budapest's healing thermal springs. This water is renowned for its mineral-rich properties, which replenish and hydrate the skin, leaving it feeling revitalized and refreshed.
ALSO READ: Top 5 Face Toners To Upgrade Your Skincare Game
Serum
Anne Hathaway does recognize the positive effects of a good serum on her skin, and this is why this product makes it to her skincare list of items. Skincare products with a high concentration of active chemicals are called serums. They usually offer a more extensive level of care than other products in your regimen because they are designed to target particular skincare issues. Typically, serums are administered before moisturizer and after cleaning and toning. The purpose of replenishing skincare products is to increase and maintain skin hydration.
Anne Hathaway loves to use Dr. Barbara Sturm's Hyaluronic Serum. The well-known Dr. Barbara Sturm Hyaluronic Serum focuses on deep hydration and revitalization. This serum, created by the renowned German aesthetician Barbara Sturm, is intended to provide multiple benefits to the skin, resulting in a more youthful and radiant appearance.

Dr. Barbara Sturm's Hyaluronic Serum ($110)
Regular use of the Hyaluronic Serum improves the skin's moisture levels, restores elasticity, and promotes a fuller, more youthful appearance. It is suitable for all skin types, but those with dehydrated skin, as well as those concerned about the signs of aging, will benefit the most.
ALSO READ: Sonage Skincare Vitamin C Serum Review: Is It Worth It?
Sunscreen
The use of sunscreen is no rocket science for Anne Hathaway. She recommends choosing a sunscreen that offers broad-spectrum protection, which means that it shields the skin from UVA and UVB radiation. While UVB rays induce sunburn and are primarily responsible for skin cancer, UVA rays accelerate the aging process and can pass through glass.
Anne uses "ISDIN Eryfotona Actinica Mineral Sunscreen SPF 50+" daily. Eryfotona Actinica Mineral Sunscreen is intended to provide maximum sun protection while also addressing and repairing existing sun damage. It is made up of a blend of physical mineral filters, specifically zinc oxide and titanium dioxide, which act as a barrier to prevent harmful UVA and UVB rays from reaching the skin.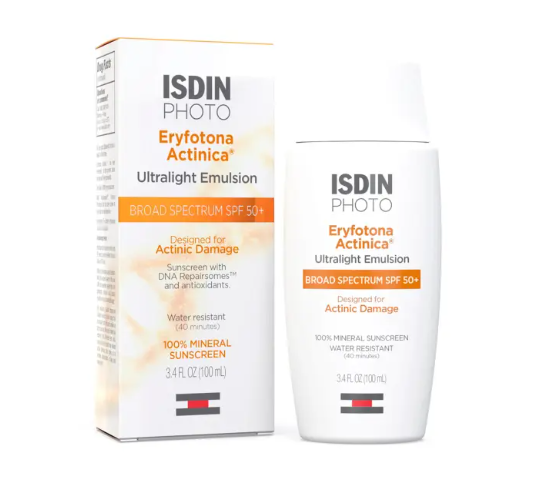 ISDIN Eryfotona Actinica Mineral Sunscreen SPF 50+ ($60)
Face Mask
Anne prefers to apply face masks in the morning instead of the evening. "You want to glow and go out, not glow and go to bed," she says, adding that she recommends using the masks "with a facial massage to wake up lethargic skin and reduce puffiness."
While her recommendation include La Mer's The Hydrating Facial, the latter brand also comes highly recommended by Hathaway herself. The actress praised these gold eye masks in an interview, describing them as so expensive but truly brilliant.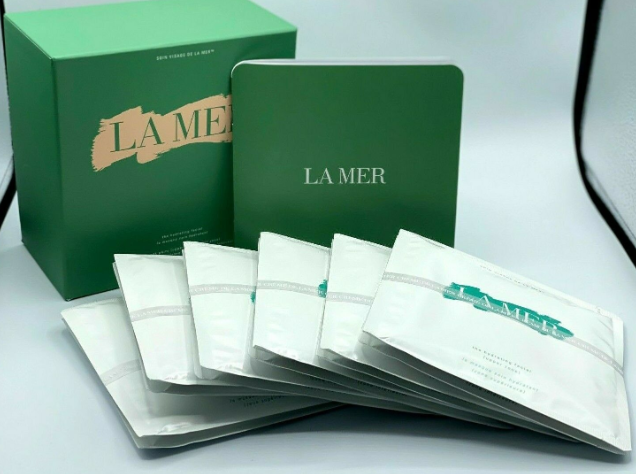 La Mer's The Hydrating Facial Mask Set of 6 ($280)
Conclusion
Anne Hathaway's skincare regimen, which incorporates vital products, is essential to preserving her perfect skin and glowing complexion. Hathaway knows how important it is to give her skin the care it needs, from daily cleansers and toners to nourishing serums and moisturizers. She ensures that her skin obtains the essential nutrients and hydration by carefully choosing products with high-quality components, thereby enhancing its general health and vitality.
The importance of using necessary products is demonstrated by Anne Hathaway's skincare regimen, which demonstrates how to achieve and maintain healthy, radiant skin. Her commitment to addressing her skin's health is demonstrated by her adherence to cleanliness, sun protection, exfoliation, and hydration.