Well-known American model Bella Hadid recently opened up about her struggle with Lyme disease. In one of her recent TikTok videos, she updated her fans that she has been suffering from Lyme disease since 2013, and this time the infection has penetrated her jaw. Let's get to know further about the constant struggle of Bella Hadid and her family against Lyme disease.
Journey of Bella Hadid Lyme Disease
Lyme disease is caused by a bacterium called Borrelia Burgdorferi that is transmitted through the bite of infected black-legged ticks. It can be treated through antibiotics if diagnosed on time. However, even after the treatment, people struggle with ongoing aches, disturbed cognitive functioning, and persistent fatigue.
In one of her recent Instagram posts, she posted images featuring her medical records from 2013, while she was suffering from chest discomfort, terrible fatigue, extreme pain in muscles and joints. Not just this, she posted images where she was injected with IV antibiotics for defense against Lyme disease.
Bella expressed her sincere gratitude and love towards her mother Yolanda Hadid for constantly supporting her throughout these years and keeping track of her medical records. She is also grateful to the entire team, including doctors, nurses, and agents for keeping up with her when the symptoms were worsening with time. Bella further added that receiving proper treatments has made her who she is today.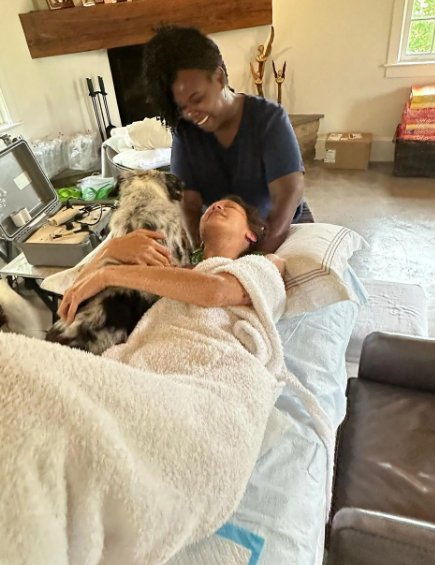 Not just this, Bella has expressed her love towards her supportive fans and wants them to know that now she is doing fine and she will soon return with great zeal and zest.
Bella also updated us with the devastating news that not just she is suffering but also her mother and Brother Anwar Hadid are diagnosed with this disease. However, Anwar was diagnosed with Lyme disease too in 2013 and is receiving treatments until then.
It is so refreshing to see that Gigi Hadid is also her support system and left a heartfelt message in the comments saying that she loves her and is proud of her.
A young American model who is just 26 years old expressed her sincere gratitude towards her mother Yolanda Hadid. Bella Hadid said that her mother has been supporting her since she is been diagnosed with this disease and keeping track of her medical records throughout her health journey.
How Is Lyme Disease Caused?
The disease is caused by the bite of a tick harboring the Borrelia bacterium that causes itchy lumps similar to the ones caused by the bites of a mosquito. The disease is very common in the United States, and it is continuously rising for the past 20 years worldwide. Symptoms include fever, lymph nodes, joint aches, muscle aches, and excessive fatigue.
What Is The Treatment For Lyme Disease?
Although Lyme disease can be treated with antibiotics, a Lyme disease vaccine is developed and is undergoing late-stage clinical testing and will hopefully be approved soon with the potential of protecting against this disease.