Shielded from the harshest weather during the chilliest months, these knee-high lug sole boots effortlessly guide you through the transitions of spring and fall, seamlessly pairing with lighter wardrobe choices. Regardless of your attire, the structured allure of these boots injects an immediate edge into your outfit. When it comes to styling knee-high boots, my preferred styles are either pairing them with a skirt or a dress. There's a delightful vibe in the way tall boots complement short skirts. As the temperature drops, you can layer these looks with snug hooded sweaters, stacked shirts, and jackets.
Yet, amid the myriad of styles and trends dominating the fashion landscape—featuring diverse toe shapes, heel heights, and materials—the quest for the ideal pair might feel daunting. That's precisely why we delved into the realm of knee-high lug sole boots, undertaking thorough research to ease your decision-making.
Trendy Knee High Lug Sole Boots You'll Love
From classic black knee-high lug sole boots to creamy white and suede lug sole boots, here you will find the perfect pair that will suit your personal style for sure.
AGL Women's Malika Knee High Boots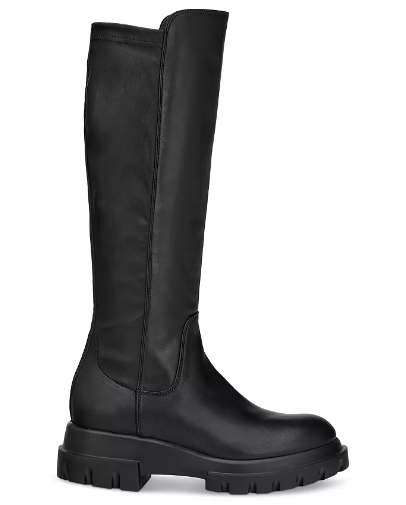 Welcome fall with the ideal fashion balance by pairing chunky knee-high boots with micro hemlines. If your heart is set on rocking short leather shorts into the new season, this is the chicest approach to nail the look.
Kate Lug Sole Knee High Boots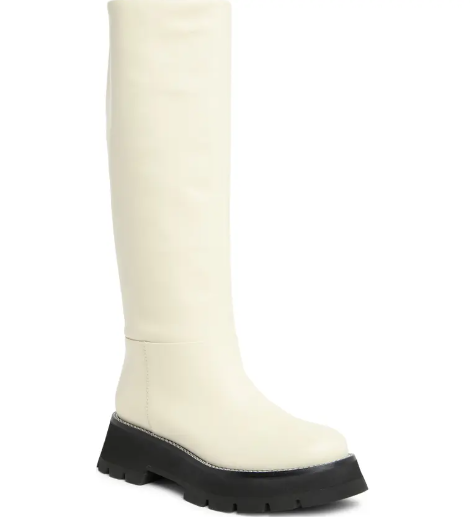 The pristine allure of white leather adds a touch of magic to these everyday knee-high boots. White is truly timeless whether it comes to fashion or beyond that. I own two different boot styles in white but no wonder why I want more and more.
La Canadienne Helene Waterproof Boots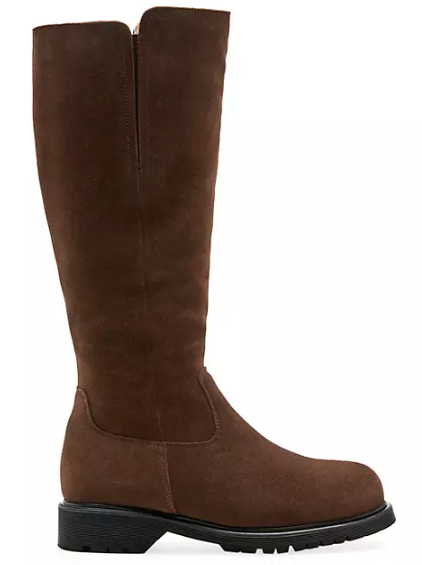 Between August and April, there's a 95 percent chance you'll find me sporting a pair of La Canadienne boots. I own a version of this lug-soled pair without shearling, and without a doubt, they rank as my most comfortable boots. They've stood the test of time, accompanying me through grueling 18-hour days of navigating New York Fashion Week, displaying virtually no signs of wear. Not once in the year I've owned them has the leather caused a blister. Now, eyeing this shearling-lined duo available in brown and black, I'm seriously considering a splurge for even greater comfort.
Jeffrey Campbell Tall Boots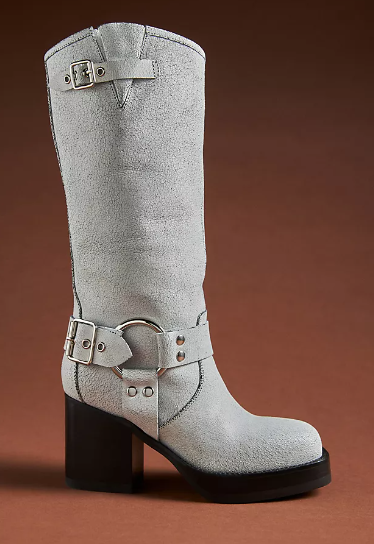 Channeling '70s fashion vibes, these Jeffrey Campbell boots make a bold statement. The oversized buckle detail and robust, chunky heel practically demand to be styled with a boho-inspired dress or an irresistibly snug sweater dress paired with tights. While I have a soft spot for the black variant, the equally chic white suede option is also available. Ranging from sizes 5 to 11, including most half-sizes, these boots boast an easy pull-on style—no need for zippers. The soft leather exudes a charm that promises to age gracefully, and that's precisely why I adore it.
Marc Fisher LTD Suede Low-Heel Tall Boots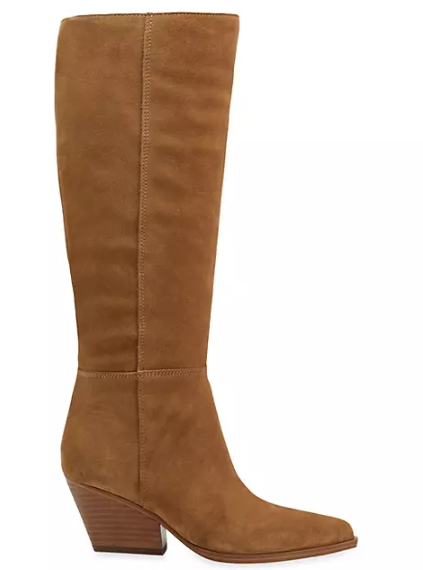 Meet Marc Fisher LTD's cowboy-inspired boots, priced under $300—a harmonious blend between a cowboy boot and a classic riding boot. In two versatile colors, these boots embrace the pointed toe and stacked heel reminiscent of Western style, minus the usual embellishments. The only touch of flair? A subtle ruffling at the sides, offering just a hint of drama. Consider these the epitome of understated luxury within the Western boot trend.
Conclusion
I absolutely love the knee high lug sole boots trend this season. They are both stylish and practical, perfect for any fall or winter outfit. Plus, the added height makes my legs look amazing.