I love the world of fashion and consider myself rather proficient in the industry. From my viewpoint, people notice you more when you wear white, and it never fails to make me feel like an Angel whenever I put on my favorite white dresses.
White is a timeless neutral that complements everything else in the color wheel. And speaking of show-stopping looks, this brand is famous for offering the best white dresses for every occasion, making them my go-to choice for creating my favorite outfits.
6 Lulus White Dresses To Enhance Your Closet
Elevate your wardrobe by adding the must-have pieces of Lulus white dresses, and you'll be ready to turn heads and steal the spotlight effortlessly.
Sleeveless White Maxi Dress
This Sleeveless button-back mermaid white maxi dress can be ideal for summertime weddings on the beach or other formal parties. This dress is made from a techno crepe knit material that stretches just enough to make you look and feel amazing. It has a square neckline and a princess seam at the bust, and the straps are adjustable.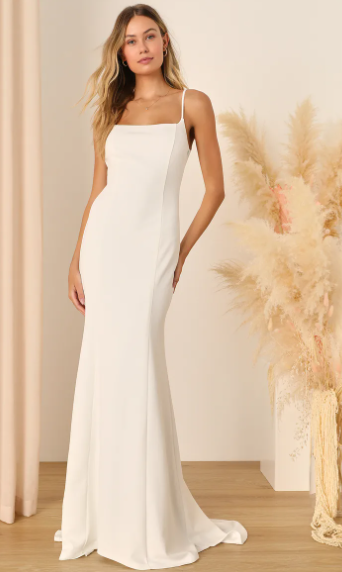 Lulus Blessed Romance White Sleeveless Button Back Mermaid Maxi Dress ($114)
The fitted bodice gives way to a mermaid skirt with a dramatic maxi length and a lovely train. When you turn around, you'll see a beautiful scoop back that's embellished with covered buttons.
White Midi Dress
This stunning ruffled white midi dress is a versatile piece that can be dressed up or down for different events. It's appropriate for both the office and Sunday brunch.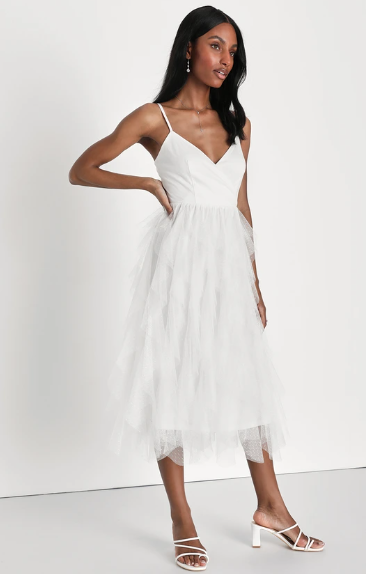 Lulus Breathtaking Essence White Mesh Swiss Dot Ruffled Midi Dress ($88)
This dress's eye-catching design is a result of its sheer mesh overlay (on top of a corresponding knit lining), which molds the sleeveless bodice, the flirty surplice neckline, and the adjustable spaghetti straps. The midi-length A-line skirt has a tight waist and is layered with feminine frills. There is a zipper that is not prominently visible at the back of the dress as well.
White Lace Dress
A woman looks delicate and sophisticated in a white lace outfit. Whether it's a form-fitting bodycon or a flowy A-line, lace can make any dress more feminine. This dress is perfect for weddings, events that are close to your heart, or other formal events.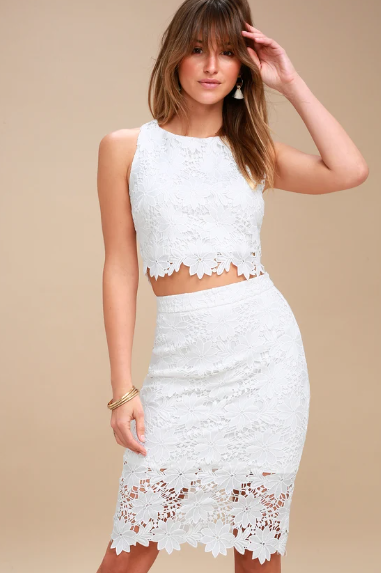 Lulus Look at Me Wow White Lace Two-Piece Dress ($74)
Wearing the Lulus Look at Me Wow White Lace Two-Piece Dress, you are sure to turn heads. This outfit is designed as a sleeveless crop top in lovely floral crochet lace with a rounded neckline, darts, and a hidden side zipper. There is a hook and silver zipper on the back of the skirt.
White Off-Shoulder Dress
White dresses with one or no shoulders can be chic and figure-flattering. It's perfect for social occasions where you want to flaunt your shoulders and neckline. Dress up for a night out on the town in the Lulus How Much I Care Ivory Off-the-Shoulder Midi Dress.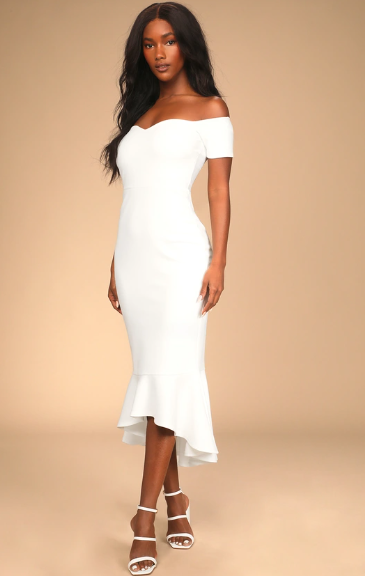 Lulus How Much I Care Ivory Off-the-Shoulder Midi Dress ($62)
This beautiful dress is shaped from a medium-weight stretch fabric and has a sweetheart neckline (with no-slip strips) and a darted bodice with short off-the-shoulder sleeves. This dress has a trumpet-shaped midi skirt with a high-low ruffled hem and a fitted waist.
White Sweater Dress
This dress features a deep V-neckline, wide tank straps, and a fitted bodice, all of which are constructed from gorgeous crocheted yarn that is adorned with pierced accents.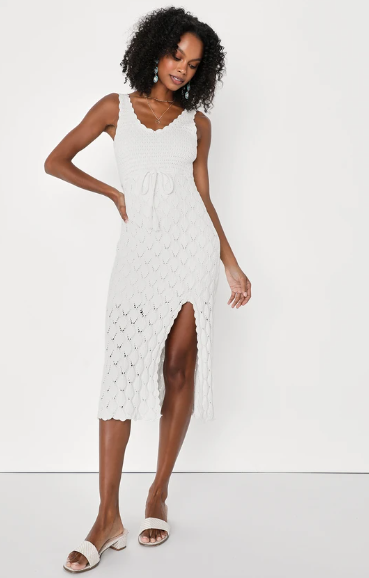 Lulus Sunny Daydreams White Sleeveless Crochet Midi Sweater Dress ($82)
The high waist has a cute drawstring and flows into a figure-hugging midi skirt with a sexy slit that goes halfway up one leg. For a more girly look, the collar, shoulder straps, and hem all have scalloped edges.
White Satin Halter Midi Dress
Think about how you'd feel if you were wearing a stunning White Satin Halter Midi Dress, straight out of a fairytale. You'll feel like a princess in this gorgeous gown that also has a hint of modern sophistication. White satin is a delight to run your fingers over because of how smooth and delicate it is.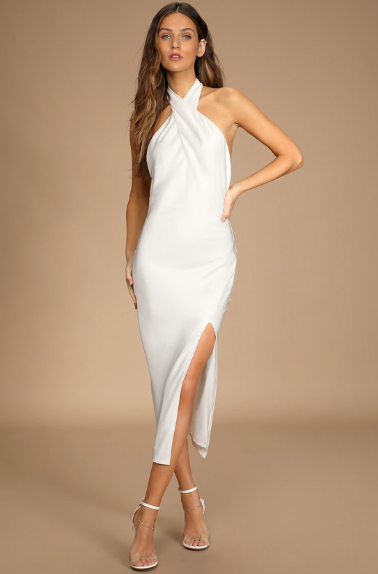 Lulus Beyond Classy White Satin Halter Midi Dress ($70)
The dress falls so softly and comfortably over your body that you won't want to take it off. The halter neckline is a lovely feature that highlights your shoulders and collarbones while also lending an air of refined elegance to your outfit. It's the kind of understated detail that can completely transform your mood.
Conclusion
Lulus's white dresses are a favorite among attractive women because of their reasonable price and high quality. They have many different styles, so you can find a dress for any event. Whether you need a dressy or casual outfit, they have you covered. The best part is that their dresses are made of high-quality materials that are easy to wear all day. So you can look good and feel good without having to spend a lot of money.