Hailey Bieber is a trendsetter when it comes to fashion and skincare. She has become the talk of the town by paving her own way into the fashion world instead of blending in with the crowd. Street-style outfits, red-carpet appearances, and her own skincare line Rhode, clearly depict how well she carries herself in both easygoing garments and high fashion. Her remarkable range has made me choose My Favorite Outfits spurred by Hailey Bieber's sense of style.
Delve with me into the article and find details of my favorite outfits influenced by the offbeat fashion statement created by Hailey Bieber.
My Favorite Outfits To Create On-Trend Looks Inspired By Hailey Bieber
Get ready to elevate your fashion game with these inspiring looks effortlessly created by Hailey Bieber with some cozy outfits that you can also add to your western wardrobe as I have added.
Sheer tights crusade
All-black look
School core fit
Cold-weather party look
Biker and motocross-inspired looks
Sheer Tights Crusade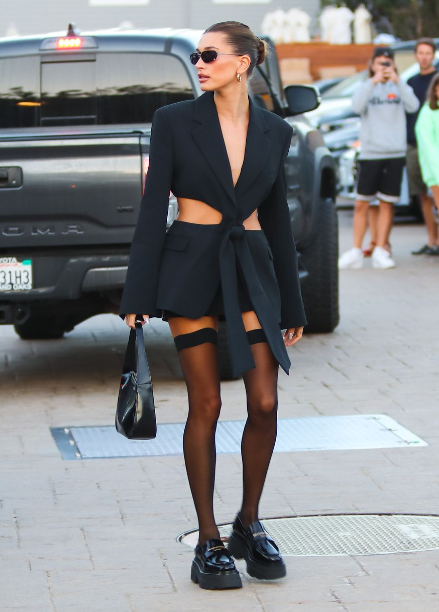 Hailey Bieber has inspired a separate fashion movement by showing her fondness for traditional transparent tights. She turned it into a statement by making it part of her outfit. Hailey experiments with contrasts which represents her distinctive fashion traits. I absolutely adore one of Hailey's signature looks; she often pairs sheer tights with oversized blazers, leather jackets, or distressed denim.
On January 2023, while being out in New York, The fashion icon for beauty wore her hosiery with a small denim skirt by Y/Project, a V-neck sweatshirt from COS, and loafers by Jil Sander.
The tight's sheerness improves an overall look. When she goes with a monochromatic look, it adds depth to her styling. Hailey expresses her originality by combining sheer tight with glamorous dresses for a red carpet event. Since then, at least 2 sheer tights I have added to my wardrobe.
All-Black Look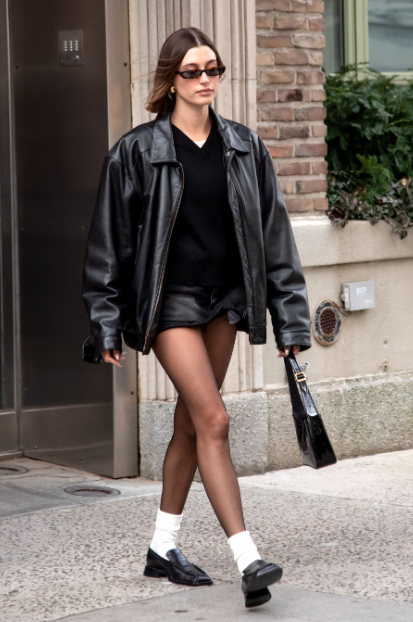 The cozy couple street style is mastered by Hailey and Justin. It's about January 2023, in New York, The Biebers had lately been seen in public in New York wearing identical all-black outfits. Justin was spotted with brown accents in his looks, while Hailey wore an enormous leather bomber jacket with loose slacks, blue-tinted sunglasses, and a denim Bottega Veneta purse.
I mostly go for monochromatic styling but never thought of an All-Black street-style look. Thanks to Hailey as she has inspired me to incorporate a fresh perspective into my fashion routine. When wearing all black, Hailey Bieber seems both girly and tough. She depicts her innovative sense of style when she wears a leather jacket over a flowy black maxi or combines a lace top with ripped black jeans. I am all ready to create this trendy look as it flawlessly blends delicate and feminine pieces to create a unique aesthetic.
School Core Fit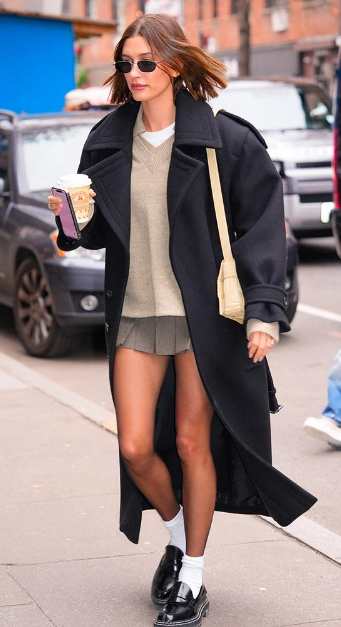 This year Hailey kicked off things with a bang. On the bustling streets of New York, all eyes were on Hailey as she donned an eye-catching school core fit style. I loved the way she sported her new bob-cut hair as she wore a double-collared pullover by an unnamed designer, Calzedonia tights and socks, and Proenza Schouler loafers with a massively oversized YSL coat and a hyper-mini pleated skirt by MISBHV.
Among My Favorite Outfits is the oversized YSL coat, which elevates the look even if you wear a simple top with denim blue jeans. Inspired by Hailey's fashion choices, I am feeling empowered to strut the streets in style with an oversized coat.
Cold-Weather Party Look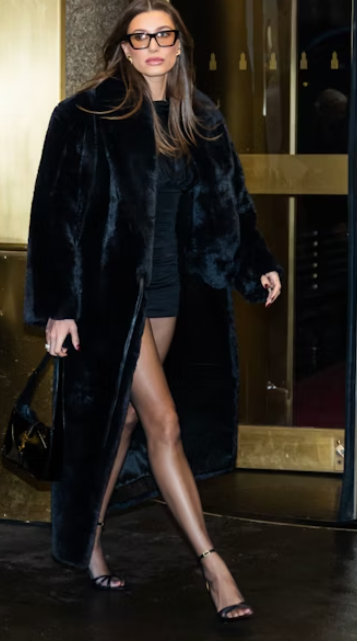 Hailey's cold-weather party looks are the perfect blend of comfort and glamour. I'm absolutely obsessed with the Faux Fur coat that Hailey rocks as it is the perfect way to stay cozy and chic during colder months. With her fitted and voluminous coat, Hailey is sure to turn heads at whatever winter party she attends.
She often chooses long-sleeved or mid-length shimmering sequined dresses in metallic hues Bronze, silver, or gold. The sequins give a beautiful dazzling effect when light strikes them and completes a look for the festive occasion. In order to maintain her comfort and poise while looking fabulous, Hailey opts for lengthier hemlines. She takes the winter party outfit up a notch by wearing bold knitwear. She may choose a bright scarlet or deep purple bulky turtleneck or a large cable-knit sweater.
I'm ready to slay any winter party that comes my way, as my wardrobe is all set with a dazzling sequined shirt and a cozy faux fur coat.
Biker And Motocross-inspired Looks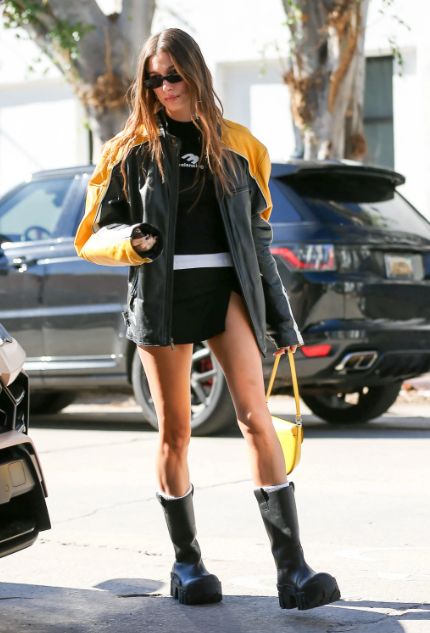 Hailey has got the ability to infuse boldness with her unique sense of style. The main piece of the outfit that creates this look is the leather jacket. Hailey chooses a fitted Black or red metallic coat. Motorcycle jackets include zippers, padded panels, and cropped silhouettes.
Elements that give Hailey's ensemble a rebellious, fashion-forward appeal are jeans with shredded knees, frayed hems, or faded washes. Biker trousers with zippers or ribbed knee panels are popular.
Conclusion
Hailey Bieber's style is impeccable. She stands out for her ability to go from street style to red carpet grandeur. We may build trendy, adaptable clothes by copying her style. Hailey Bieber's transition from an elegant street style to a bold red carpet looks excites fashionistas everywhere. Her amazing sense of style establishes her as a genuine fashion icon.