This celebrity not only wore costumes inspired by Barbie but also reflected her most iconic beauty moments. She also recreated the look of perfectly '50s-style curled hair. What about the makeup? She decided on a hazy, pink fantasy. The nails, you say? If Barbie had a Pinterest account, she'd pin these. Almost all these looks were recreated by a team led by Margot Robbie, including Andrew Mukamal as well.
Fans eagerly await the Barbie premiere, eager to see Margot Robbie's real-life rendition of the doll's iconic style on the red carpet since she was cast in the title role of Greta Gerwig's upcoming movie.
These opportunities to shine in your wardrobe made an appearance in the month when the movie got released. Robbie began her press tour at the end of June, and she has been dressed like a Barbie doll ever since. We can't get over how well she resembles the iconic Day-to-Night Barbie from 1985 when that actor wore nothing but pink couture Versace.
Some of the Best Margot Robbie Barbie Costume
Black and White Striped Mini-dress by Herve Leger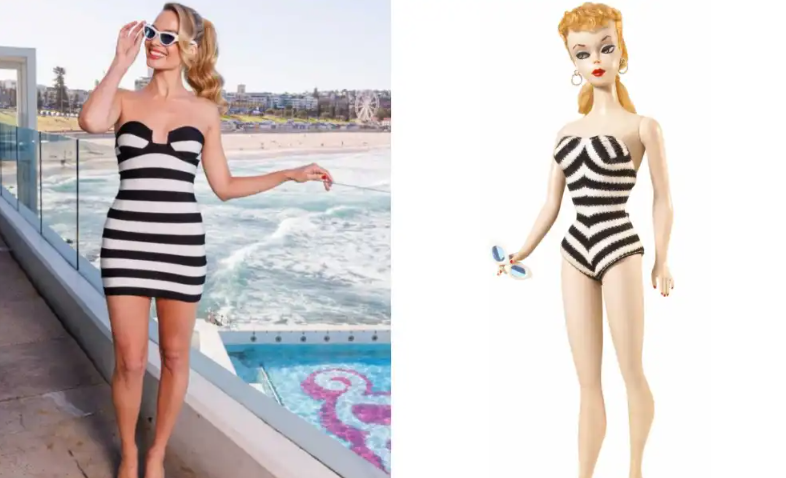 The Australian actor wore a dress that reminded back of the first Barbie doll, which was introduced in 1959 when she arrived back to promote the Barbie film at Sydney's Bondi Beach. As a nod to the original doll's black and white striped swimsuit, she donned a black and white striped minidress by Hervé Léger for the event.
In comparison to the costume worn by the original Barbie when it was released by Mattel in 1959, here is a photo of Margot wearing a black and white designed by Herve Leger at Bondi Beach in Sydney.
Pink & Fabulous Barbie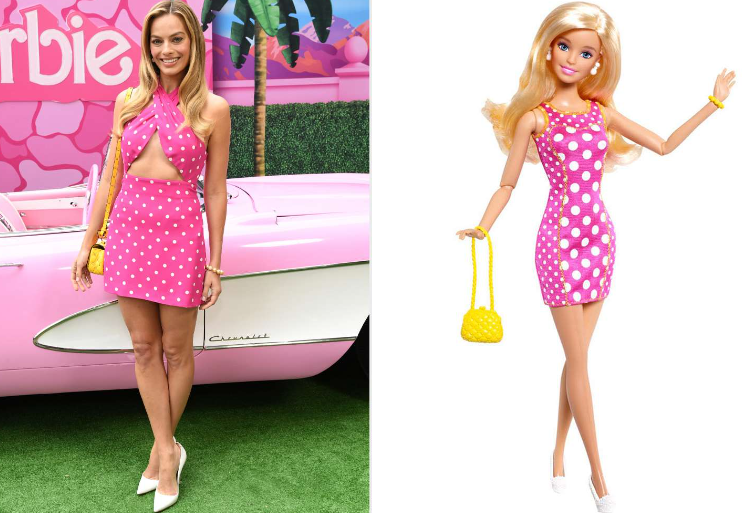 Robbie wore a one-of-a-kind "Pink & Fabulous Barbie"-inspired Valentino dress to a photo call in Los Angeles in which she was featured. The dress was modified slightly from its initial design by having a halter neckline rather than a scoop neck. She accessorized the polka dot mini dress with a pair of white Manolo Blahnik heels, pearl jewelry from Assael, and a Valentino Rockstud bag.
Sparkling Pink Barbie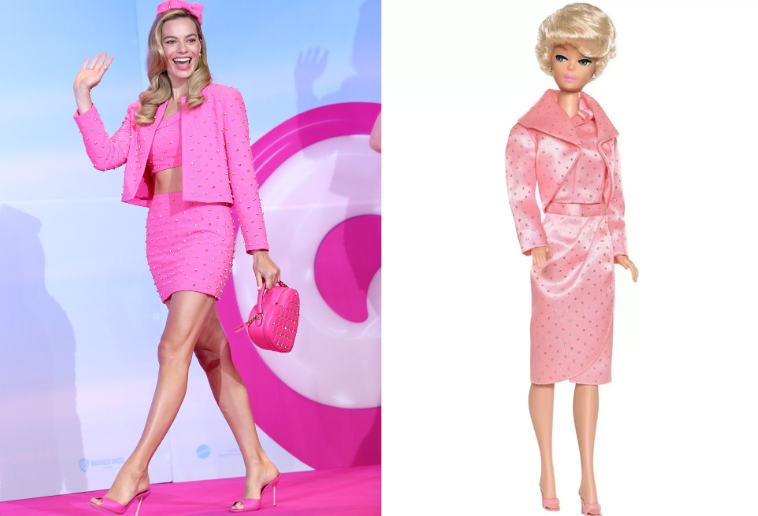 Robbie wore an outfit from Moschino that was made up of a similar three-piece suit to another press appearance that was held in Seoul. Her signature pink Manolo Blahnik shoes and a Moschino purse in the shape of a heart completed her look. This breathtaking attire was a tribute to the "Sparkling Pink Barbie" doll that was released in 1964.
Day to Night Barbie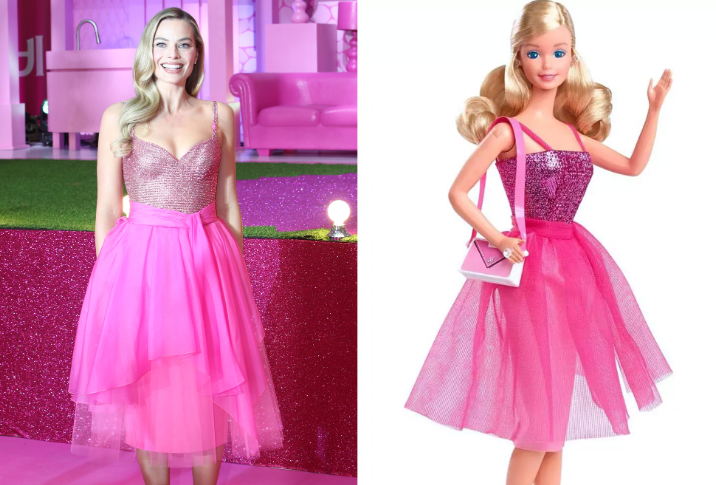 In Seoul, South Korea, Robbie stunned audiences with her most iconic "Day-to-Night Barbie" outfit to date. She donned a custom-made Versace dress in a hot pink A-line silhouette with a sparkly bodice and Manolo Blahnik mules in the first picture. In the second picture, her Versace outfit was the same as that of the 1985 Mattel doll, right down to the pink and white polka dot ribbon on her white boater hat and the two-toned Manolo Blahnik shoes.
Totally Hair Barbie
Another appearance from 1992 that was given a new lease on life in Mexico was that of "Totally Hair Barbie," but without the floor-length platinum waves that were typical of the doll in the 1990s. Emilio Pucci created Robbie's one-of-a-kind dress, which was inspired by the year 2000 and whimsical in look. Robbie accessorized her look with Chanel resin earrings and a pale pink quilted Chanel pocketbook. Robbie's dependable pair of Manolo Blahnik shoes were also seen in this scene.
Conclusion
Margot stunned the viewers with her beautiful and classy Barbie outfits, which totally did justice to the character. These unforgettable outfits throughout the years from some of the most brands, along with her stunning style, had people gasping throughout the world. She's totally a real-life Barbie character! Isn't she?
Margot Robbie has always had a great fashion sense, along with her dazzling beauty. Especially Margot Robbie Barbie's feet stunned the viewers and set the internet alight. Given the importance of style in the Barbie universe, I've loved seeing Margot in different outfits at each press conference. While Margot has always wowed in her fashion choices, there have been a few standout outfits that were undoubtedly inspired by Barbie.