If you ever used their Liquid Touch Weightless Foundation you must have an idea how exactly lightweight it feels to the skin and how beautiful coverage it gives to the face, Well here we are talking about the Rare Beauty product which we can call a lightweight sister of foundation. The tinted moisturizer! Yes, you heard it right. It says it helps blurred skin and gives minimal and light coverage glowing skin, and I just love this one because it also protects us from the sun with its SPF 20. Was I right when I said it is a lightweight sister to all of your full-coverage foundations? Well, let me walk you through the details of this tinted moisturizer so you can decide easily.
Rare Beauty's Tinted Moisturizer Packaging
Let's start from where it all started, love at first sight? Can't get enough of how cute the packaging is. The bottle and the cap both have a cute crescent-shaped cutout which is extremely unique and feels good to hold and gives the perfect grip so our clumsy selves don't drop it every time we are in a hurry. Also, the bottle makes it perfect to carry even when traveling. After removing the cap you will see a squeeze-out top from where all the tinted magic comes to your hand.
No-Makeup In A Bottle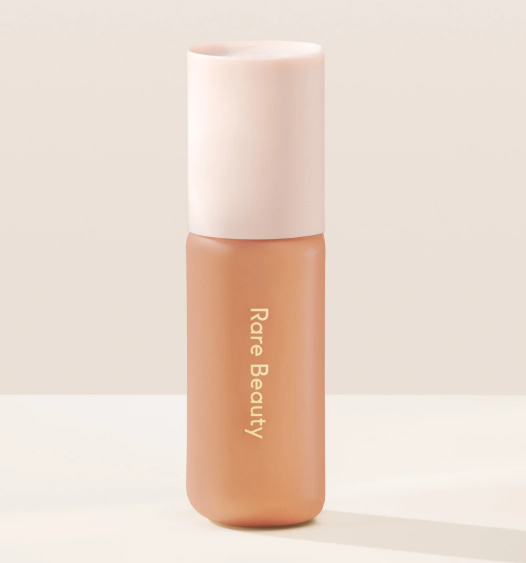 Rare Beauty - Tinted Moisturizer ($30)
Now that we know about the bottle, let's get inside the bottle to analyze how this product is gonna give us our desired looks. Well, Rare Beauty's tinted moisturizer sounds highly hydrating, creamy, and full of formulas that may be heavy but when you put it onto your skin you will almost feel nothing.
The moisturizer's texture is extremely lightweight, hydrating, and kind to skin as it has ingredients like a botanical blend of lotus, white water lily extracts, vitamin E via sunflower oil, and gardenia that help you achieve that lightweight coverage. And not only this, it has broad-spectrum SPF 20 which protects your skin from skin damage. With all these amazing offerings, the lightweight texture is just wow. If you are wondering about "does it really come in the shade that suits your skin tone?" Yes, it does. It comes in 24 shades from light to medium and dark to even darker so you can comfortably choose the one that suits you the best.
Is It Worth It?
Overall, I am extremely happy with this tinted moisturizer. It gives my skin a fresh, glowing look without appearing too heavy. Plus, it's super easy to apply. The end result is a no-makeup makeup, low-maintenance, effortless look that's perfect for a model-off-duty vibe. But if you want more coverage, you can easily layer on other products for a more glamorous look. While the price may be a bit steep compared to my go-to drugstore brand, which I love and use frequently, it's still on the lower end compared to other similar products at Sephora. In my opinion, it's definitely worth buying.