Booked your tickets to Nashville but confused what to pack, what to wear and how to appear at Nashville with wearing an outfit that gives just the right vibes of the country, no worries I have some stunning Nashville outfits on my list you will surely love. Before I reveal my top picks of Nashville outfits let me first make you understand the aesthetic that makes your outfit a perfect Nashville outfit.
Nashville has been known for its cool vibes, live country music, delicious southern food, and instagram-worthy pictures spot almost at every other step. When packing your favorite outfits for a Nashville trip, keep in mind that in the daytime you will be needing lightweight and soft color palette outfits to walk under the sunshine of Nashville city. During the night time you will feel the cold breeze of the country directly on your face so you have to pack some cozy clothing that can keep you warm all the time.
Nashville Outfits You Will Love to Copy
Nashville's weather is unpredictable and can go from a sunny day to a cold and breezy weather in a blink of an eye. I have picked some of the most lovable looks to create for yourself that will make a perfect Nashville outfit.
Effortless Chic Nashville Outfit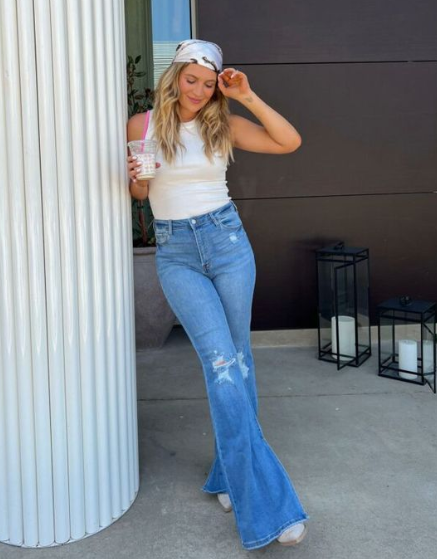 For all the relaxed and low-maintenance women who just want to get ready without putting a lot of effort, this is the perfect Nashville outfit to flaunt from day to night. The plus point of this outfit besides the effortlessly chic vibe is that it can be built with the pieces you already own in your wardrobe. Just pair your flared jeans with a crisp white tank and step into your favorite white boots to create the perfect look. Finish off the outfit by styling bandana with your hairstyle or just knott around the bandana on your head to give off that bohemian touch.
SHOP THE LOOK

PacSun - High Waisted Flare Jeans ($51.25)


Madewell - Embroidered Cotton Bandana ($16.50)


Forever 21 - Ribbed Knit Tank Top ($7.89)


Asos - Western Ankle Boots ($47)
Bohemian Chic Nashville Outfit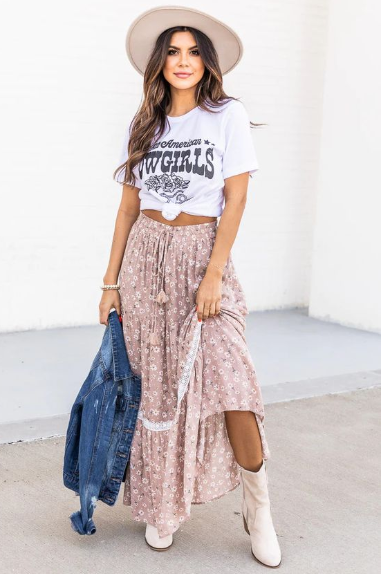 Someone said bohemian? Yes, Nashville city calls for a bohemian style, easy freezy fabrics and all things flowy when it comes to fashion. We all at least have one flowy skirt that's floral, printed or just gives off that boho vibe to our look, that skirt is what you have to pack to create this outfit. Then a tee with a knot, a hat in beige and of course a denim jacket to add a twist to the boho vibe and make it a little trendy.
SHOP THE LOOK

Boohoo - Floral Maxi Skirt ($7)


Gigi Pip - Emma Wide Brim Fedora ($146)


Forever 21 - H.E.R. Graphic Tee ($16)


Madewell - The Jean Jacket ($128)
Feminine Nashville Outfit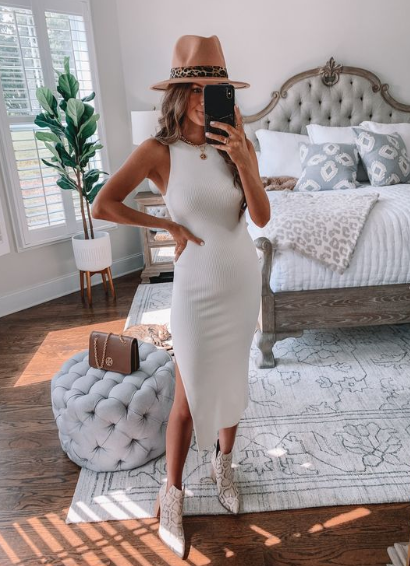 If you want to dress up like a true feminine, you don't have to step out of your bohemian and Nashville style as this outfit is perfectly balancing the flowy, oversized and boho vibe with a subtle sophisticated vibe. Just wear your prettiest white dress with a slit, snake-skin boots, your statement jewelry pieces and a crossbody bag in brown to add a twist to the outfit. Last but not the least, top it off with your favorite hat you own in your closet.
SHOP THE LOOK

Asos - Ribbed Knit Midi Dress ($44)


Madewell - Flap Shoulder Bag ($145.50)


H&M - Heeled Boots ($49.99)


Forever 21 - Layered Chain Necklace ($7.99)
Conclusion
With these outfits in your suitcase, you can go from a brunch to lunch and from a casual dinner to a soulful concert in the city. Anything you pack for Nashville must give off the playful and easy side of yourself, as the aesthetics of this place is all things flowy, oversized, cowboy boots, cowboy hats and anything boho. So, don't hesitate to mix and match these and create one of your own Nashville outfits.