Hey, Gomez army! We have come up with the details of the most anticipated event that features the birthday party of your favorite celebrity, none other than Selena Gomez. On July 22, Selena made a fashion statement with a bold red ensemble at a star-studded party, and without any doubt; fans are going crazy to know the details as she captured the attention of all who laid eyes on her.
Selena stole the show with her bold, striking red mini-dress embellished with floral appliques and cascading tassels.
She accessorized her dress perfectly with silver hooped earrings and wore black peep-toe stiletto heels with straps that went up to her calves. Even her sandals had some floral details that complemented her outfit in the best way possible. She completed her look with golden eye shadow, perfect sharp winged eyeliner, and nude lipstick and let her long curly waves cascade at the front.
However, the party is yet to begin. Selena danced her heart out with her celebrity friends while wearing black sunglasses and draping a black blazer on the side of her shoulder, thus giving a classy party girl look altogether.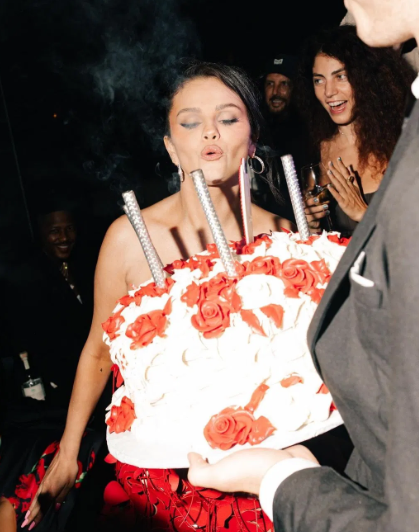 On the Instagram account, Selena posted a photo of her birthday cake adorned with sparkles, red and white floral details. Some renowned celebrities attended the party, including Diplo and Paris Hilton. Both of them commented on her Instagram post that they enjoyed the party a lot and also separately wished her happy birthday.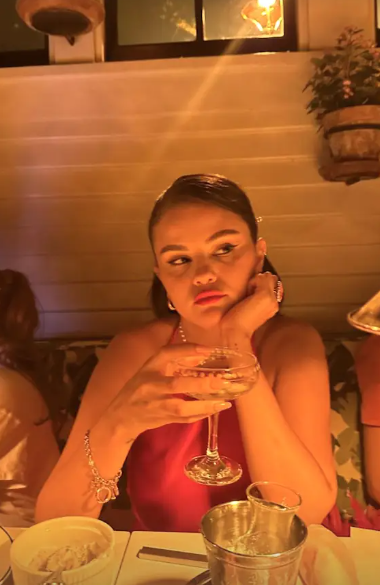 Gomez's birthday was much more than a cake-cutting ceremony. Her squad enjoyed the private screening of the "Barbie" movie while enjoying an intimate dinner. Selena, along with her squad, wore a gorgeous pink outfit and lipstick to match, and she even did the hand-on-chin pose as in the movie. The squad sat around a table laden with mouthwatering foods and drinks.
Furthermore, she expressed her gratitude towards everyone who made her birthday special and added that the biggest gift one could ever give her is to support the funds she has been raising to create awareness regarding self-acceptance and mental health. With this message, I realize that people love her for her genuineness.