As much as I have observed, floral prints and patterns change the mood of a person, no matter what it is. It can evoke emotions. The beauty of a floral dress just lies in each bunch of it, ending up looking elegant and beautiful. Being in the fashion industry, I come across a lot of floral prints, and every style and pattern is different from another. Lulus floral dresses are an exceptional example. They are versatile and full of emotion.
Lulus offer floral dresses that are both comfortable and flattering to the body. They provide a wide variety of styles and cuts that can flatter a variety of body types, which in turn helps women, feel more beautiful and confident when wearing their dresses.
Top Lulus Floral Dresses For Any Occasion
Lulus place a premium on using soft, high-quality fabrics. Women can enjoy all-day comfort in style thanks to the fact that their flowery dresses not only look beautiful but also feel soft on the skin. Below are our top picks of the best lulus floral dresses.
Floral Satin Maxi Dress
Whether you are going to a hip-hop party or a wedding of your loved ones, a floral satin maxi would make you stand out of the crowd.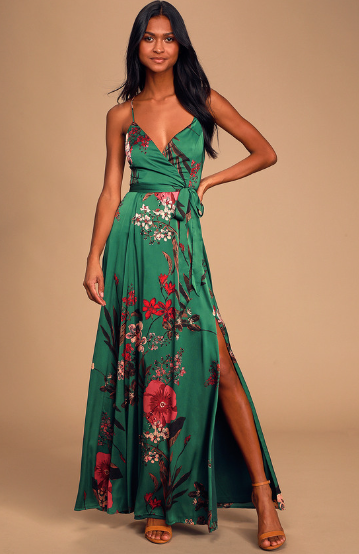 Still the One Emerald Green Floral Print Satin Maxi Dress ($89)
This emerald green floral dress is made with satin material and has a different color palette that enhances its beauty.
Floral Satin Midi Dress
Feel like a regal princess for the day in this beautiful floral midi dress!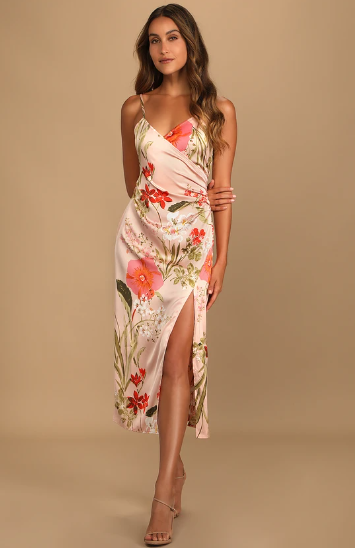 Remarkable Entrance Pink Floral Print Satin Midi Dress ($79)
This gorgeous dress is fashioned from slinky woven satin and features adjustable spaghetti straps and a surplice neckline. The midi skirt has a front slit and is paired with a fitted bodice with light gathers at the waist.
Floral Print Off-the-Shoulder Maxi Dress
The compliments you'll receive while wearing this flowery off-the-shoulder dress are guaranteed to be a lot.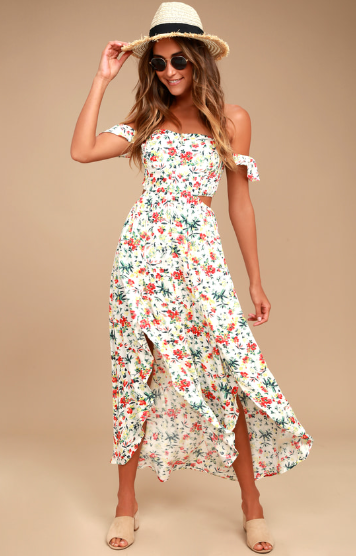 Easy on the Eyes Cream Floral Print Off-the-Shoulder Maxi Dress ($60)
A maxi skirt with overlapping side slits is paired with a button-up bodice that features side cutouts and a smocked back. This pretty, creamy floral dress will compliment your overall figure and make you fall in love with yourself over and over again.
Green Floral Print Two-Piece Midi Dress
The Lulus Summer Romance will make it almost impossible for you to prevent yourself from falling head over heels for it.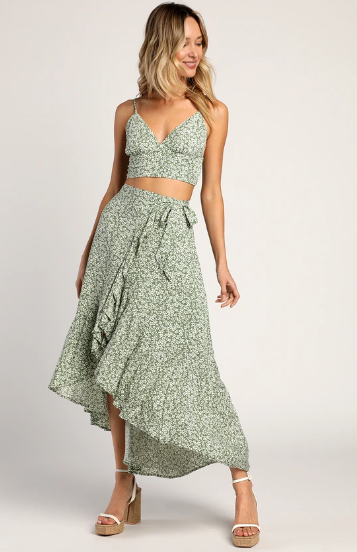 Summer Romance Sage Green Floral Print Two-Piece Midi Dress ($69)
The dress is made from a lightweight woven fabric with a white floral print; the top includes adjustable straps, a V-neck, and a set-in waist (with smocking at the back for fit). The bottom is a matching cropped skirt. The coordinating midi-length skirt has a wrap design that ties at the waist and a ruffled high-low hem.
Floral Print Two-Piece Maxi Dress
Do you want to flex over your pretty dress? Choose the Trancoso Coral for yourself!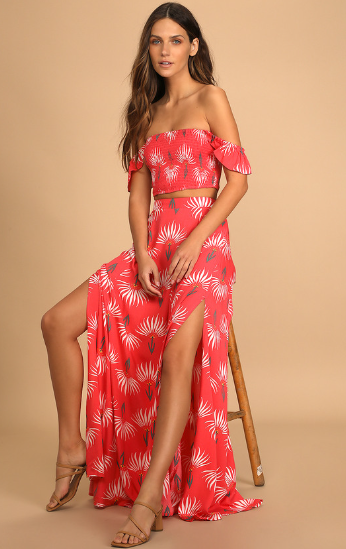 Trancoso Coral Floral Print Two-Piece Maxi Dress ($67)
The dress is made of a woven fabric that is both lightweight and breathable, and it features a floral pattern in a tropical color palette. This is a smocked crop top with elasticized, ruffled, off-the-shoulder paired with a flowy maxi skirt with side slits and an elasticized back. There is a side zipper on the side of the skirt as well.
Conclusion
Floral patterns make women feel girly and aesthetically pleasing, which appeals to their desire to look and feel beautiful. The dresses look even better because of the delicate and sophisticated floral designs on them. These designs add a bit of softness and beauty to the dresses. Even though I love flowers a lot, I can't find many flowery prints in my wardrobe, which is strange given how much I like them.
There are many ways to wear floral prints, from dresses to coats. But it makes more sense sometimes than other times since there are so many ways to wear these styles, and the colors are so different. Now is the time to show off your new floral clothes, so Lulus has the best flower-print dresses for you all.
ALSO READ: 6 Must-Have Lulus White Dresses For Your Wardrobe