Certain nail trends may come and go, but French tip nail designs remain timeless for good reason. Elegant and subtle, the classic French manicure complements any nail shape and aligns effortlessly with TikTok's clean girl and old money aesthetic. Like the other beauty trends, the French mani has undergone changes over the years (recall the era of square acrylic French tips?). Now, more than ever, vibrant tips adorned with glitter and nail art are stealing the spotlight. Bold tips, a contemporary twist on the classic French manicure, are not just a passing nail trend—they're here to stay. Ready for your next manicure? We've picked stunning French tip nail designs to inspire your next manicure.
Cute French Tip Nail Designs To Copy
Whether you are into minimal french tips like half french or you are more into the playful manicure like the rainbow nails or floral tips, you will find what you are looking for below.
Black And White Double French Tips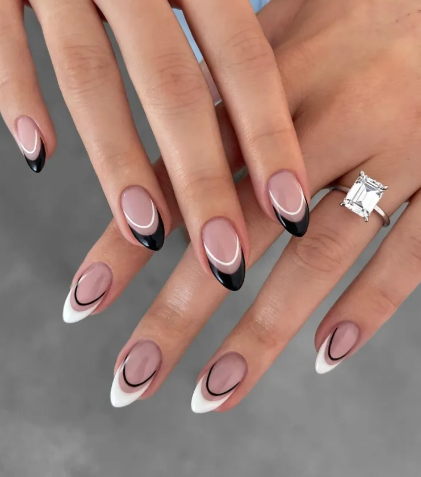 Isn't a nail design just infinitely more stylish in black and white? Absolutely smitten with these nails featuring a sleek black and white palette and an outline beneath the tips.
Half French Tips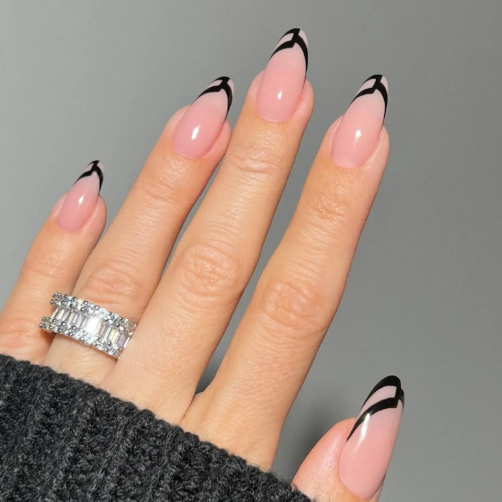 Crafting a chic look like this requires the artistry of someone like Aistè P. from @heygreatnails, who describes her process as "random" yet impeccably stylish. In my quest to infuse a modern twist, I explored different variations and successfully achieved the desired outcome. While maintaining the classic two-color palette reminiscent of a traditional French design, the inventive incorporation of negative space adds a distinctly contemporary flair.
Rainbow French Tips
Can't decide which color you should go for your French tips? Why not go for them all? Well, not really, but it's a delightful and playful approach to your French manicure, especially with some adorable pastel shades like these.
Heart French Tips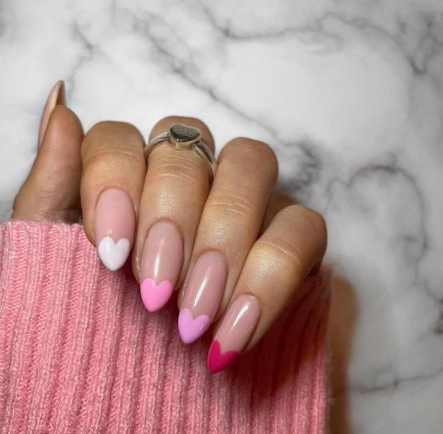 Natalie, the nail artist behind @playing_with_nails, ingeniously utilizes the pointed tip of an almond-shaped nail as the perfect canvas for a hand-drawn heart in this design. She crafts the romantic aesthetic by employing four OPI shades—It's Pink PM, Tagus in that Selfie, Aurora Berry-alis, and OPI Red—from left to right. With a delicate nail brush, Natalie takes on the approach of drawing a heart, starting with one half and seamlessly mirroring it for a charming finish.
Tortoiseshell French Tips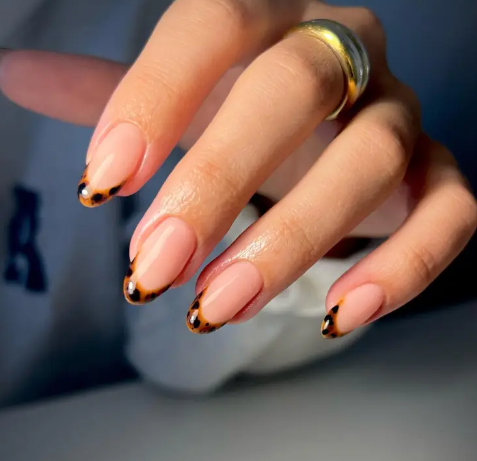 Tortoiseshell print nails are consistently adorable, and it's a no-brainer that the French tip version would be equally charming.
Rainbow Floral French Tips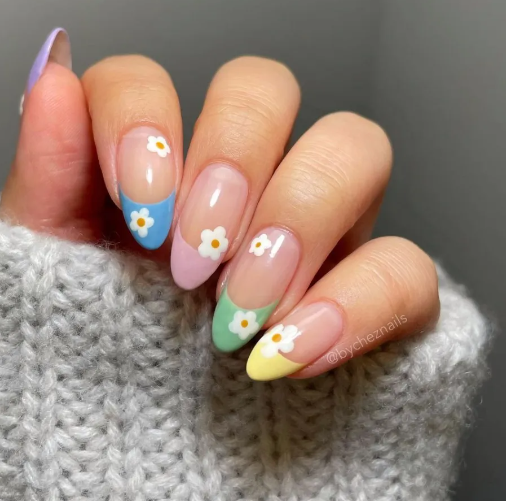 This manicure, perfect for spring, seems to have leaped from the pages of a Delia*s catalog—an ultimate compliment in my book. Emily Zheng from @bycheznails, based in Los Angeles and Seattle, breathes youthful charm into the classic French tip with a few delightful twists: a playful mix of colors and the addition of dainty daisies. According to Emily, the French tip is a favorite canvas for nail art due to its versatility. She emphasizes the ease of enhancing the design with elements like swirls, florals, or intricate lines to elevate your look to the next level.
Neon French Tips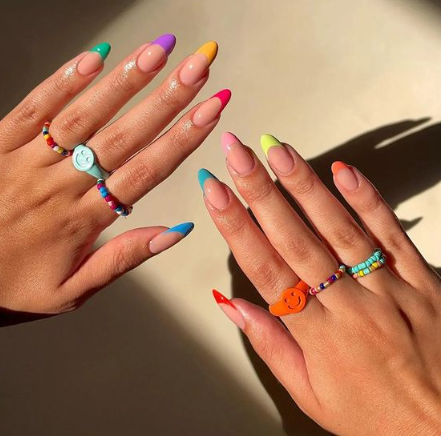 Pick your personal favorite fluorescent shade and swap it in for the classic white tips, drawing inspiration from Select the vibrant electric lime by San Diego-based nail artist Nyah or the Day-Glo lemon by British manicurist Michelle Humphrey. This multi-toned French manicure trend recently earned the seal of approval from none other than Kourtney Kardashian.
Dripping French Tips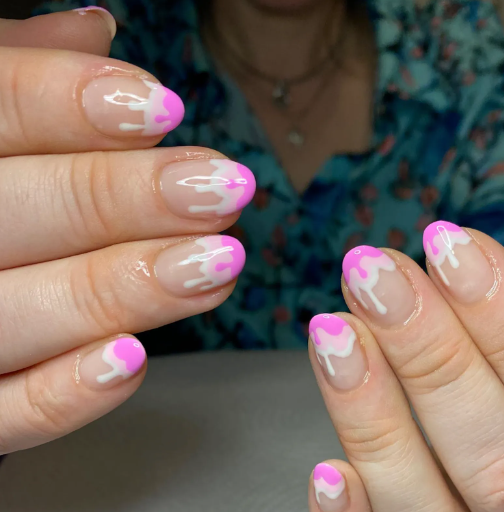 London-based nail artist Manami Bloom playfully ponders, "Are these ice cream drips or graffiti drips?" However, when you interpret this Rorschach-like design, it skillfully conveys the impression that your French manicure is gradually (and oh-so-stylishly) melting—reminiscent of the trendy method of icing a cake.
Ombre Watercolor French Tips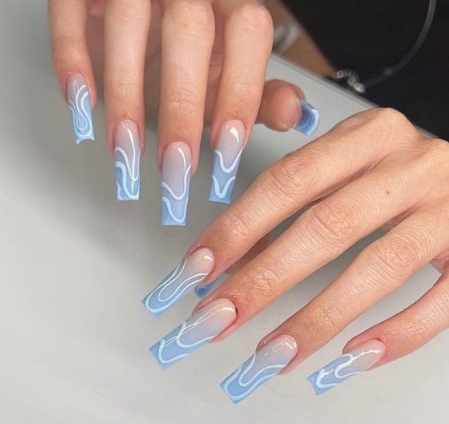 Ohio-based nail artist @nailsbyblake skillfully captures the essence of a frothy ocean wave in this abstract watercolor masterpiece. Using five carefully blended polish shades, Blake artfully swirls them together, ensuring not a drop of color touches the pristine nude base.
Butterflies French Tips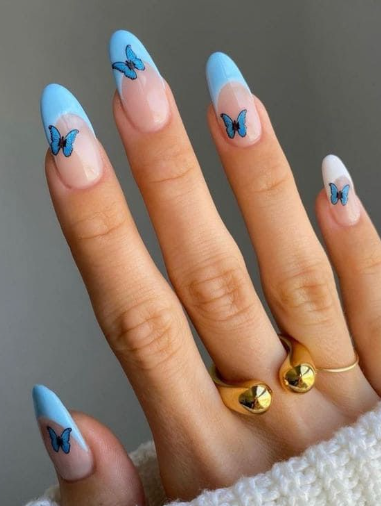 In the wake of '90s fashion making a strong impact on nail trends, butterfly nails are staging a triumphant comeback. According to New York City-based nail artist Honey, this revival carries a profound symbolism—butterflies, with their transformative symbolism, represent rebirth. It's a reminder that embracing newness often requires navigating through struggles.
Conclusion
French tip nails are a timeless and chic look that can be easily customized to fit any personal style. With these 10 cute French tip nail designs, you can elevate your next manicure and add a touch of elegance to your fingertips. So go ahead and try out these fun and creative designs for your next nail appointment.
UP NEXT: 12 Pretty Pink French Tip Nails To Flaunt This Season