There are a ton of reasons why people go for nail art or nail designs. Some people like applying colors to their nails as an act of self-expression, whereas others find it calming. Many of us will be attending weddings or other formal occasions soon, so we need to look our best. And our nails are not exempt! You don't want wild and crazy manicures or outdated nail styles for these kinds of occasions; instead, I advise choosing a sophisticated nail design or following the latest nail trends.
It may be entertaining to play around with various hues and fashion trends, and it's a fantastic way to give the way you look a bit more flair. We feel better about ourselves when our hair, skin, and nails are visually pleasing. It also helps us appear young, gorgeous, and well-groomed. It may not make us happy, but it offers us some thrill. Some people do it to look more desirable or to impress others.
Now, if you are new to doing nails or are unsure of which styles? Don't worry; White nails are the perfect on-the-go idea for you. You can choose a cute yet stylish look and go for a very elegant nail appearance!
Some Elegant White Nail Ideas
White With The Gold Touch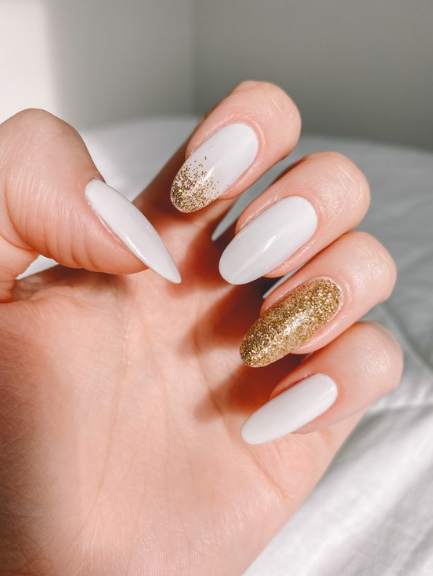 Why stick to white nails when you can spice them up with a little gold? Because of its dazzling cut-outs and designs, this Boho-inspired manicure looks gorgeous. Keep it traditional with just two colors, or add baby pink touches to the pattern to add depth. It's perfect for a formal event or an indoor Instagram shot.
Acrylic Nails In French White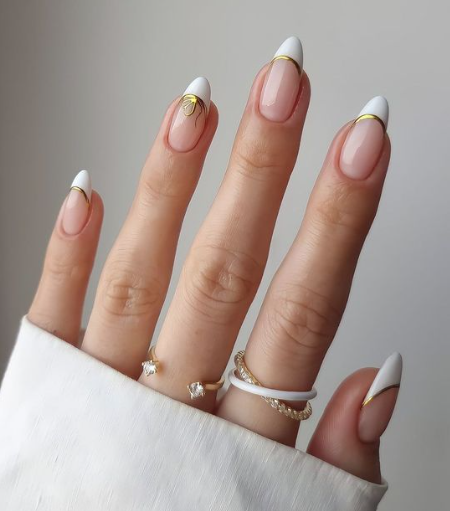 French acrylic nail art is popular among women around! Due to the French tips' ability to make nails look longer, it is also one of the best designs for short white acrylic nails. This basic manicure design defines the nails while providing beauty and charm.
Icy Snowflakes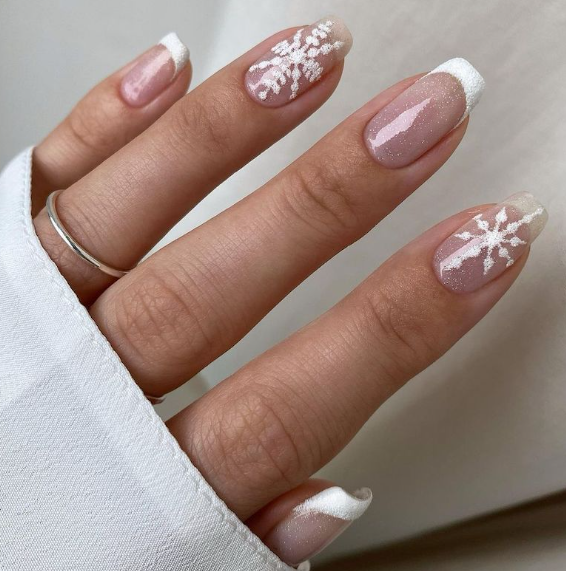 Icy snowflakes are one of the best white nail ideas for the occasion. You can definitely go for your nails white and add intricate snowflake designs using a thin nail art brush for a winter-inspired manicure.
French Tip In White With Pearls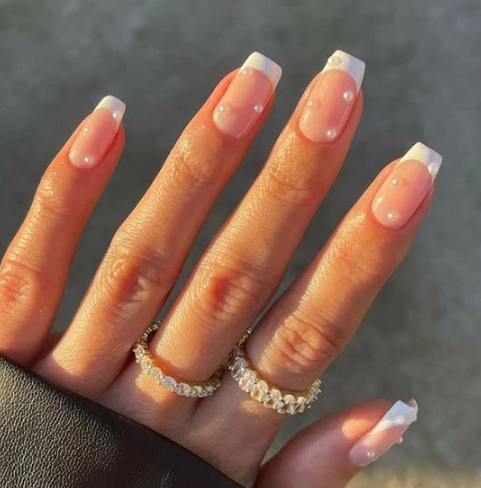 With this elegant style, you can refresh your current go-to mani. The French tip is an iconic design that goes with almost any outfit. The soft and luxurious pearl near the top of the cuticle enhances the entire aesthetic and will look catching at any event.
Polka Dot Delight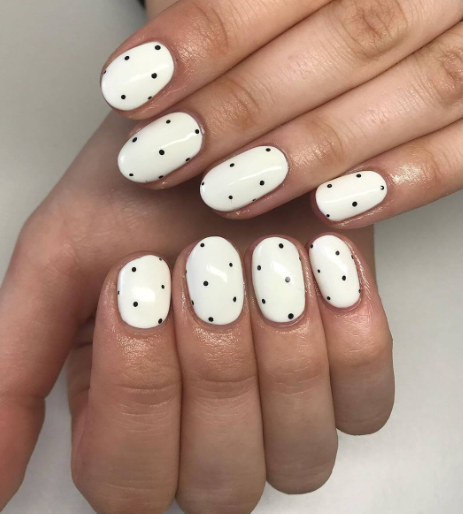 In my opinion, polka dots could be a really exciting idea for white nails! I find it a playful and retro-inspired look that's perfect for the warm weather. To show creativity on your white polka dot nails, you can use a dotting tool or a toothpick dipped in a contrasting color of nail polish. Once you're satisfied with your design, let it dry completely and finish with a top coat to seal in the look. Paint your nails white and add small polka dots in different colors for a playful and cute design.
Ombre White And Nude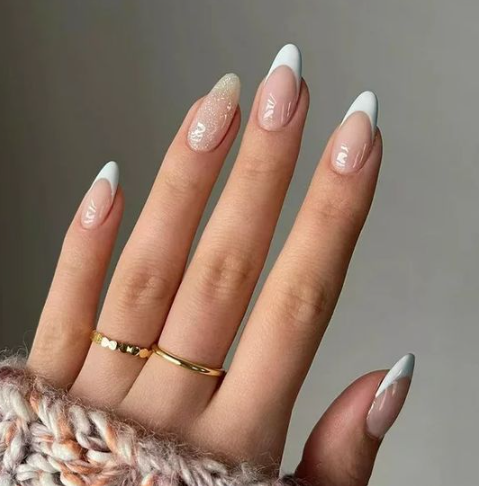 If you prefer something a little less dramatic, this nude and white acrylic nail combination could do the trick. White and nude go well together because they are light, beautiful, and airy, and they appear to be simple! They appear more organic than other designs.
RELATED: 7 Stunning Pink Ombre Nails To Try
Negative Space Nails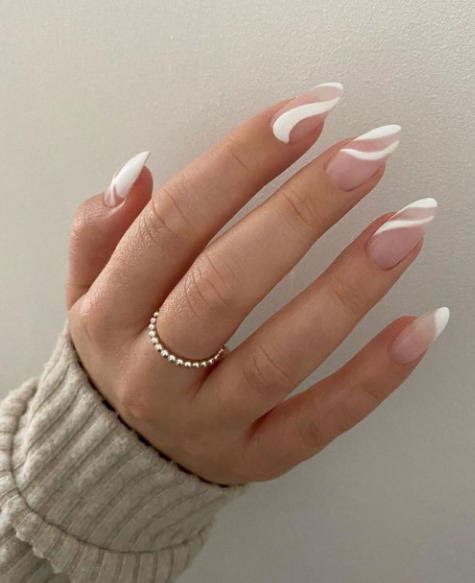 I love experimenting with stuff, and I want you guys to play with the empty space fad by leaving some of your nails bare and painting the rest white. You can also pull off the design with creativity by adding geometric shapes, stripes, or other patterns.
Marble Nails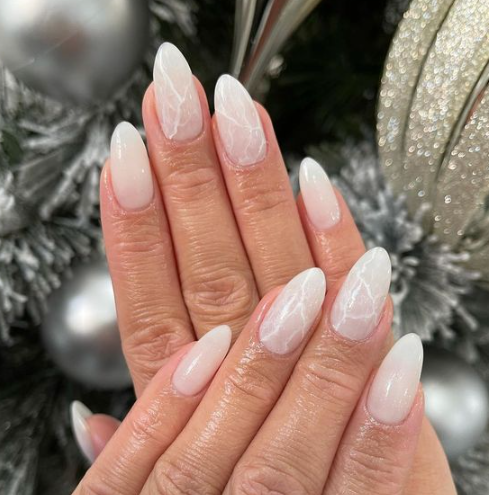 Marble nails are a very cutest way to make your nails pretty. I personally love that on girls because your nails will have a marbled look, giving you a lovely and elegant appearance. Apply grey or black swirls to a white background using a fine brush or the water-based marbling method.
White And Blush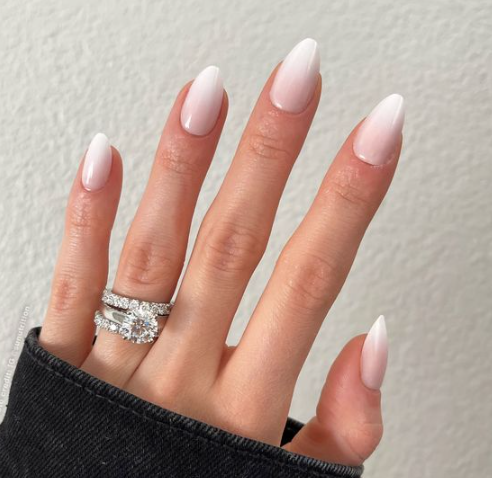 Combine white polish with a soft blush shade for a romantic and feminine nail design. I think the white and blush trend on white nails is really pretty and feminine! The soft blush color adds a subtle pop of color to the white base, and it's a great way to create a delicate and romantic look.
Conclusion
Your nails are the is the most exciting way to speak your unique style without having to say anything. White nails are a great option for any occasion because they're so versatile! For a sleek and minimalist look, you could paint your nails all white with a glossy finish. This is a great option for a professional setting or a more formal event. For a more playful look, you could add some glitter or rhinestones to your white nails.
This is a great way to add some sparkle and shine to your look, and it's perfect for a night out or a special occasion. You could also experiment with different shapes and lengths, like almond or stiletto nails, to create a more unique and edgy style. Keep calm and get your elegant white nails done!