French manicures have come and just won the hearts of almost everyone because even if you want to make a bold statement you still can by playing around with the tips and achieving the desired results and for the minimal beauties french tips have been very close to their heart and go-to manicure options of all time. So, today we are combining the timeless color and timeless manicure together to make something perfect and stunning to transition throughout the year. If you thought that only if barbiecore stays then pink stays, you were wrong there and I am gonna prove this to you by revealing some of the best pink french tip nails to rock this fall season and beyond.
Pink French Tip Nails To Recreate Now
From soft and subtle shades of pink to a hot pink and bold pink french manicure, find the perfect french tips that match your vibes.
Shades of Pink French Tips
Starting with the classic french manicures of all time with solid shades of pink on each of the tips. You can opt from soft baby pinks to hot pink shades to give each of them uniqueness.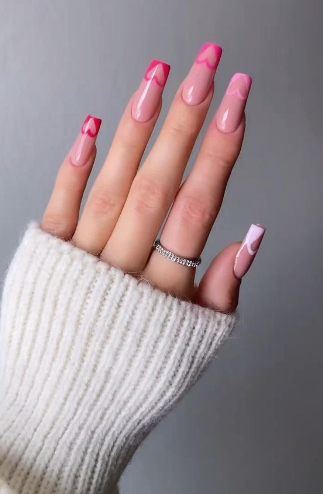 Let's take classic and solid french tips to the button of our hearts by opting for hearts on the tips in different shades of pink. From a soft pink heart to a hot pink one on the pinky finger, I love how feminine and heartwarming this manicure looks.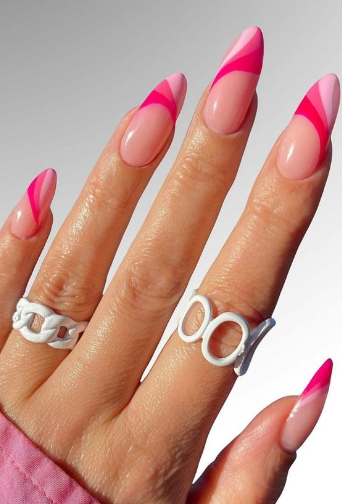 We will take a fill swirl by going all out with the pinks and swirls on our french tips to make a unique and bold statement. Take every shade of pink and swirl around the tips to give a hint of the playful side of yours.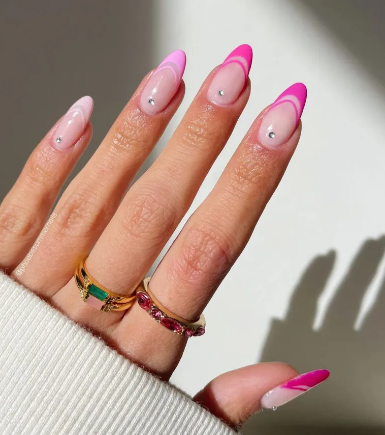 Double french in shades of pink? Nothing sounds better than this I guess. Let's go pink and double with the french tips and add a glittery twist to the manicure by adding a dot of embellishment to the nails.
Faded Pink And Confetti French Tips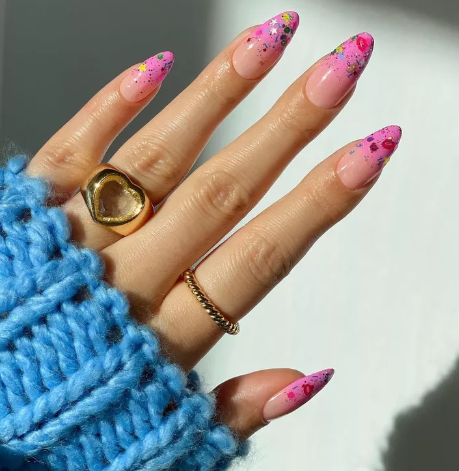 Who doesn't like confetti on their nails just like in your hair at parties and birthdays. The soft pink fade as the base is what gives these confetti even more standout appeal than they already have.
Geometric French Tips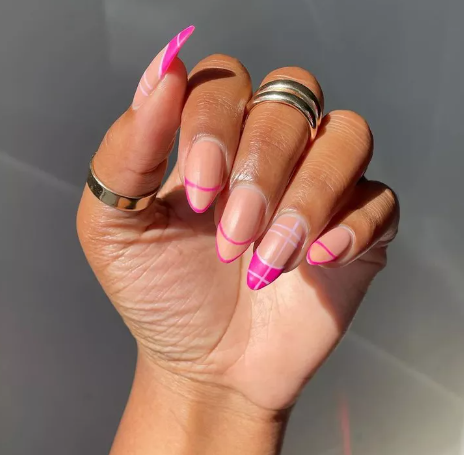 The lovely color choices and geometric design and the double french manicure is everything we asked for. This is the perfect amount of uniqueness a girl craves in her manicures so she stands out and no one can say oh yeah i saw it somewhere or do you get it from there?
Flame French Tips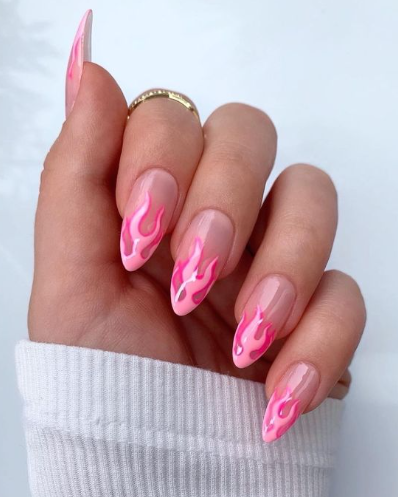 How fiery this manicure is, right? Well, we all want to fire up things sometimes to get something unique out of this and just like that we got something stunning by opting for soft pink flames on our french tips with an outline of hot pinks over the soft tone.
Drip French Tips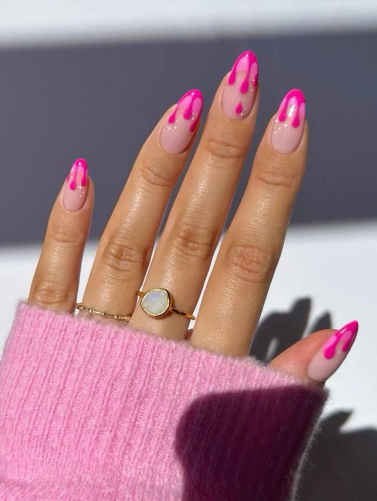 We have loved drippy nails as a nail trend this year, and almost tried them with every color possible. No doubt, they always come out playful, unique and something you cannot take your eyes off of, and these are no exception.
Florals And Pink French Tips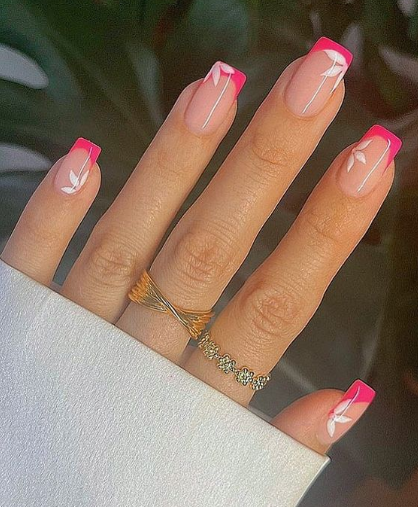 Florals nail art have been always catching my attention and I am sure they will grab yours too. Why not add a hint of daisies to our french manicures. This nail design is everything but boring and the pink hue is doing just the job.
Pink Ombre French Tips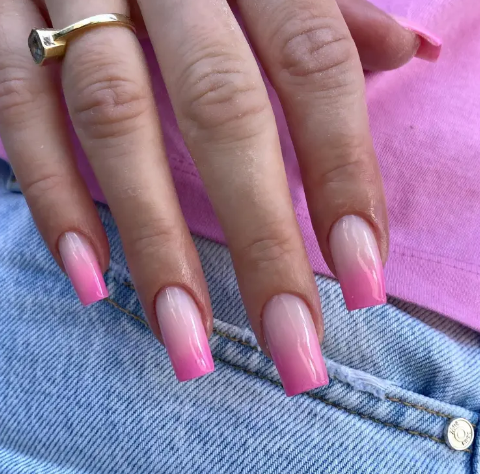 Ombre nails are timeless, catchy, trendy, and all things playful. There is no ombre design that cannot make us go wow, whether you are into soft manicures or bold ombre nails are versatile and appear just like you want it to be.
Velvet Pink French Tips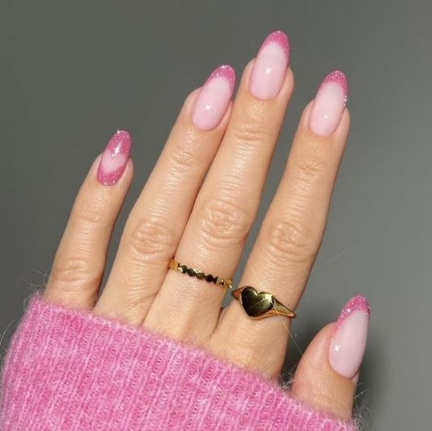 The coziness that velvet gives, this gives equal warmth to our personalities and the soft hue is just making me drool over this nail design. Pink shade is actually very appealing and the subtle glitters are giving the needed pop to the manicure.
Star French Tips
And after all the gorgeousness of the pinks all we want is to shine like a star, and we are taking the stars to our french tips so we can shine together. Just adding a few stars to each of the tips will do the job.
Conclusion
These gorgeous pretty pink French tip nails are perfect for adding a touch of elegance and femininity to any outfit. The delicate pink hue is versatile and pairs well with any style. Whether you're dressing up for a special occasion or just want to add a pop of color to your everyday look, these nails are sure to make a statement.
UP NEXT: 11 Best Neutral Nail Designs You Will Fall In Love With