Nail art always comes with endless possibilities, we have seen a bunch of trends making names on social media these days. From nude to barely-there nail colors to balletcore and barbiecore nails that stand out like nothing else in the world of manicures. Just like the solid shades and details in manicures have versatility, butterflies, on the other hand, decided to not only limit their beauty to gardens but will come and flaunt on our fingertips.
If you are looking for that perfect manicure inspo for you, there are a bunch of ways to play around with butterfly nail designs by opting for different nail polish colors, shapes, embellishments, and appearance.
Dreamy Butterfly Nail Designs To Try
From butterfly french manicures to nude nails and from mixing and matching florals with butterflies to a splash of uncountable colors, these nail designs are versatile enough to suit any personality and style.
Minimal Butterfly Nail Designs
For the ones who like to stay low on a trend but still wanna jump in to make a statement, these minimal yet classic butterfly nail designs are here to serve you some looks. Butterfly designs are highly versatile and you are gonna get confused if you start searching on your own as you will find tons of designs inspo but no worries, you don't have to waste your time and energy on this because i have some eye-catching and minimal butterfly nail designs for you.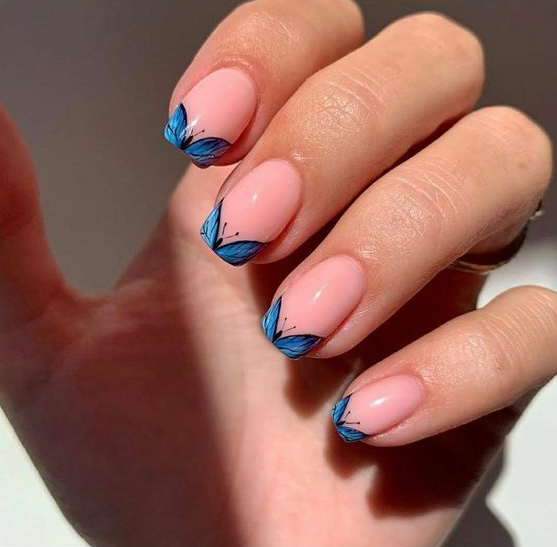 Whenever we think of minimal and classic nails, french tips tops the list all the time (at least for me). French manicure has been everyone's go -to for decades as well as today, they are literally timeless. This look is just the right choice for all those minimal-loving girls who want to incorporate the butterfly trend into their manicures. To achieve this look create butterfly tips and go nude overall, just add a layer of clear topcoat for a clean and crisp look.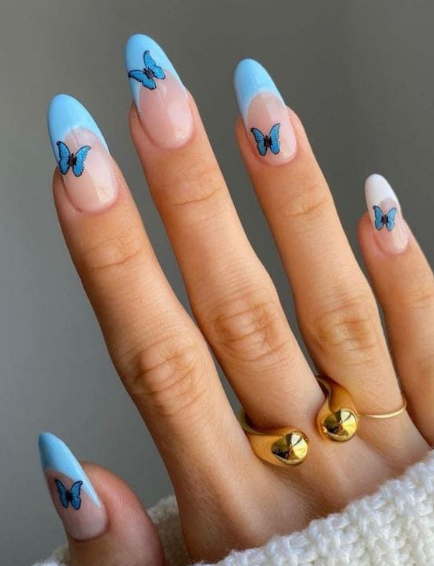 Here comes another variation of modern butterfly french mani, this is a perfect combination of following the trend but in a most minimal way. You just have to go for sky blue tips and then add one butterfly on each of the nails and give a twist by placing each of the butterflies in a different spot then the one you placed on another nail.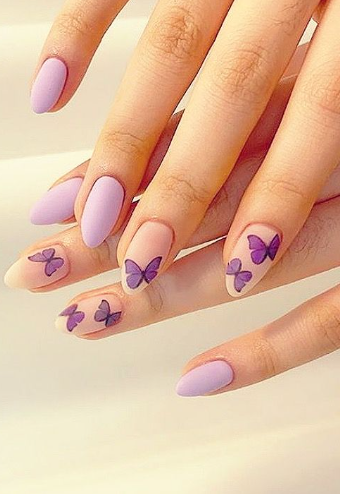 Who doesn't love solid colored nails, but what about butterflies? No worries, they are not going anywhere. This nail design gives a twist to the solid nails trend as you don't have to paint all of your nails in solid color and leave one or two (or maybe three) nails bare.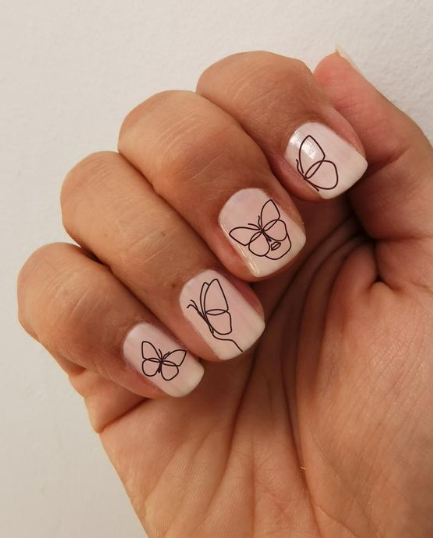 Nude nails? Yes they are minimal and classiest nail designs you can opt for. Today we're adding a twist to the nude nails with a butterfly art on the top of them to make a unique stand-out style of our own. It's too easy to create and highly versatile to rock at any occasion.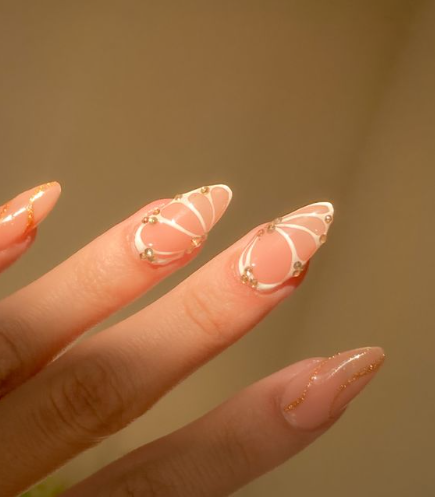 Minimal nails doesn't mean you can't add embellishments and glitters and gold to your fingertips. Girl, stop thinking of boring and dull designs when you think of minimal nails and give your classic nails a trendy and stand-out makeover now. This butterfly nail design is a perfect balance between minimal and bold (in a soft way). Create outlines of butterflies on your nails and then add dew-dots to different spots of the outline to make it pop.
Trendy Butterfly Nail Designs
Now that we have explored all the minimal and classic nail designs, it's time to give them a full makeover for the events that call for trendy and bold nails. Say goodbye to all the minimal, cute, small and soft butterflies and welcome the bold, glittery, metallic, and ombre butterfly nails by opting the following bold butterfly nail designs I have picked for you all.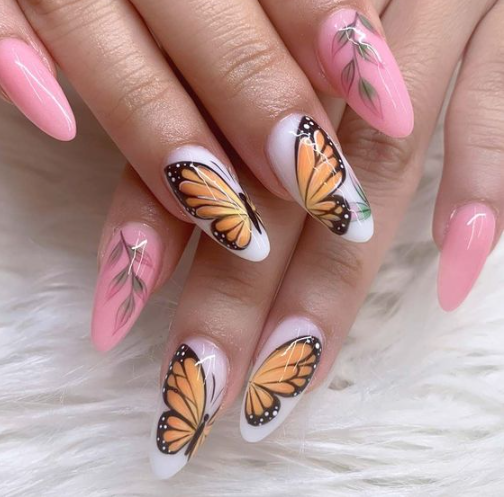 This cute yet bold nail design is just the right choice for the ones who are bold but with the hint of softness. Minimal leaves on two and big butterflies on other two nails, leaving the thumb nail bare (a perfect balance between bold and minimal).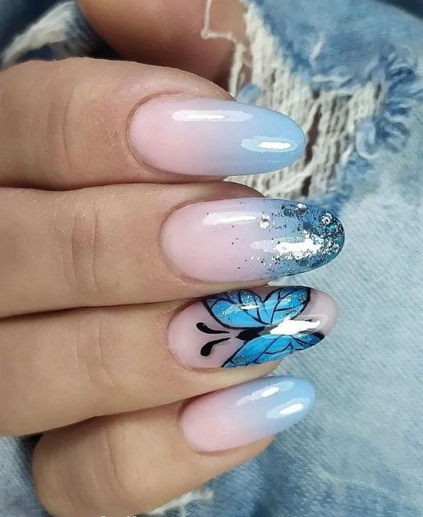 How can we leave ombre nails behind when we are talking about making a bold statement with our nails? Ombre nails have been always a go-to when we want something twisty and bold, it's highly versatile and can be incorporated according to your taste and preferences. Go light by painting only half of your four nails ombre and then add glitters and embellishments on the top to make them stand out a little more. Lastly add a big butterfly to the fifth of your nails to complete the look.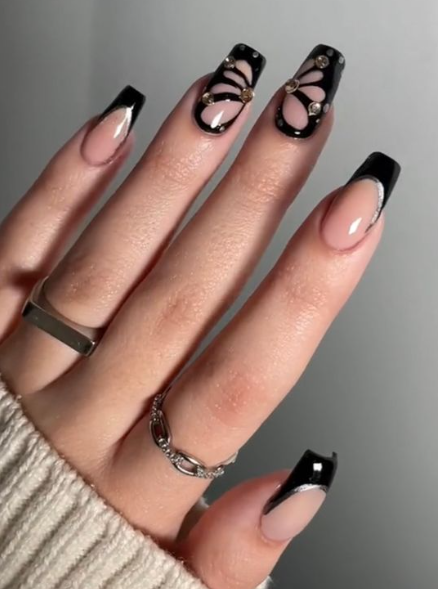 Achieving a bold nail look calls for black butterfly nails, as it's timeless, classy, bold and elegant of all time. This nail inspo is really simple to achieve as you just have to paint two of your nails solid black and opt for outlined butterflies for the other three nails of yours to create a perfect balance between classic and trendy appeal.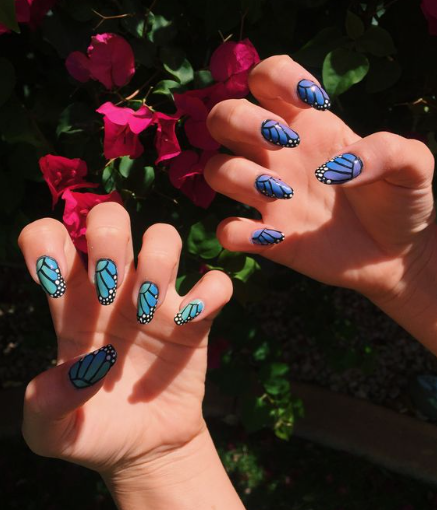 We only take bold as an answer when it comes to butterflies, right? This is the bold we were looking for. These nails are extremely stunning because of the gorgeous details they have and the perfect outline makes it even more appealing. The white dots are making us stare at this for a little more as they are placed at just the right spot and doing their job perfectly.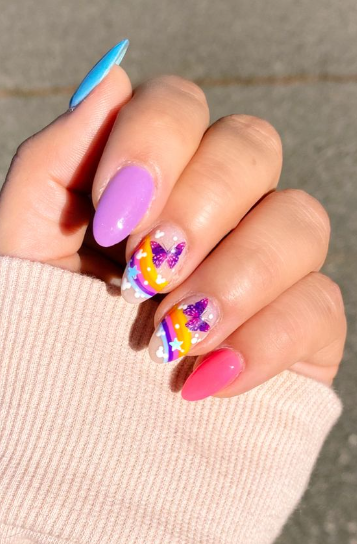 Bold nails call for a splash of colors, so let's paint our colorful inner-butterfly on our fingertips. Just like the rainbow nails we were seeing all over social media in past days these are trendy enough to stay for sometime as a trend too. The selection of colors in this is what makes the butterflies pop. Paint your nails in different colors leaving them solid and add colorful butterflies on two of the nails to achieve the look.
Final Thoughts
Now that you have a bunch of butterfly nail design ideas to try for your next manicure, you don't have to stare at your bare nails thinking about ways and trends to make them stand out. This butterfly trend has endless possibilities to transition through summer to fall, and from casual occasions to formal ones. So, what are you waiting for, try one of these designs on yourself to give a butterfly makeover to your fingertips now.