You are not alone if you are always on a hunt for "that" beauty product that actually does what it says. It's too easy for brands to literally write all-good things and fantasize skincare at the back of their products but what we actually receive from them are breakouts, acne, even more damage to our sensitive skin, and everything worse we could do to our skin. This was the reason I had a lot of second thoughts before planning to get my hands on Naked And Thriving Renew Serum. I heard a lot of good reviews and skin-changing experiences we all dream of, so I thought why not give it a try. So, the real answer to your question "does it work?" I will review this serum ahead so you will get the answer to your question.
Naked And Thriving Renew Serum Review
Let's start by knowing the ingredients as they are the essential part of every product being worth and not worth it. So, Naked And Thriving Renew Serum has actually a very impressive list of ingredients in that cute bottle of miracle. The ingredients in this serum are organic alpha hydroxy acids like glycolic, malic, and ferulic acids, and all these perfectly work together to unclog pores, remove dirt, save your skin from free radicals, and most importantly make it healthy and glowing skin all at once. Not only this, this serum has more great ingredients like sodium hyaluronate, glycerin, and aloe barbadensis leaf juice which do their job by providing hydration to your skin.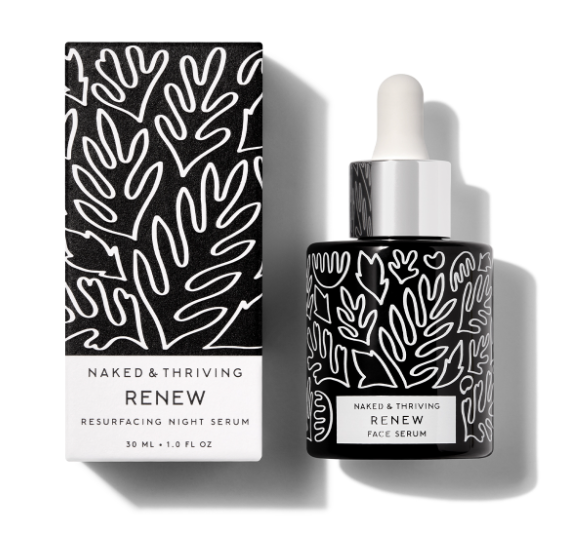 Naked And Thriving Renew Serum ($68)
To apply the serum, make sure your face is clean, and then apply a small amount of the slightly thicker serum. You should apply it before using moisturizer. Just a few drops spread evenly across your face will be enough to see positive effects. Personally, I've noticed that my skin looks plumper and clearer, with fewer wrinkles and lighter dark spots. For anyone dealing with uneven skin tone or age spots, this serum is a game-changer.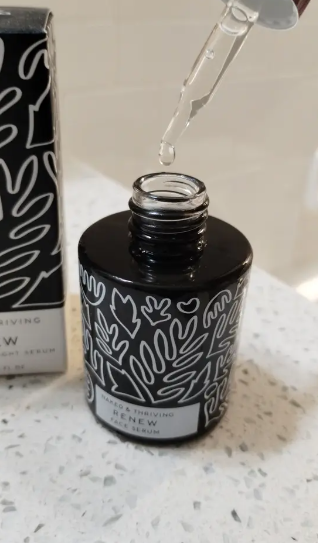 What I admire most about Naked & Thriving is their dedication to using pure botanical extracts instead of artificial ingredients. The founders, Greg and Margi, have a genuine passion for using natural, whole ingredients to help you achieve remarkably youthful skin. The Renew Resurfacing Night Serum perfectly represents this commitment.
That said, it's important to acknowledge that not every product is suitable, for every individual. Some people have reported experiencing side effects while others haven't noticed any changes. This is something we should test. Before adding a product to your cart or applying it to your skin it's crucial to gather all the information about it.
Speaking of price, Naked & Thriving offers age-defying solutions that surpass luxury brands in terms of value for money. Although the Renew Serum may appear pricey one must consider that sustainable organic plant extracts and quality skin compatible ingredients come at a cost, for both manufacturers and consumers. Naked & Thriving products are thoughtfully formulated without any additives or unnecessary frills making them an excellent addition to your skincare routine.
Final Thoughts
Finally, my experience with Naked & Thriving Renew Serum has been extremely positive. This serum is truly effective in addressing issues such as uneven skin tone and age spots. By utilizing all-natural and organic alpha hydroxy acids, it sets itself apart from other products on the market. While it may seem slightly pricey, it's crucial to recognize that quality skincare comes at a cost. If you prioritize using scientifically sound, organically derived products that deliver visible results, investing in the Naked & Thriving Renew Resurfacing Night Serum is definitely worthwhile.
UP NEXT: Sonage Skincare Vitamin C Serum Review: Is It Worth It?