Kylie Jenner turned heads at Paris Fashion Week, making her third appearance during the event. She graced the front row at Acne Studio's Womenswear Spring/Summer 2024 Fashion Show, donning a stunning long-sleeved, floor-length bright red gown with a peplum effect at the ankles, creating a mermaid silhouette. Complementing the look were a matching red baguette purse, red leather pointed heels, and oversized black shield sunglasses.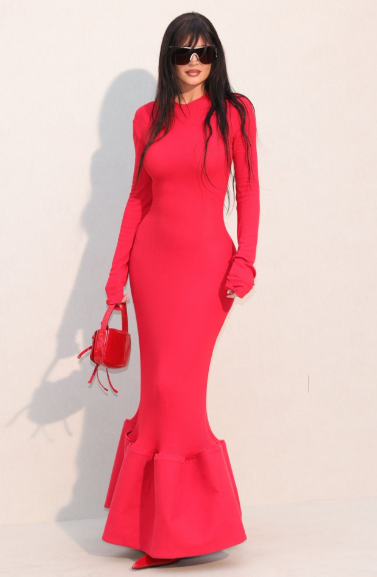 Prior to the fashion show, Acne Studios featured Kylie Jenner on the cover of the Sept. 27 issue of Le Monde, showcasing a video collage of her photos. The brand also shared Instagram Stories of the issue in various locations, which Kylie reposted on her personal account. During the show, she sat beside musician Rosalía, who rocked a black dress and silver heels with a light pink bag.
Earlier, Kylie enjoyed dinner with her sister Kendall in matching monochromatic outfits. Kylie wore an all-white Sportsmax ensemble, including a slinky dress with open-toed boots. Meanwhile, Kendall donned head-to-toe black Bottega Veneta, featuring a leather corset over a knee-length skirt and a matching turtleneck top.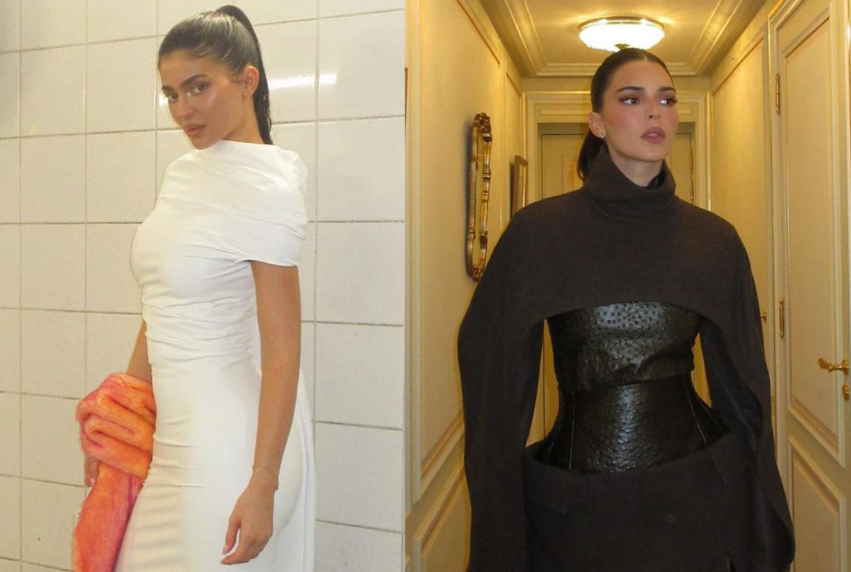 At the beginning of Paris Fashion Week, Kylie was seen with her new love interest, Timothée Chalamet, at Rosalía's birthday party. The couple, dressed in coordinating looks, confirmed their relationship earlier that month. They were spotted at the Beyoncé concert on Sept. 4 and subsequently seen cuddling at New York Fashion Week and the 2023 US Open. Their relationship, which has been going on for six months, is described as "fun and uncomplicated," with Timothée being charming, loving, and protective of Kylie, who appreciates his understanding of her priorities, especially regarding her kids.