Leather fashion is as timeless as it gets, it's one of the wardrobe staples for winter and fall season. We have always seen leather pants outfits getting all the deserved attention and now we want to give it some too. All of us own at least one pair of leather pants that we want to style in different ways so we can transition through the fall season to winters fashionably. Leather pants outfits are too easy to create with the pieces you already own, you just have to mix and match and play around with colors and pieces to make something unique out of it. So, let's discover how you can create a bunch of leather pants outfits with what you already own.
Leather Pants Outfits To Recreate
From an all black and classic outfit to a monochromatic outfit that can make you standout in the crowd, there are endless possibilities to create leather pants outfits your own unique way.
Cool Girl Outfit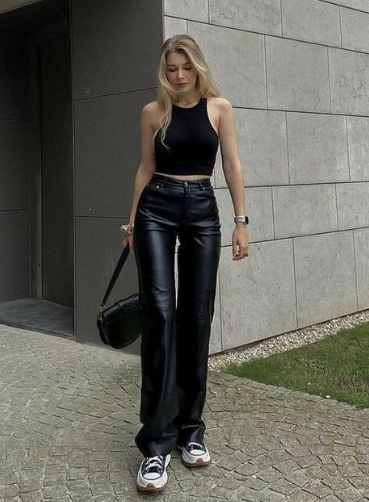 Who doesn't want a clean girl look? Well, it's too easy to achieve. Start with pairing your wide-leg leather pants with a black tank top to clear a perfect casual and cool girl vibe. Then, go for minimal accessories like a subtle necklace, a watch and a crisp black mini handbag to create that It girl look. Lastly, for the makeup I would suggest you opt for a no-makeup makeup look, hair down, and step into a crisp pair of chunky sneakers of yours, and ta-da you are done.
SHOP THE LOOK
| | | |
| --- | --- | --- |
| Zara - Faux leather Pants ($49.90) | | Madewell - Mockneck Sweater Tank ($55) |
Night-Out Outfit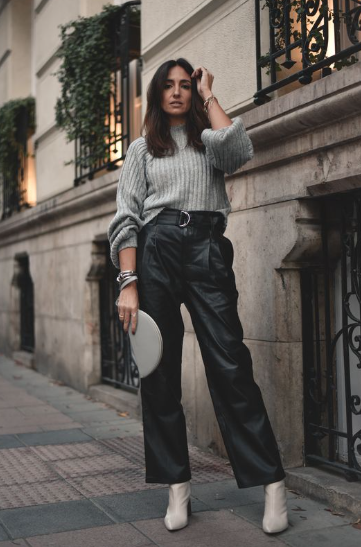 For chilly and breezy nights of fall, you will be needing something that will give a perfect sweater-weather vibes and warmth. To get this look opt for an oversized cardigan of yours and a crisp straight leg and tailored leather pants. Then, add a few accessories like a bunch of bracelets to make the look a little dressy, a crescent shaped wallet to keep your go-to mini essentials and complete the look by stepping into a pair of white boots to add a pop of crisp color to the overall outfit.
SHOP THE LOOK
| | | |
| --- | --- | --- |
| Lulus - Vegan Leather Pants ($59) | | Anthropologie - Turtleneck Pullover ($68) |
Starbucks Date Outfit
Going to your favorite starbucks fall drink? Here is a look for you to flaunt while you chill and hangout at starbucks with your loved ones. You will be needing a beige or cream polo top, a chocolaty leather pants, a mini brown shoulder bag, a crisp two-toned sneakers of your choice and are we forgetting something? Well, obviously, a filled cup of starbucks drink in your hand.
SHOP THE LOOK
| | | |
| --- | --- | --- |
| Lulus - Leather Straight Pants ($114) | | Faherty - Jackson Sweater Polo ($158) |
Brunch Date Outfit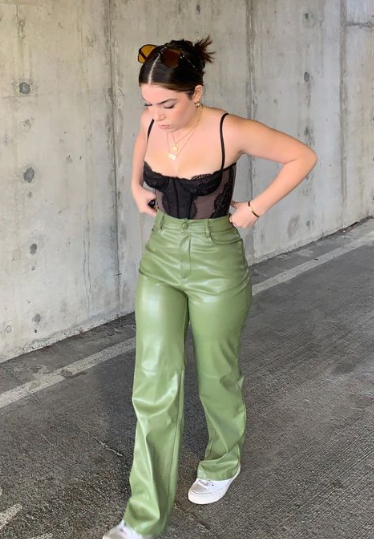 Have you ever been in a position when someone asked you on a brunch date in fall season and you can't decide what to wear because it's too cold to go all-light on the fabrics and warm enough to ditch the jackets and coats. This outfit is just the right choice for that kind of confusion. Just pair your green or olive leather pants with a corset top, a minimal layered necklace and do your hair in a bun to redirect the attention to the neckline and to balance the playful and sultry vibe for the date. Complete the look by opting for All-white sneakers to add a hint of sporty side to the look (win-win if the guy is more into sports, well all of them are for sure).
SHOP THE LOOK
| | | |
| --- | --- | --- |
| Steve Madden - Faux Leather Pants ($79) | | Anthropologie - Lace Bustier Top ($68) |
Monochrome Outfit
Who else is in love with monochrome vibes like me? I know right. No one can ever say no to this look as it's just too good to be true and too stunning to not even try once. The best thing about this is the cool vibe it gives off. The ice blue color is the perfect choice but you can also opt for the ones you own. Start with getting dressed in co-ords, a leather pant and a bikini top and to make the look polished opt for a crisp white blazer to add a touch of sophistication.
SHOP THE LOOK
| | | |
| --- | --- | --- |
| Asos - Blue Leather Pants ($43) | | Cupshe - Cutout Bikini Top ($5.39) |
Conclusion
I must say, I am impressed with the stylish leather pants outfits that are trending this fall season. They are versatile, edgy, and can be dressed up or down. I love how they can add an instant cool factor to any outfit and for sure you love these too.