If you have been sacrificing comfort when it comes to the outfits, hear me out plus size queens, the struggle is over as i have some very cool and simple outfit ideas you can easily pull off with your crisp pairs of sneakers. All the plus size queens face a lot of difficulty when it comes to pulling together an outfit that is comfy, casual yet still stands out in the crowd but no more. Let me guide you through this as it's too easy to create a bunch of outfits and take your boring and dull outfits to the next level just by putting a little effort into the overall look.
Top Plus Size Casual Outfits With Sneakers
Here are your inspiration to style your plus size casual outfits with sneakers and take your fashion game to a completely different level.
Sporty Look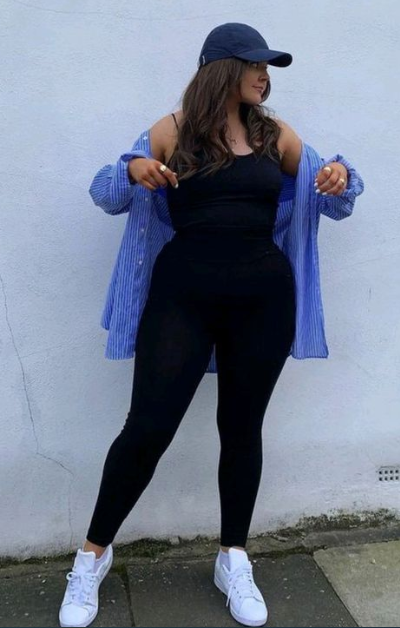 This outfit idea appeals to all the sporty girls, who don't want to compromise on style while being in the most comfiest and coziest outfit. To put together this look, all you need is a black tank top and your favorite pair of black leggings to create a perfect cozy look. Then, wear a striped shirt over the tank top and keep the buttons open to give it a trendy and fashionable look. Lastly, step into a crisp pair of sneakers, top it off with a cap, and add few accessories to the look that are sports friendly and ta-da you are all set to kick the football, hit the hockeys, go all on the boundaries in cricket and whichever game you are dressing up for.
SHOP THE LOOK

Asos - Cami With V-Neck ($11.99)


Madewell - Oversized Shirt ($88)


PrettyLittleThings - Jersey Leggings ($11.25)


NewBalance - CT302 Sneaker ($89.99)
Brunch Look
What else we want for a brunch then a flowy outfit that is a perfect balance between an all denim outfit and all casual one. For this look what you have to do is first, you need a white tank top and pair it with a printed flowy maxi skirt with a print on it to make a twist to the casual look. Then, you need a light wash denim jacket to add a hint of charm to the look. To finish off the look you need to step into a pair of white sneakers with a minimal accent of colors and hold a bag for the go-to essentials you need wherever you go.
SHOP THE LOOK

Asos - Topshop Animal Print Midi Skirt ($59.99)


Boohoo - Plus Denim Western Jacket ($21)


Madewell - Plus Cutout-Back Tank ($46.99)


Puma - Cali Dream Sneakers ($90)
Cool Girl Look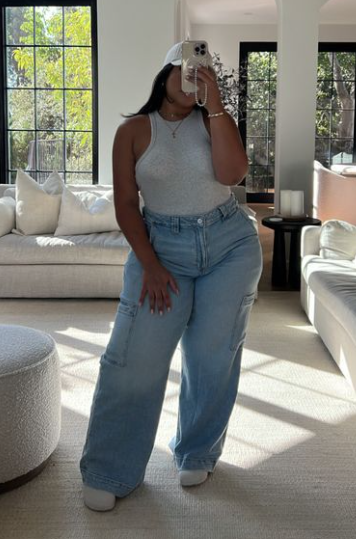 Every cool girl knows how to pull off wardrobe basics in a very cool way, and this outfit idea for curvy queens is just the right vibe. To achieve this look you will need a comfiest body-hugging bodysuit in soft gray and a light wash denim to create a perfect clean girl aesthetic. Then wear your favorite cap in a crisp white color to perfect the clean girl look and give off the cool vibes and lastly step into the perfect pair of white sneakers that are neat and crisp inside-out.
SHOP THE LOOK

Madewell - Vintage Wide-Leg Crop Jean ($89.99)


AllSaint - Sandwich Brim Cap ($59)


PrettyLittleThing - Knitted Bodysuit ($22.50)


Adidas - Nizza Platform Shoes ($75)
Conclusion
I think the key to wearing plus size casual outfits with sneakers is to find the right balance between comfort and style. Look for sneakers that are both functional and fashionable, and pair them with loose-fitting tops and bottoms that flatter your figure. Don't be afraid to experiment with different color combinations and patterns to create a unique and personalized look. Remember, confidence is key, so rock your outfit with pride.