Nail art is important for girls because it is a fun and creative way to express their personality through it. It allows them to showcase their unique personalities and add a pop of color and style to their look. Whether it's a bold, bright design or a subtle, sophisticated look, nail art can make a statement and add some excitement to any outfit. It's also a great way to bond with friends and family, as girls can get together and share their favorite nail designs. Plus, there's nothing quite like the feeling of having a fresh, perfectly polished set of nails - it can boost confidence and make girls feel like they can conquer the world!
When you can paint the town with the best nail polishes to create gorgeous ombre designs, your overall appearance goes from basic to brighter in a matter of minutes. Why settle for just one shade? While ombre has been immensely trendy in hair and fashion, its energetic level of tones - from dark to light - is also elegantly transforming nails. Every fashion-conscious woman understands that dressing from head to toe calls for terrific attention to every last detail. Your nails are a vital part of providing a trendy image and should be done up as well. So, instead of an ordinary base coat, go for elegant nails with a one-of-a-kind, creative twist.
Tremendous Ways To Paint Pink Ombre Nails Differently
Pink Ombre Nails: White With A Touch Of Nude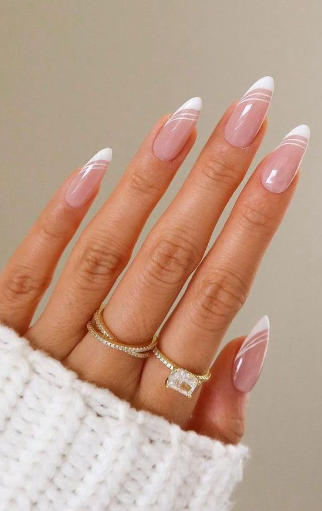 If your nails are short, skip the gloss and try a matte ombre instead. No matter what hues you choose for your base and accent nails, the pink ombre effect will be softened by a matte finish. If you're looking for a modern take on traditional nail art, this is the place for you. The ombre colors in your manicure will pop against the matte finish.
Peachy Pink Ombre Nails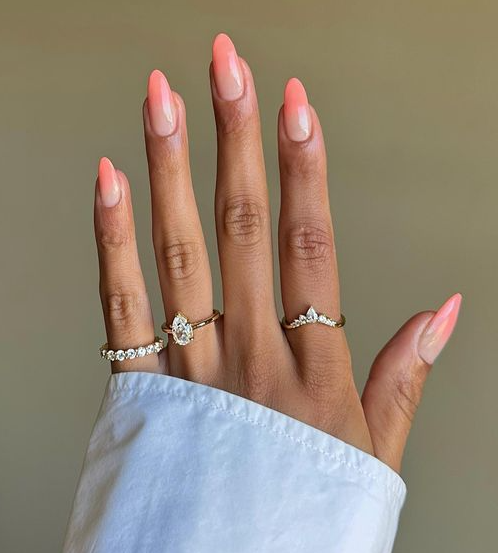 I find peachy pink ombre the most adorable combination! These tones are ideal for any nail shape and are the greatest method to achieve a sophisticated but modern look. I usually go for a more natural look or add some brighter peachy tones. The gentle, warm tones of peach create a stunning gradient effect that lends a sense of elegance and class to any combination.
Furthermore, ombre nails are a popular trend that can be customized to suit any style or occasion. Whether you prefer a subtle, natural look or a bold, eye-catching design, peach ombre nails are a versatile and stylish choice.
Reverse Pink Ombre Nails
Reverse ombre is not so common in the fashion world. Instead of starting with a light pink base, apply a dark pink polish as the base color. Then, using a sponge, gently dab a lighter pink polish onto the tips of your nails, creating a reverse gradient effect. Explore different color combinations and ways to achieve the perfect reverse ombre nail style. Take advantage of the whole process and flaunt your fashionable nails!
Glitter Pink Ombre Nails
Glitter pink ombre nails are a popular trend that has been seen by many celebrities and fashion icons. This technique adds a touch of sparkle and glamour to the ombre design, making it perfect for special occasions like weddings, proms, or parties. Apply a light pink polish as the base color and let it dry. Then, using a sponge, lightly dab a glittery pink polish onto the tips of your nails, creating a sparkling ombre effect.
Textured Pink Ombre Nails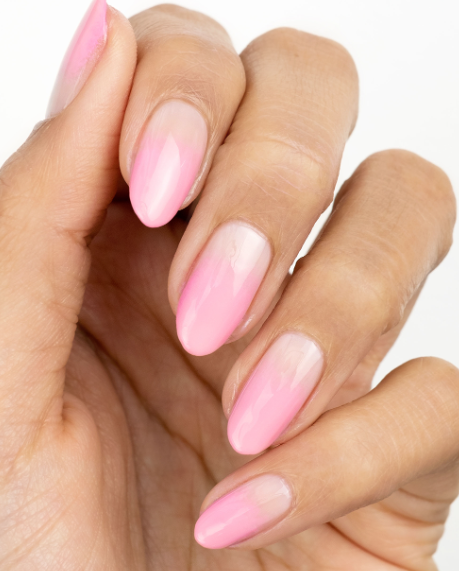 I love textured pinkish ombre nails. They look so different and elegant than the other shades of ombre. You just have to apply a light pink polish as the base color and let it dry. Then, using a textured nail polish or a textured top coat, apply it to the tips of your nails, creating a textured ombre effect.
Floral Pink Ombre Nails
Who wouldn't love floral ombre with shades of pink? I bet everyone does! This combination is eye-catching and fun, giving an enchanting overall look to your nails. Make a light pink base color for your nails. Make small flowers or floral designs in stronger pink tones using a tiny nail art brush or a dotting tool, and then fade them towards the base.
Dual-Toned Pink Ombre Nails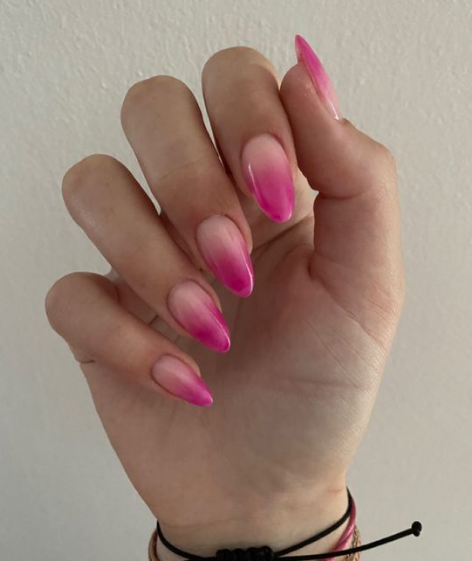 Dual-toned pink ombre nail polish is a superb choice, in my opinion! The mix of two pink tones gives a lovely gradient effect that is both feminine and attractive. Apply a different shade of pink on every nail, ranging from light to dark. Then, using a sponge, carefully mix the colors where they meet to create a smooth transition between tones.
Conclusion
All the pretty girls have the prettiest nails, so get your hands on different stunning pink ombre styles and rock every occasion. I believe that nails say everything about you. When you take care of your nails and paint them with nice nail paints, people without saying a word, express the amount of adoration.
Whether you prefer a classic look with two shades of pink blended or a more unique and creative design with glitter, sequins, or other textures, there are endless possibilities to explore. You can also customize your pink ombre nails to suit any occasion or mood, from a casual day out to a formal event. So why not experiment with different ideas and create a look that is all your own? Do it now!