If you finally got the tickets for the Taylor Swift concert (luckily, because people wait for years for that), and keep dreaming the dream just by thinking of Taylor performing right in front of your eyes. If you want to live that dream, her soulful music, her iconic fashion choices and the kindness and love she has for her fans, then my dears let me guide you through some of her iconic looks of Taylor that you can recreate with gorgeous pieces you can get from some of the well-known brands.
Don't get overwhelmed by thinking about that perfect outfit and take a deep breath as I suggest to you a few of the stunning pieces inspired by Taylor Swift's famous albums. From her "Red" album aesthetic which can be easily created with a graphic tee and sequin black shorts to Taylor Swift's "1989" album aesthetics which screams all the glitters and gold through sequin fringe dresses and funky boots.
Taylor Swift Concert Outfit Ideas To Recreate
Let me walk you through how you can rock and recreate Taylor Swift's album-inspired looks with our top picks.
1989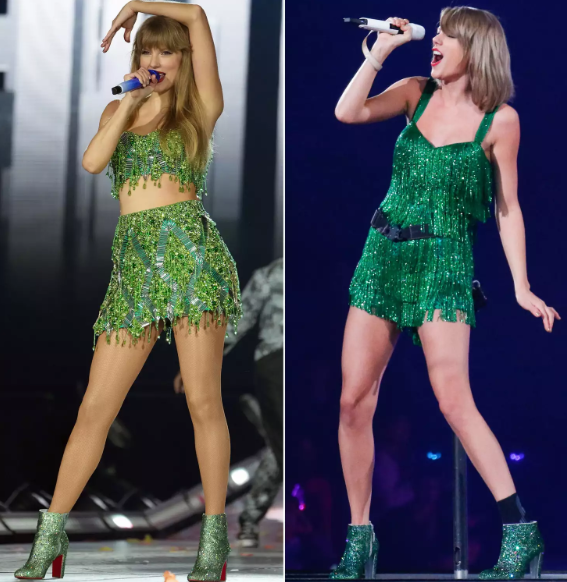 In her 1989, Taylor Swift made a significant shift from her country music roots to embrace pop music. Her style underwent a transformation to match this change, characterized by a "red-lipped, classic" look. During her era of '80s synth-pop influence in New York City, Swift frequently sported two-piece outfits. She revisited this fashion choice when performing fan-favorite songs like "Blank Space" and "Wildest Dreams" on the second night of the Eras Tour, donning a Kelly green beaded skirt and crop top.
If you consider 1989 as Taylor Swift's standout album (it is the bestest of all time), you can pay tribute to it through your fashion choices. Opt for a two-piece outfit in any color, add a sequin bomber jacket reminiscent of her 1989 World Tour style, or take inspiration from one of her iconic looks in the "Shake It Off" music video, just as someone did at a show in Glendale, Arizona. Notably, the full ballerina tutu look from that video left a lasting impression.
SHOP THE LOOK
| | | |
| --- | --- | --- |
| Lulus - Emerald Green Sequin Fringe Dress ($89) | | Asos - Federica Rhinestone Western Boots ($88) |
Midnights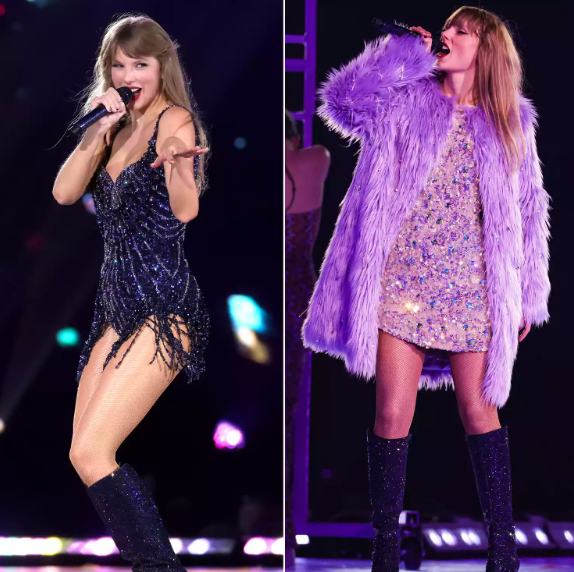 Taylor Swift's most recent album, Midnights, has a distinct '70s vibe, which is achieved through the use of purple eyeshadow, tousled hair, and shag coats. During the final portion of her Eras Tour setlist, the "Anti-Hero" singer wore two stunning outfits that were sure to captivate the audience. The first was a sparkly T-shirt dress paired with a lavish lavender fur jacket that was dripping in crystals. The second outfit was a bejeweled dark purple fringe leotard, which was worn with knee-high boots. These two outfits perfectly complemented the overall aesthetic of the concert and were undoubtedly a highlight of the show.
SHOP THE LOOK
| | | |
| --- | --- | --- |
| Lulus - Sequin Bodycon Mini Dress ($84) | | Foefaik - Winter Fluffy Faux Fur Coat ($50.89) |
Red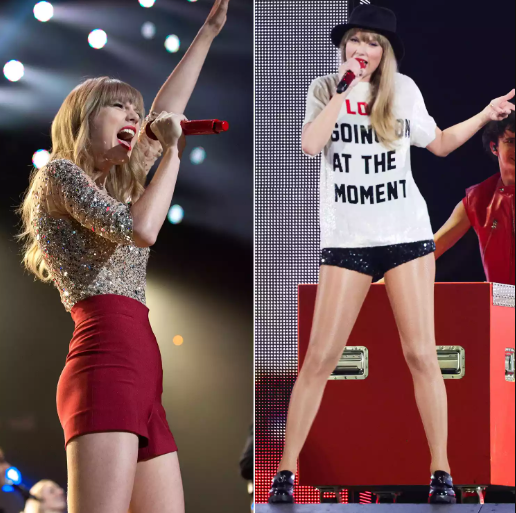 In 2012, Taylor Swift was known for her hits like "I Knew You Were Trouble" and "22," and she had a penchant for oxfords, stripes, hats, and the color red in her fashion choices. If you want to replicate one of her iconic looks from that time, here's a simple outfit idea: wear leather shorts, black loafers, a black fedora, and a white T-shirt that bears the message "A lot going on at the moment," just as Taylor did during her Eras Tour. However, finding the exact floor-length red sequin coat she wore for her memorable 10-minute performance of "All Too Well" might prove to be a bit more challenging.
SHOP THE LOOK
| | | |
| --- | --- | --- |
| NastyGal - Sequin Disco Biker Shorts ($20) | | UO - Olivia Rodrigo T-Shirt Dress ($45) |
Fearless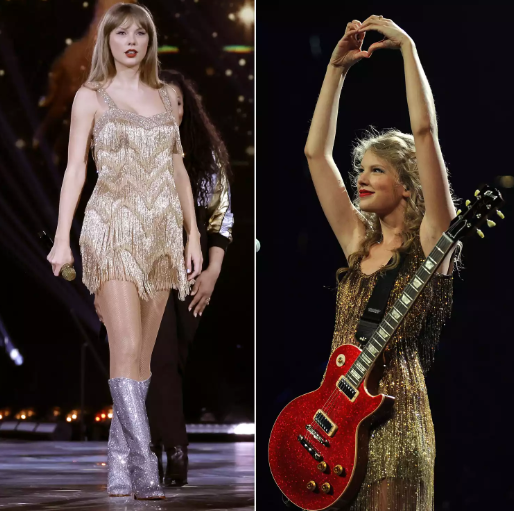 During her first headlining tour, Taylor Swift, known for her curly hair and head-banging performances, frequently rocked sequin fringe mini dresses. Interestingly, 13 years later, on the Eras Tour, she revisited a similar but more refined style. As she strummed her bedazzled guitar and belted out hits like "You Belong With Me" and "Love Story," Swift donned a Roberto Cavalli dress adorned with ombre gold and silver sequin fringe. If you're attending this three-hour show and want comfortable footwear to dance the night away, consider cowboy boots. Not only do they capture the classic teenage Taylor look, but they've also made a comeback in recent years, endorsed by celebrities like Kendall Jenner and Emily Ratajkowski.
SHOP THE LOOK
| | | |
| --- | --- | --- |
| Lulus - Gold Sequin Fringe Dress ($92) | | Asos - Stradivarius Knee High Western Boots ($110) |
Folklore and Evermore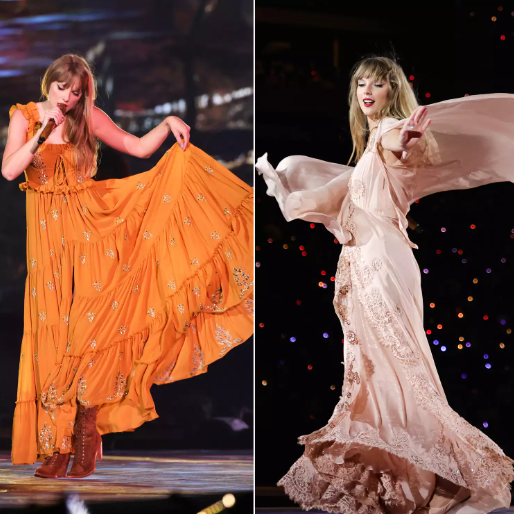 In 2020, Taylor Swift released "Folklore" and "Evermore" just four months apart, immersing us in a world of trees, moss-covered pianos, and charming braided buns. During the Eras Tour, as she performed songs like "Marjorie" and "Champagne Problems," Swift's attire matched the dreamy aesthetic of these albums. She wore a mesmerizing mustard maxi dress with a tiered skirt, ruffled shoulders, and gold accents. For the mellower tunes like "Cardigan" and "Invisible String," the 12-time Grammy winner even lounged on the roof of a cabin and twirled around in a billowy cream maxi dress. To capture the cottagecore vibes of "Folklore" and "Evermore" at the concert, all you need to do is choose the flowiest and most whimsical dress that makes you feel like spinning around to the sound of "August."
SHOP THE LOOK
| | | |
| --- | --- | --- |
| Madewell - Agua by Agua Fairy Maxi Dress ($300) | | Boohoo - Petite Paisley Maxi Dress ($30) |
Conclusion
The Eras Tour by Taylor Swift takes you on a mesmerizing ride through her musical growth, and her clothing choices mirror the unique appeal of each era. Regardless of whether you're looking to represent her country roots, embrace her pop evolution, or indulge in the universe of "Folklore" and "Evermore," there's a perfect outfit to fit every fan's personal style. With Taylor Swift as your ultimate inspiration, attending her concert is an opportunity to revel in not only her music, but also her iconic fashion sense.