Stepping out from summer and putting a foot in the fall season has never been easier with short-sleeve dresses that are stylish enough to flaunt all season long. These dresses are a perfect balance of comfort and style.
Saying goodbye to the vibrant summer doesn't mean you are leaving your fashion abilities and going low with fashion trends, there are stunning collections of short sleeve dresses you can find at top brands easily. From the perfect fall color to the right details that the fall season requires in a dress, there is everything you will need to level up your fall fashion.
Stunning Short Sleeve Dress For Fall Season
Whether you are into trendy vibe and like cutout details or you are a minimal girl who loves classic fashion with denims and turtleneck dresses, these top seven picks of mine for fall season fits every style and personality.
Lulus Twist Front Cutout Midi Dress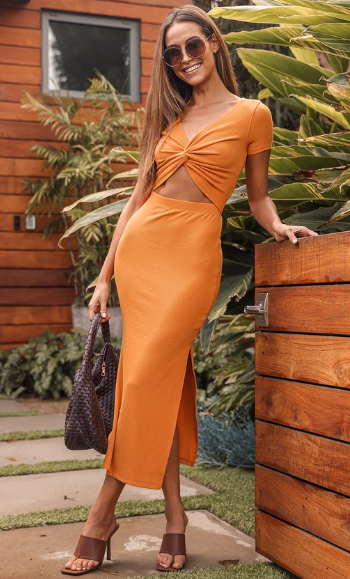 This dress made it to the top of our list and can you see why? This has a perfect color, style, and the fabric that's warm enough for the fall season. When I first came across this Lulus dress, what quickly came to my mind was pumpkin-spiced fall vibes.
The short sleeves it has and stunning design details with a front twist is just the perfect aesthetic we need in our fall wardrobe. The versatility of this dress is a win-win as for the days or nights when it's extra cold, you can layer your favorite cardigans, jackets and scarves for adding an extra layer of warmth to your overall outfit.
Anthropologie Thea Twofer Sweater Mini Dress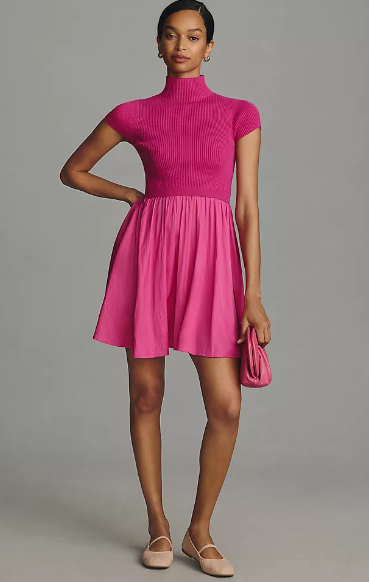 We knew that Barbiecore isn't going away anytime soon, so how can we leave the pinks behind while entering the fall season? No doubt the pinks have gained questionable popularity and made its name in these few months (thanks to barbie).
For all the girls who are still not over the barbiecore trend this dress is just the right addition to your fall wardrobe as it has the warm pink shade, a sweater top for warmth and attached flowy hemline to channel your inner fashionista which is screaming fall, seriously.
Madewell Seamed Puff-Sleeve Midi Dress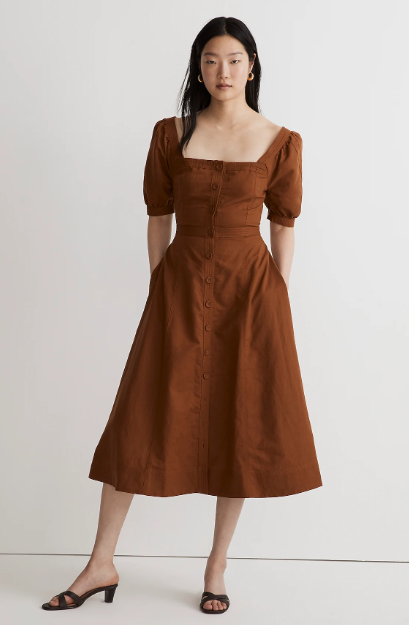 While fall calls for coffee, marshmallows, bonfires at the beach and all the warm-colored pieces in our closet, here we present you the perfect dress for you. The puffy sleeves add just the right amount of drama to the outfit while the silhouettes and the warm coffee color makes it a must-have for the fall season.
Show Me Your Mumu Outlaw Denim Dress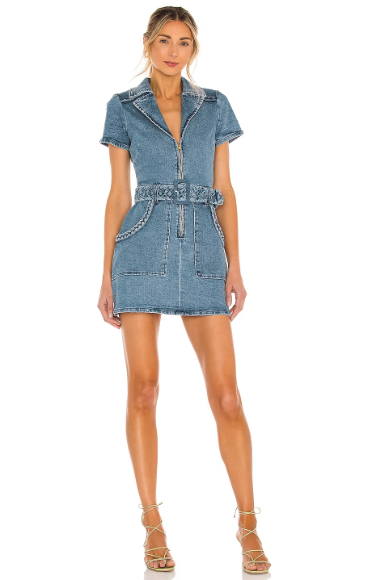 Denim is one of the most versatile pieces that we can flaunt all year round, no matter what the season is. Same for the fall, it's just the perfect dress and to invest into and rock all fall long. This dress is warm, stylish and short-sleeved (what else you want girl, this is perfection).
For the days when it's extra breezy and cold, pair this dress with knee-high denim boots to make a statement even when it's cold enough to shiver. Opt for a solid colored bag to add a touch of classiness to the overall look.
Reformation Jessamy Knit Dress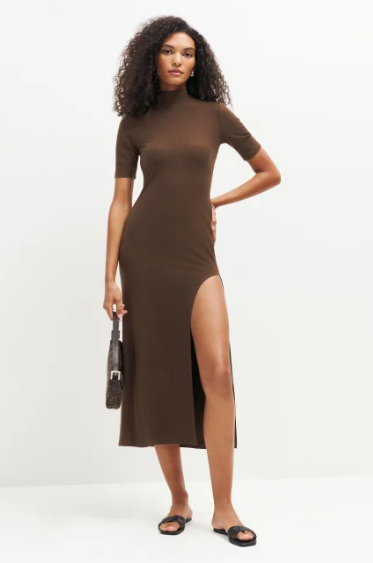 No, we are not getting over the knits and browns anytime soon, this is the perfect time to flaunt all this. The dress is perfect for all the turtleneck fans who don't want to always put a lot of effort in thinking and searching for a bunch of outfit ideas for their turtlenecks to find the one that suits their style.
This dress is a perfect combination of minimal and chic as the side cut feature gives the genuine fashionista vibe while the shade is perfect to flaunt all fall season long.
ASOS Designs Sweetheart Neckline Ruched Waist Midi Dress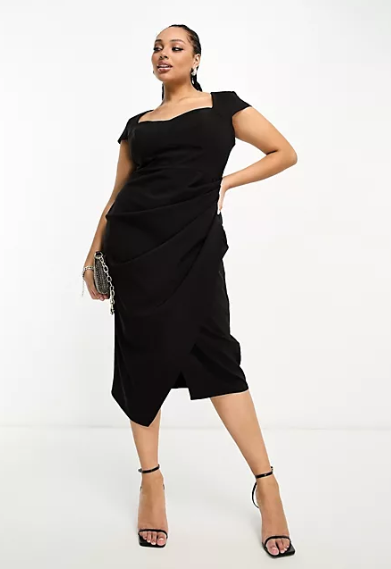 Knitted, trendy, black, ruched, and just the right details and length, what else features does a perfect fall dress have? This dress is perfect as it can transition from a fancy lunch outing with friends to a party where you can appear as the most fashionable of all for sure.
The versatility of this dress is endless, play around with accessories and footwears to create a bunch of stunning outfits for different occasions.
Quince Tencel Jersey Midi Wrap Dress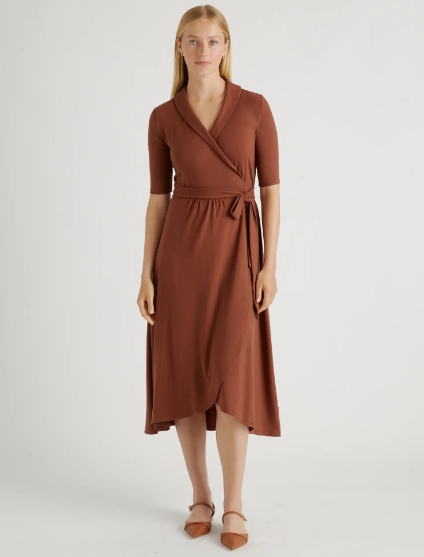 Just like all the obvious browns, beige, coffee, and warm earthy tones this color equally compliments the fall season with its warm and cool shade aesthetics. For the girls who are sad to pack all their summer wrap dresses, don't be.
This dress is here to show your wrappy side even in fall, pair this dress with your favorite pair of boots to add that extra layer of warmth that cold nights require. Finish off the look with accessorizing to make a statement.
Final Thoughts
Now that I have proved that short sleeve dresses aren't only suitable for summers but for fall too, be ready to pull off these dresses all season long. From a cutout dress that is perfect for a fancy brunch to the puffy sleeved dress that's perfect for a garden or park date, and from a denim dress that makes a perfect night out attire to the minimal wrap dress to portray your inner fashionista there is a dress that suits any occasion and style.
Lastly, I would suggest adding layers of your favorite sweaters, jackets, coats, and boots to add the extra layer of warmth to these dresses.