Ariana Grande, a well-known personality that is also a fashion diva, a soulful singer, known for her iconic high pony hairstyle, and an actress as well. What else are we forgetting? Oh yeah, how can we forget her stunning fragrance collection that is just too good to be true and too hard to resist. If you are someone like me I am always on the lookout for new fragrances, so every time i go shopping i buy a new perfume or even online shopping I always hit an add to cart button as soon as i find the bottle aesthetic and key notes mesmerizing.
Great-Smelling Ariana Grande Fragrances
From a fruity and floral scents to a warm and powdery fragrances, you will find every kind of note you are looking for in these best-smelling Ariana Grande fragrances.
Cloud by Ariana Grande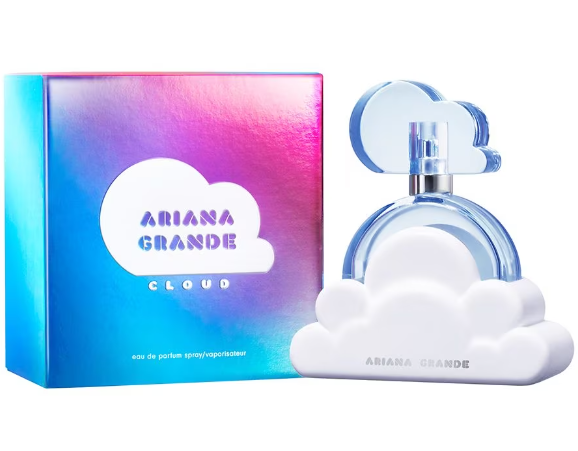 If you are into luxurious scents with a touch of sweetness then Cloud Eau de Parfum is just the right choice for you. We all modern womens crave a scent that is airy, light, and feminine, and this fragrance offers all that. The fragrance has notes like florals like you are in a cloud floating with flowers, iris that makes this scent suitable to wear anytime anywhere, and bergamot that's just lovely. For the base note it gives off a mix of musk and amber to give off a sophisticated appeal. The Cloud by Ariana Grande is one of the best-selling and the most loved fragrance of all time.
Ari by Ariana Grande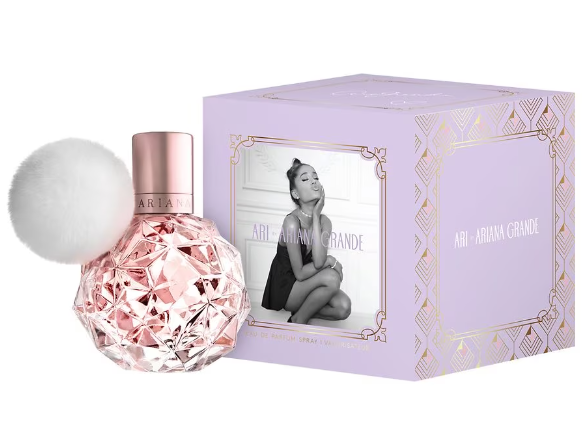 Are you looking for a scent that stays longer and doesn't make you spray it after every other hour then this is what you are looking for. The fragrance screams sophistication, elegance, and femininity. When you spritz the perfume you will get to smell the notes of creamy vanilla, sensual florals, pink peony, white musk, and last but not the least if you are into powdery perfumes then the powdery musk notes can alone make you consider this fragrance. The win-win feature of this fragrance is that it is long-lasting, feminine, and leaves you in confidence.
Thank U Next by Ariana Grande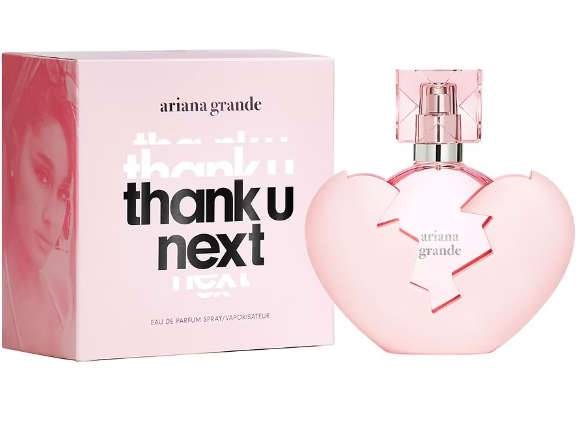 We all have said this to our fragrances when we are switching to better ones, Thank U Next. It truly be like that, you cannot always stick to one scent for life but maybe for years and months. This scent can even make you obsess just with the bottle, the amazing design and the heart breaking is what makes us feel that how life is just like that. This is a fruity, sensual, and fresh fragrance. The fragrance has top notes of plum, black currant, and raspberry that compliments the heart notes of the fragrance that are rose, jasmine and freesia. The fragrance finishes off with warm notes like musk and vanilla. So, how can someone not get obsessed with this one?
Sweet Like Candy by Ariana Grande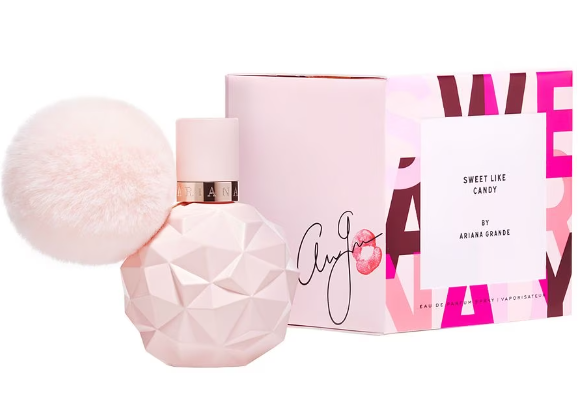 This scent calls for all the personalities that are fun, loving, generous, and pop star inspired, no wonder this is a scent by Ariana. Here comes my favorite citrus note, we never heard this one in above scents but Ariana definitely cannot think about skipping it right? The notes of this scent are poppy citrus, fruity notes like raspberry, powdery blend of sugar orchid and marshmallows, creamy heliotrope, warm blends of blonde woods and sensual musk, and luscious jasmine for the win. This literally sounds and smells like a dream.
Moonlight by Ariana Grande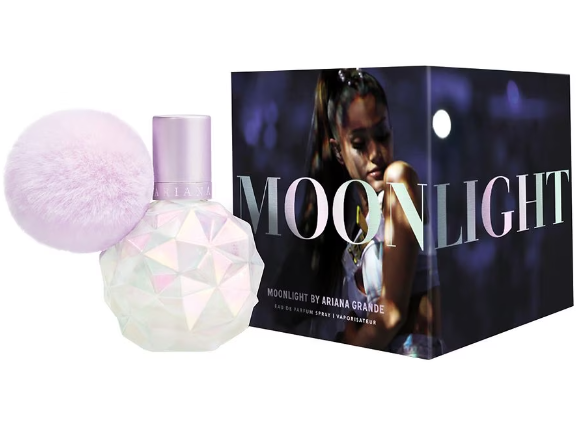 Are you someone who just can't help but always keep a pack of marshmallows? Well, just as much as you like the taste of them in your mouth you will equally drool over the scent they give off to your nose. Of course when we talk about marshmallow smelling scent, what comes to our mind is this is a powdery scent and I personally love powdery notes in fragrances. The notes of this fragrance are the blend of tart, plum, peony florals, black currant, marshmallows, and powdery and creamy notes that finish off the scent on a good note.
Thank U Next 2.0 by Ariana Grande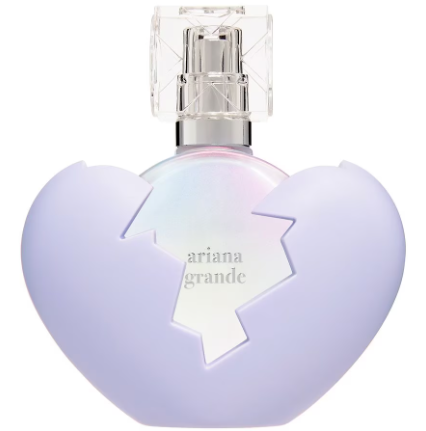 Who doesn't want a positive energy with them all the damn time? This is the fragrance that gives you nothing but confidence in yourself. The fragrance came from a fruity family and is a gourmand type of scent. The fragrance is filled with some of the most stunning fragrance notes of all time which are juicy apple, cream, pomegranate, and wild strawberry as the top notes. While in the middle you will smell all things lush white orchid and jasmine petals. And for the base notes you will fall in love with musky scent, sandalwood notes, and whipped marshmallow to satisfy your powdery and creamy scent desire.
Conclusion
I absolutely love all of Ariana Grande's fragrances, any of them seriously. They are all so unique and smell amazing. My personal favorite is Cloud, it has such a sweet and comforting scent. But honestly, you can't go wrong with any of her perfumes. They will leave you smelling great all day long.