Just know that how chefs trick us by giving the recipe without that "secret ingredient", doing makeup without brush is just like that. When you apply makeup with fingertips, it appears cakey sometimes or just doesn't mix and match with your skin texture perfectly. But, on the other hand, if you use a flat makeup brush for applying makeup, you will clearly see how flawless it will look, no cakey texture, no visible makeup lines, and nothing that makes us look like we did it wrong.
So, when finding the perfect makeup brush you must be having thoughts like "which one". Well, I tell you stop here, as I am gonna make this process of yours real easy by explaining some quick tips and ways you can find THAT perfect flat makeup brush for you. Even in flat makeup brushes, there are many types, as you will see different sizes, shapes and other features. Let's get in deep with the flat makeup brushes to find out the one for you.
How To Choose A Flat Makeup Brush
There are some factors you should consider before buying a flat makeup brush and ahead, you will get to know those:
Type Of Bristle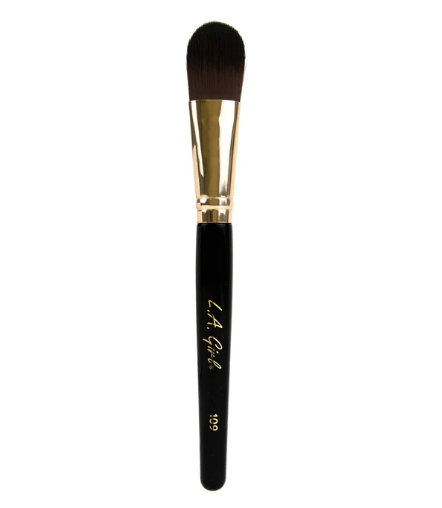 Told you, there are different types of bristles so, what are they? They are synthetics and natural. Let's first talk about the natural one, the flat makeup brushes with natural bristles are often made of animal hair which makes them softer and subtle on the skin as compared to synthetic bristles. The natural bristle brush is the best choice for sensitive skin because of its softness and natural finish to the skin. While the synthetic bristles are mostly made of polyester and nylon fabrics, which do not absorb a lot of your makeup products and are easier to clean, and affordable as compared to natural brushes.
Shape And Size
This step depends on what product you want a flat brush for, as you will be needing a tapered edge flat makeup brush for concealer and for applying foundation the best choice is the rectangular shaped flat brush.
Handle Length
Have you noticed how big in length our foundation, blush, and contouring brushes are? Well, same as we own the smaller in length brushes for eyeshadow application. So, what's the point? The point is the handle length makes it easy to carry and hold which helps in flawless application.
Price
While there are many makeup brands that offer high-quality flat brushes, there are also some local brands that offer just the same. So, it entirely depends on how much you are willing to invest in your makeup brushes. If you ask me, I would recommend to go for high-quality brands for makeup brushes as they are a long-term investment and they will be serving you for years if you will invest in the right brand and quality.
Conclusion
Choosing the right flat makeup brush can make a huge difference in the application of your makeup. Consider the bristle type, shape and size, handle length, and brand and price when choosing a flat brush. Remember to clean your brushes regularly to maintain their quality and extend their lifespan.