Glow-in-the-dark beauty products might not be your immediate go-to, but when given the chance to play with neon liners or luminous lip colors, it's an opportunity worth seizing. Especially for beauty enthusiasts looking to break away from the ordinary routine (sorry, plain nude lipsticks and matte eyeshadows, this isn't your moment).
Whether it's for Halloween, a themed party, a music festival, or a night out on the town, glow-in-the-dark makeup is officially the boldest, brightest, and most attention-grabbing look you can sport. Unlike the plastic sticker stars that adorned your childhood ceiling, these products don't inherently glow in the dark on their own. Instead, they come to life with a vivid brilliance under UV blacklight. Essentially, they shine just as brightly, if not more so under UV blacklight, allowing you to amplify your daytime look in the dark.
Best Glow-In-The-Dark Makeup Look Products
Want your glow to steal the show even in the dark? Keep scrolling to discover our favorite glow-in-the-dark makeup products to experiment with, no matter the time, event, or reason.
Suva Beauty Hydra Fx Dance Party Eye Liner
Use this cake eyeliner with water, and watch it come to life under UV blacklight—it's the ultimate choice for an eyeliner that grabs and steals all the attention. Keep an angled eyeliner brush handy, dampen it, and dip into the powder for application. This is truly our personal favorite and why not, because it is the striking electric yellow shade.
Moon Glow Blacklight Neon Glow Face Paint Stick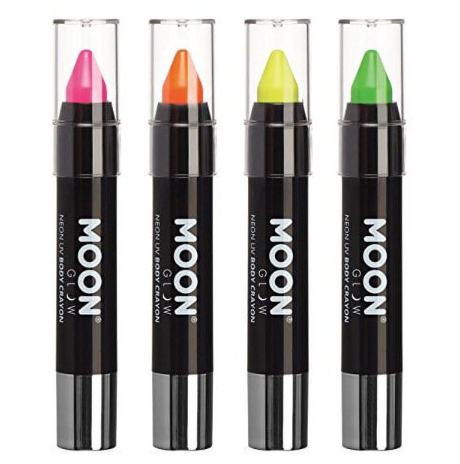 This set of six makeup crayons is versatile, ready for use on any part of your face or body. Providing excellent coverage, they can be effortlessly removed with a regular makeup removal wipe once your night is done. Application is as easy as traditional face paint, and these crayons have a long-lasting quality. Moreover, they are safe for kids and haven't been tested on animals.
Kryolan Aquacolor UV DayGlow Palette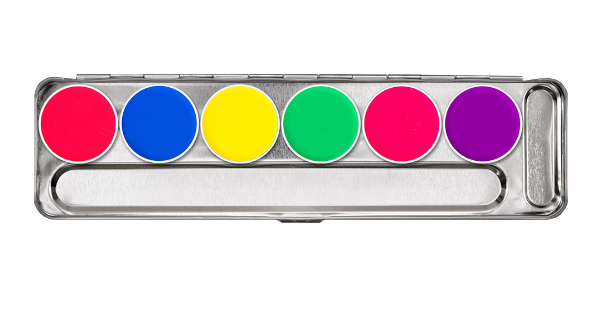 This palette has a playful six vibrant shades of face paint that grabs the attention to the eye in daylight, but also truly come alive under UV light sources. It's safe for using on all facial areas as well as your entire body, allowing you to use various colors to elevate your look into something daring and exhilarating.
Lemonhead Glowjam UV Glitter Balm
This adaptable glitter balm is perfect for direct application, but its concentrated nature makes it equally effective when thinned with water for use on any part of your face or body. If you're feeling creative, mix it with a bit of hair gel to add a touch of sparkle to your hair. When exposed to UV blacklight, it transforms into a dazzling glow with impressive coverage. With five neon colors to choose from, a little of this glitter balm goes a long way.
Moon Glow Neon UV Lipsticks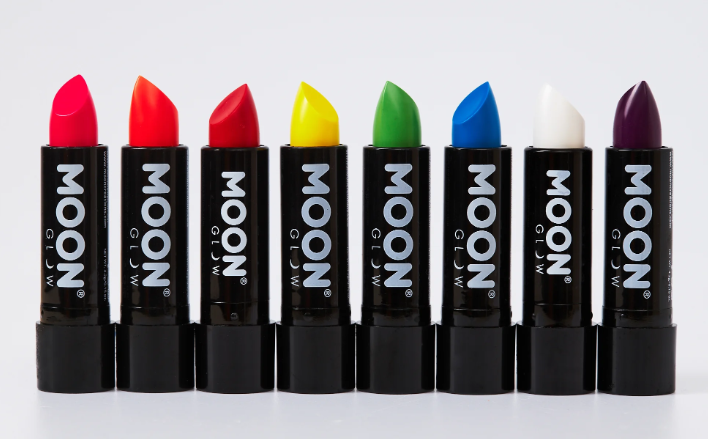 This lively matte neon lipstick is guaranteed to make a statement under any blacklight or UV lighting. For the most vibrant and enduring finish, apply two coats, and when the night wraps up, effortlessly remove it with soap and water (because you definitely don't want it all over your pillowcase). Whether you have a favorite shade or decide to collect them all, you'll adore how your lips light up in the dark.
Final Thoughts
For those who want to achieve a dark makeup look, there are many products available that can help you nail the look. From dark eyeshadows to bold lipsticks, there are endless options to choose from. However, it is important to find products that work with your skin type and tone, and to experiment with different shades until you find the perfect match. With the right products and techniques, anyone can pull off a stunning and edgy dark makeup look.