Over time, my closet has undergone numerous purges. Each piece of clothing holds significance for me, making it a challenge to part with any during my periodic decluttering sessions. Recently, I find myself grappling with the dilemma of items like space-hogging puff-sleeve dresses and the unnecessary 17th pair of skinny jeans in my possession. Few categories escape this annual debate, but one exception I must highlight is the sweater dress. The high-quality Lulus sweater dresses I acquired during my high school graduation have stood the test of time, becoming invaluable staples in my collection.
As I gear up for colder weather and reassess my wardrobe, the decision to add another sweater dress seems foolproof. After thorough exploration on the Lulus website, I'm firmly convinced that these particular dresses, among my favorites, have my heart.
Cozy Sweater Dresses You Need
Have a look at my most favorite sweater styles that are just the perfect for the cold season without compromising on your style. So, stay warm and classy with the seven gorgeous Lulus sweater dresses.
Little Black Sweater Dress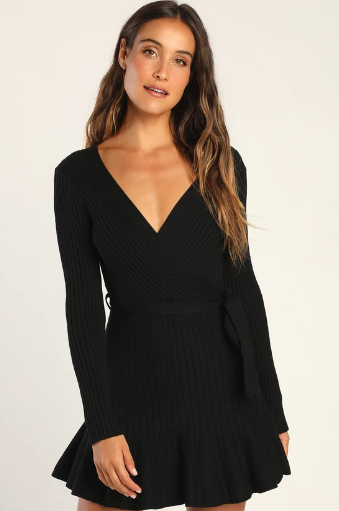 We all own that LBD (little black dress) that is always on us every now and then. As you all have seen that dresses were considered the summer and spring staples only sometimes ago, but as the fashion world is literally surprising us every now and then with the endless possibilities, we are loving this little black sweater dress that we can flaunt all fall and winter long.
Striped Button-Up Sweater Dress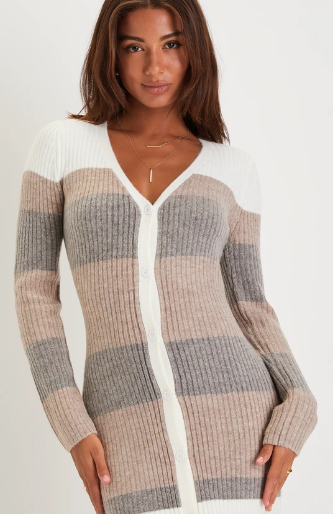 Fall calls for cozy and neutral tones for sure, so do you already get what I am about to say? Well, we all own that one striped tee, tanks, and even an oversized sweater that we love to wear all cold season long without the thought of repeating and getting bored of it. This super cute and cozy striped sweater dress is all we need to achieve that perfect brunch outfit to flaunt in the cold afternoons of winters.
Cable Knit Mini Sweater Dress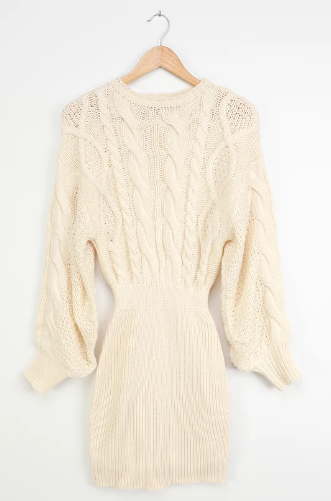 If you have ever worn a mini skirt and an oversized cardigan and had trouble perfectly tucking the sweater into the skirt then, my girls! Stop and grab this one, as this is too gorgeous, just the right shade for cold season, and looks so great for any kind of occasion.
Cowl Neck Sweater Dress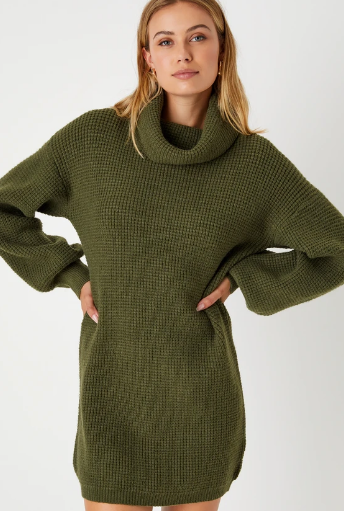 I have worn turtlenecks so much that I never ditched them, whether any occasion, any fit or anything else. I Love this cowl neck trend so much that there are many clothing items that look amazing in this style, and this one is no exception. The color is doing just the right job for the coziness and deepness for the cold season, and the ribbed fabric is what we are drooling over.
Ribbed Knit Pearl Sweater Dress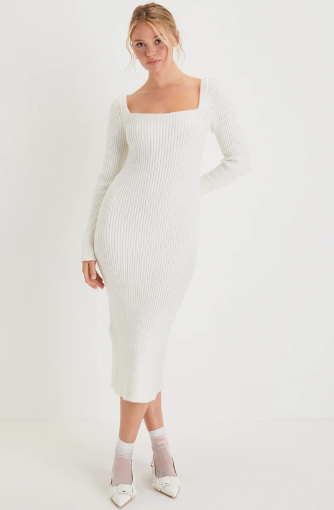 Oh so gorgeous and absolutely feminine, the pearls, the cleanest and classiest white shade, bodycon silhouettes, ribbed fabric and sweater weather! Oh, what else are dreams made of? This sweater dress literally feels like a sight to the sore eyes. You can pair this with white platform heels or even high heels, and for the coldest of nights go for ankle boots that are warm enough to have fun all night long.
Hooded Sweater Dress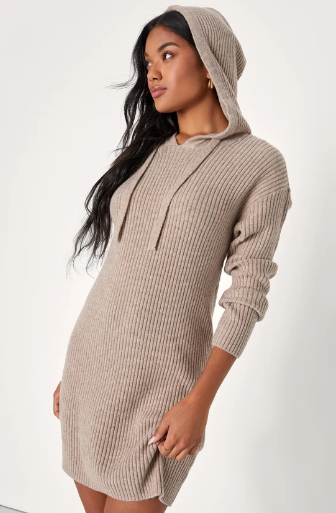 Perfect for the girls that are unable to ditch their hoodies all cold season long, now girls you don't have to always wear hoodies which require jeans and other items to create an outfit, because you need only this hooded sweater dress and ta-da you are all set!
Balloon Sleeves Sweater Dress
If you are a true fashionista, you must understand the power of a little to barely-there detail in the clothing right? Well, have you spotted something here? Oh, I know. The balloon sleeves are doing just the right job for us by making a regular styled sweater dress an upgraded one by just a little detail. Another great thing is the slide slit at the bottom and these two standout details are what make this dress a must have for the season.
Conclusion
These seven cozy sweater dresses will keep you warm and stylish during the colder months. From turtlenecks to oversized knits, these dresses are perfect for snuggling up on the couch or dressing up for a night out. You won't want to take them off!
UP NEXT: Best Floral Dresses From Lulus You Won't Regret Buying