Knock! Knock! My floral girlies! What could be better than some flower nail designs? Let me tell you something, I'm extremely excited to introduce you to some spectacular flower nail designs that might just blow your mind. It wasn't quite easy to find nail designs that give a sophisticated, aesthetic as well as a feminine style. Some are too simple, too stylish, or too elegant. And we demand flawless, and I've got the perfect matches for you to try out.
Nail designs are meant to give you that elevated look, and when it comes to the flower ones, we girls can't back out to provide ourselves with the most ethereal and feminine aesthetic. Delve in this journey with me to find some majestic flower nail designs that I'm sure are the ones for you to try!
Cute & Simple Flower Nail Designs
Explore 7 easy-to-try aesthetic flower nail designs that effortlessly complement various nail styles, perfect for your unique taste!
Playful Purple Flower Nails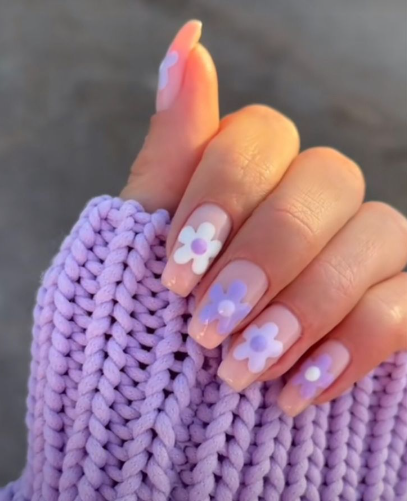 This playful purple flower nail design is a perfect blend of pastel light purple colors with added flowers to elevate your style. The spring-inspired aesthetic is what makes it stand out among all other nail designs. I love how the flowers are added in different locations some at the top while some in-depth, it gives your look a distinctive and pretty vibe.
This nail design can be worn at spring weddings or for a walk with your friends on a peaceful and lovely day. Plus, the point is that this design is super easy to try and is all for a gorgeous girls' vibe.
Long Pink Rose Nails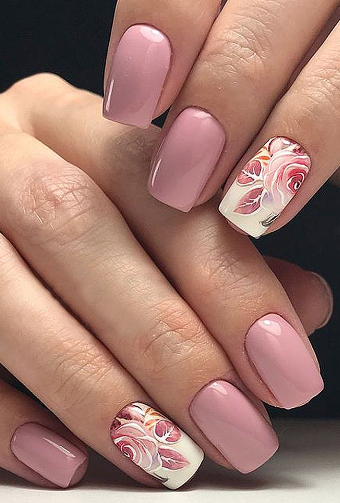 Struggling to choose a nail design that goes too well with your denim outfit? Quite the contrary now, as I'm providing you with a go-to flower nail design that you won't want to miss out on; if you're going for a stylish look.
Long pink rose nails; the perfect blend of color in this art is what makes me lose sleep. The majestic design with fantastic colors, heaven! You can add this flower nail design to your list to have an elevated look at a night out with your friends, movies, or parties.
Pumpkin Spice Flower Nails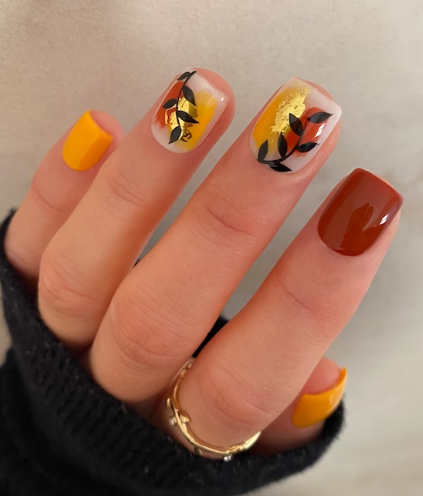 The gorgeous hint of orange and white should be your priority for a movie night or maybe a brunch. Not only that, it's suitable for formal occasions or meetings which makes it super versatile. Go on with this super easy flower nail design and rock your day-to-day look. I'm sure you'll be glad.
White Nails With Flower Designs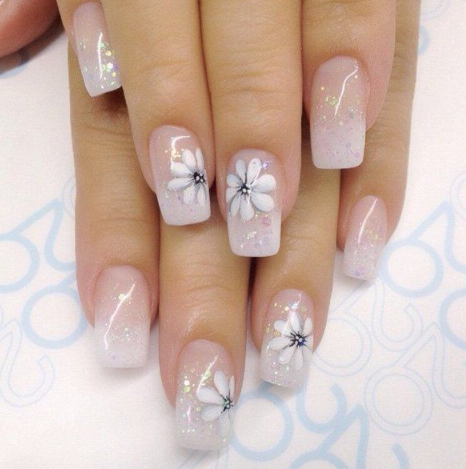 This one is a simple and very easy one, but equally flattering. It blends serene white nails with delicate shades of pink, creating a true aesthetic nail. A cute flower on your ring finger, with a pink and white style on your index. Super cute! You can try it out when you're heading towards an amusement park or just on a fun road trip with your comfort person. Beautiful context, right?
Chic Floral Art Nails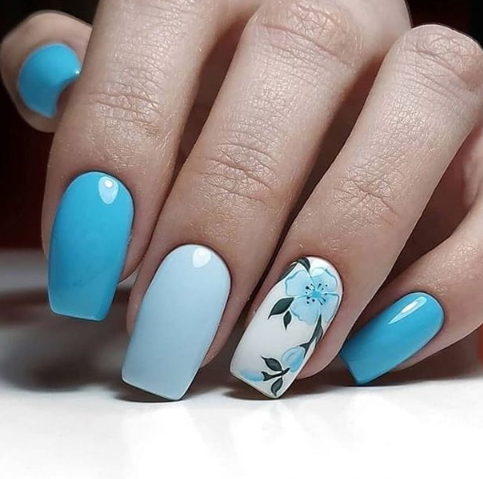 Want to try something chic yet easy? Hear me out, chic floral art design is the one for you. Nothing beats the chic style it provides, because whoever I know is obsessed with this design. The beautiful flower detail on every finger is super eye-catching and stunning. Wear it on any occasion.
Sophisticated Poppies Nails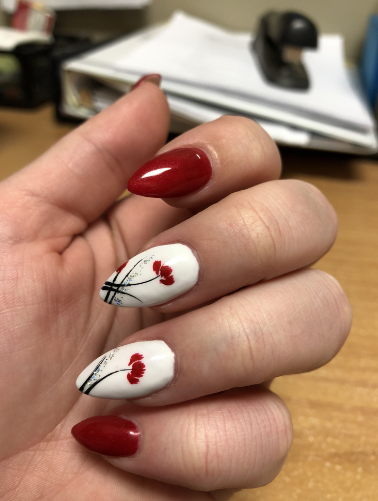 Name defines. This design can go with anything. It's really elegant and simple, along with breathtaking. The delegate and beautiful art of florals is what makes it eye-catching. We can't exclude the colors! They're gorgeous.
Floral Wrap Nails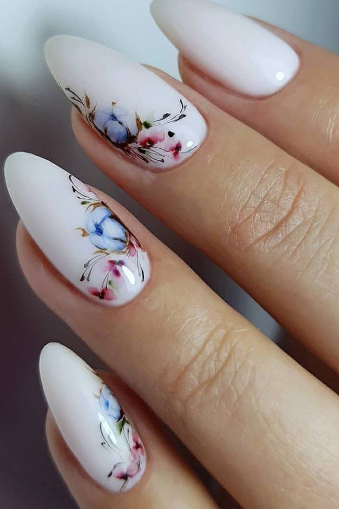 This one is sophisticated and chic. With the beautiful hint of colors on flowers, this art gives perfection. All the colors added are beautiful to the highest extent. Wear it at weddings as well as formal gatherings and elevate your look.
Conclusion
These are some easy-to-try and gorgeous flower nail designs to nail on every occasion they're designed for. Enhance your look and allow yourself to stand out. That's what nail art is for! Easy and pretty, try them out and look flawless. If I were I wouldn't wait any longer!
UP NEXT: 7 Classy Short Nail Designs For Sophisticated Style