Yellow is an uplifting color that can perk up any combination or style with its sunny attitude. The growing nail trend of expressing one's unique personality through manicures has made yellow nail art designs increasingly popular in recent years. There is a wide range of yellows that can be used for nail art, from soft pastels to bright neons. Yellow nail designs are fantastic since they can be worn with every outfit and for any event.
A basic yellow polish may liven up your everyday look, while more complicated designs with patterns, textures, and other colors can be the cherry on top of your outfit for a special occasion. No matter if you want a modern take on the classic French manicure or something more abstract and experimental, there is no shortage of ideas when it comes to yellow nail styles and manicures.
Cute Yellow Nail Designs To Light Up Your Manicure
Yellow Nails With A Sunflower Design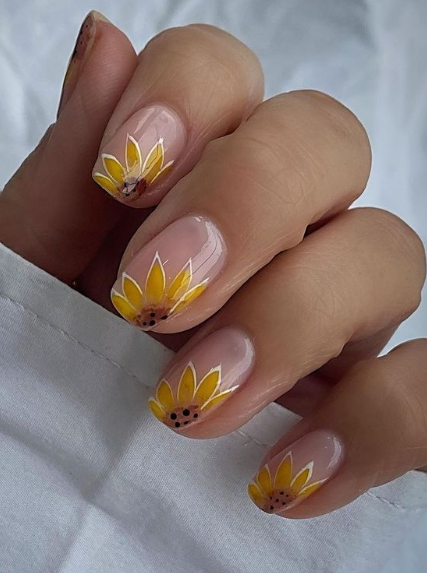 This manicure will allow you to bring a little bit of nature with you wherever you go. On a single nail, a classic yellow nail polish transforms into a gorgeous sunflower. Create this look by painting a tiny crescent on your accent nail with black polish and then placing tiny golden flowers lightly around the edge of the nail. To complete the realistic look of the flower, add a few brown dots to the center with a tiny brush.
Yellow Nails With A Leopard Print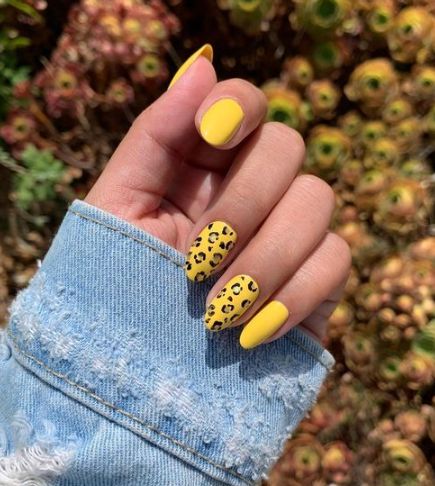 Having pretty nails is a sign of self-love of a girl. Yellow leopard print nails are a striking and trendy choice for anyone wishing to speak through their manicure. While the leopard print pattern adds a touch of wildness and adventure, the bright yellow base color gives the design a spark of joy and energy. For a more natural look, try experimenting with different spot sizes and shapes. This refreshing combination of nails will attract attention and help you stand out from the crowd.
Orange And Yellow With The Touch Of Fruits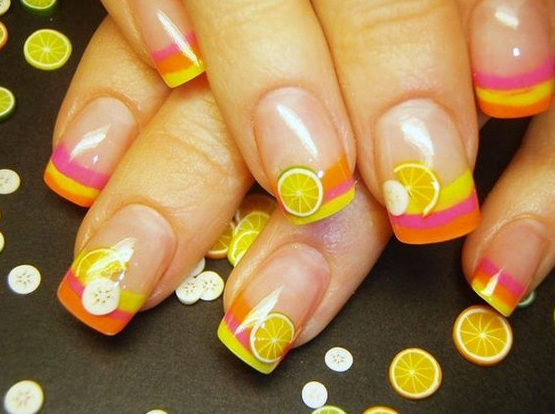 If you are on the hunt for a summery color combination of yellow and orange with a hint of blue-green, then add fruit designs to your nails. It will remind you of the tequila sunrise you have seen! Orange and yellow nail art with the touch of fruits is a very refreshing combination for women in summer. Just rock your summer outfits with the perfect fruity manicure ever.
Yellowish Wavey Fresh Manicure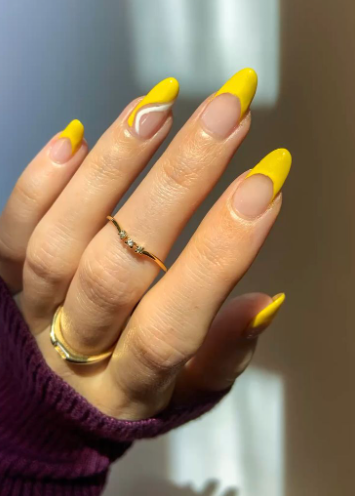 This modern take on the classic French manicure has wavy yellow waves on the nail base. Instead of the typical white tip, this design has a wavy yellow line. The wavey design gives the manicure a modern and edgy vibe, while the splash of yellow provides a fun, bright touch. Nail paint or nail stickers can be used to create this look, and the wavey line can be made in a variety of colors and forms to suit your taste. It's suitable for people who want to spruce up their manicures with a chic twist without sacrificing elegance.
Yellow Ombre Nails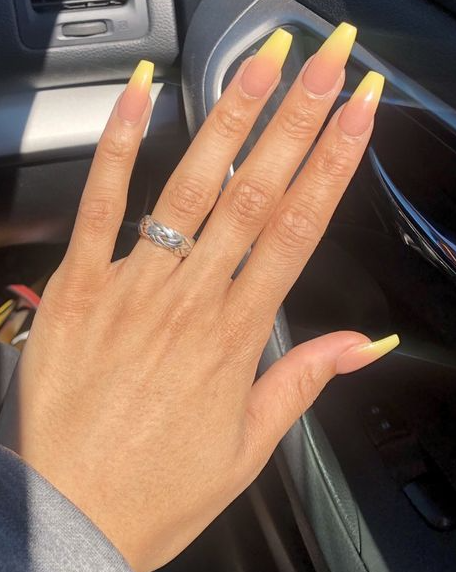 A fun and fashionable way to add a splash of color to your look is with yellow ombre nails. Each nail is given an ombre appearance by blending darker tones of yellow onto a lighter base color. This look is ideal for warm weather or if you want to inject a little color into your entire look.
ALSO READ: 7 Stunning Pink Ombre Nails To Try
Yellow Cartoon Nails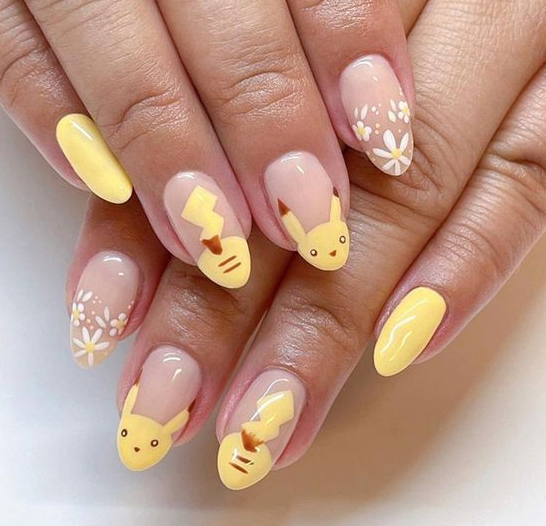 Yellow cartoon nails are a fun and colorful manicure, especially for women that feature a variety of cartoon characters and designs in vibrant yellow tones, different from each other. The dominant hue in this style is yellow, black, white, and other bright colors are often used to represent comic features. The characters can be anything from well-known cartoon figures like my childhood favorite cartoons i.e. Pikachu or SpongeBob SquarePants to humorously odd ones like bananas, sunflowers, or smiley faces. In general, this style adds a fun and colorful touch to nail art.
Lemonade Pastel Nail Manicure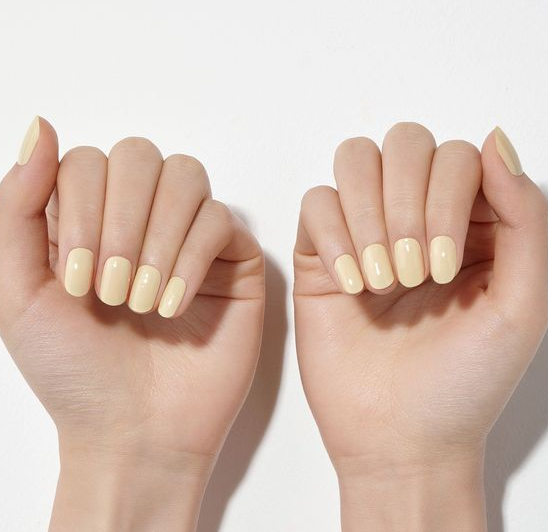 I am a yellow lover because this color makes my mood fresh and happy. Put your passion for lemonade on display with this adorable manicure. You can make a beautiful art of pastel lemon on your nails with just a few strokes of the brush; thanks to the pastel color and zesty leaves. It's also a great choice for individuals who like to highlight one nail; your manicure will look and feel as fresh as a daisy in no time.
Blue And Yellow Nail Manicure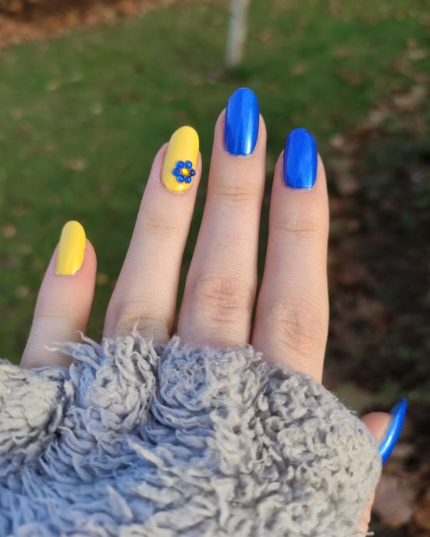 You cannot just unseen the attention-grabbing manicure of the two colors, yellow and blue, as they have a stark contrast between them. There are several ways to nail this design, either by simply painting each nail in alternating yellow and blue hues or by creating complicated patterns that combine both eye-catching colors.
Blue is a quiet and serene color that symbolizes calm and peace, whereas yellow is a warm and happy color that stands for happiness and warm sunshine. The contrast of these two unique meaningful colors makes an eye-catching and vibrant contrast that fits well with the summer. It calls look stunning for everyday wear as it does for notable occasions.
Conclusion
It is never late to look hot chic during the summer season. If you still want to be a sexy summer babe, start your day with the perfect yellow manicure! In addition to bright yellow nail art designs to your wardrobe for the summer is a proven method to make you stand out from the crowd. Whether it is the refreshing lemonade you enjoy on vacation or a SpongeBob Square Pants episode, this bright color is a safe bet.