If you are unsure about how long to leave toner in your hair, please stop because there is no rocket science behind that you just need to understand a few things and we are here to guide you through that. If you are someone who dyes their hair from time to time you must know how important it is to maintain hair health. Well, hair toners are too good to prepare your hair for a flawless color transformation, you only need to take care of the timing as everything depends on that.
Apply for too long and ruin your color and make it darker and unnatural, leave for too less and you are not even close to the color you want. So, to make you understand how it works we have curated a quick guide to tell you how it is important to focus on the right timing. Don't hesitate—dive into this guide to discover everything you need to master the art of using toner on your hair. Your perfect hair color is just a read away.
What Is Toner?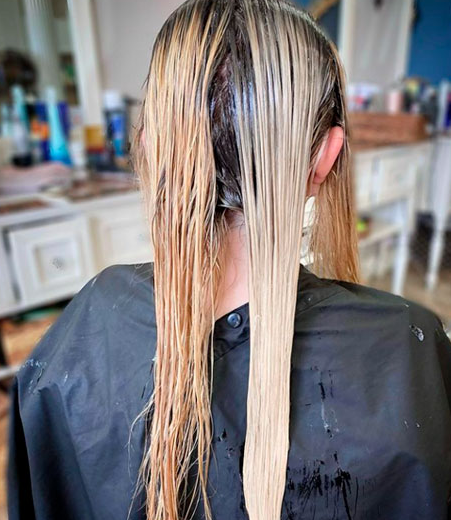 If you're venturing into the realm of blonde or brunette hair, you probably know that bleaching is part of the process. However, don't overlook the importance of a toner. Whether you're going for the golden glow of blonde or the rich tones of brunette, a toner is your secret weapon. It neutralizes any unwanted hues in your locks and plays a vital role in keeping your strands healthy. Toner does more than just fix overly warm or cool tones; it can also add a lustrous shine, softness, and reduce split ends. Think of toner as your best friend in the world of hair color. Typically available in gel or gloss formulas, toners work to balance out tones that might clash with your new look or enhance colors that complement your fresh style. Keep in mind that toners come in various forms, including tinted shampoos or conditioners, and demi-permanent colors.
Every strand of hair carries red and orange pigments, except for those ultra-cool, icy blondes. Bleaching lifts away these pigmented tones, but it might leave your hair with an undesirable tint. Blondes might encounter straw-like yellow hues, while brunettes could face hints of orange or brassiness. Enter toner, your color correction ally. It aims to minimize or eliminate these unwanted tones, offering a remedy for color-related woes. When choosing a toner, the key is to select one on the opposite side of the color wheel from your dye color. This strategic choice ensures that the toner effectively balances out any discoloration, helping you achieve a more natural look.
How Long To Leave Toner In Hair?
Curious about the ideal duration for leaving toner in your hair? You're in good company. The time frame hinges on whether you're employing an at-home or professional toner and the lightness of your hair—lighter hair requires a shorter processing time. Factors such as your hair's health, desired color, and the toner brand also play a role. In general, target a processing time ranging from five to forty-five minutes. As a starting point, consider ten minutes and assess the color outcome. It's advisable not to surpass forty-five minutes without rinsing off the toner. This flexible approach ensures you achieve the desired results without compromising your hair's health.
Conclusion
Toning your hair is an essential step in achieving the perfect blonde shade. With our quick guide, you can now confidently determine how long to leave toner in your hair for optimal results.
UP NEXT: How To Remove Splat Hair Dye From Skin Quickly & Safely?