If you ask me about brunches, I cannot say no even when I should. Brunch is the most energy filling, heart warming, and the most beautiful time to eat and dress up that i cannot even explain. If you are something like me who always gets ready for brunch whether with family or friends, I love to plan out my favorite outfits even if it's a sudden plan. Some people like their brunch outfit as minimal as possible and some want to step out of their comfort zone to create something unique and dressy for a brunch hangout. So, keeping all that in mind I have come up with some of the coolest and stylish brunch outfits that anyone can pull off no matter what the season is.
Brunch Outfit Ideas For Every Season
From a cool and airy outfit that is perfect for summer season to a full layered winter outfit to rock on a brunch hangout, here is an outfit for everyone and every season.
Brunch Outfit For Summer Season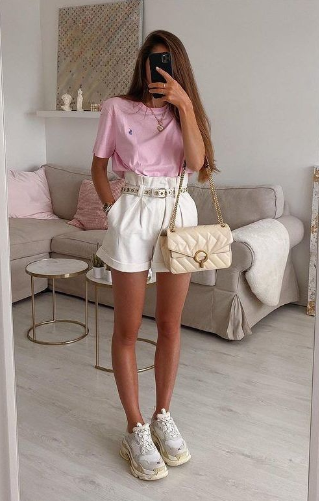 Summers calls for an airy, lightweight fabrics as well as that type of outfits that are easy and simple to style in the warm weather. The most important thing to consider for the summer brunch plan is to wear an outfit in which you can feel comfortable and less-sweaty. This outfit is literally nothing but coolness to the eyes in the warm breeze and sweaty afternoons. To achieve this look, pair your pastel colored tee with your favorite pair of shorts. Finish off the look by adding minimal accessories like a layered necklace, ear studs, a shoulder bag, and lastly, step into the crisp white sneakers to give off the polished vibe to the overall look.
SHOP THE LOOK
| | | |
| --- | --- | --- |
| UO Best Friend Tee ($20) | | Madewell Patch Pocket Denim Shorts ($78) |
Brunch Outfit For Spring Season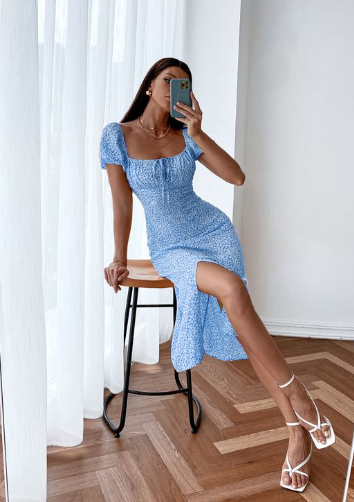 Spring is all about vibrant and lively colors, florals, and dresses (of course). Any floral dress with stunning and delicate details will work for having the most stylish and best time at the brunch. This outfit literally screams spring vibe so loud that I cannot wait to achieve this for my next brunch plan. For this outfit you just need a maxi dress in a floral print, strappy white heels, and for accessories you can add a few pieces of minimal jewelry and a cross-body bag to finish off the look.
SHOP THE LOOK
| | | |
| --- | --- | --- |
| Lulus Floral Print Maxi Dress ($66) | | ALOHAS Sheila Leather Heeled Sandal ($108) |
Brunch Outfit For Fall Season
For fall season, you need to be less layered for the evenings and afternoons and more layered and covered in the night. So, for brunch we would go for a combo that gives both the style and warmth for the cold breeze of the season. To achieve the perfect fall brunch look, you will need a comfy, cozy, and a little oversized cardigan pairing with your favorite pair of light wash jeans. To complete the look, opt for minimal and classy accessories like a mini shoulder bag, classic black sunglasses, and most importantly a pair of crisp black ankle boots to add an extra layer of warmth to the overall outfit.
SHOP THE LOOK
| | | |
| --- | --- | --- |
| Forever 21 Purl Knit Sweater ($17) | | Madewell Vintage Jean ($148) |
Brunch Outfit For Winter Season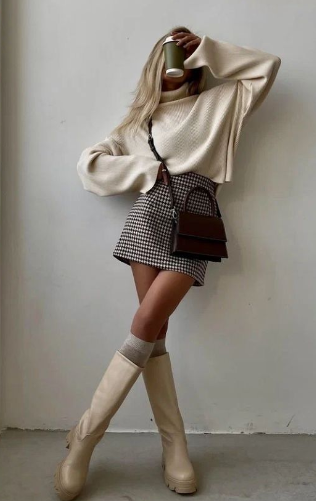 Winter calls for extra layered and highly cozy outfits that do nothing but let you have the best time without being cold every other minute. For winters you should choose heavy fabrics like cashmere, velvet, jacquard, leather and wool etc. For winter brunch my favorite look is this one, this is extremely warm and has a little room for the airy ventilation you need in the winter sunlight. To get this look, pair your oversized beige cardigan with a plaid mini skirt. And to cover the rest of the leg and give them warmth, step into your crisp and cool knee-high boots to combine the style and warmth in a classy way. Complete the look by wearing a cross-body bag and minimal ear studs.
SHOP THE LOOK
| | | |
| --- | --- | --- |
| Citizens of Humanity Turtleneck Sweatshirt ($188) | | Lulus French Duo Black Mini Skirt ($52) |
Final Thoughts
Stylish Brunch Outfit Ideas For Every Season provide some great inspiration for those looking to elevate their brunch game. From cozy sweaters to flowy dresses, these outfit ideas are versatile and trendy, making them perfect for any season.
UP NEXT: Stylish Leather Pants Outfits That Are All Over This Fall Season