If you are a manicure enthusiast and always looking to upgrade your nails with nail art or anything you must know it is a process. The first thing we need to focus on is the nail shape, whether you did almond nails, acrylic nails, round nails, or pointed ones. Now is the time to switch your old-trend nail shape into square shape nails. The square shapes are highly versatile, appealing and are timeless. The square nail designs are low maintenance, best for both long and short nails, easy and real simple to DIY. The square shape and tips of them are highly chic and practical for everyone. There are a bunch of ways you can rock the square nail designs, from neutral nails to bold ones.
Trendy Square Nail Designs
From classic solid nails to all-glam up tortoise-inspired nails that make you standout in the crowd, ahead are some of the best picks of square nail designs for you.
White Pearl Square Nails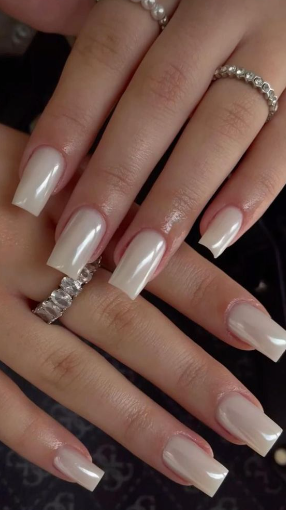 What is more luxurious than the charming white pearl square nails? I cannot stop being obsessed with this solid, classic, cool, luxurious, and charming nail design. These are too easy to recreate just need a pearly white nail polish and an extra layer of top coat.
Solid Neutral Square Nails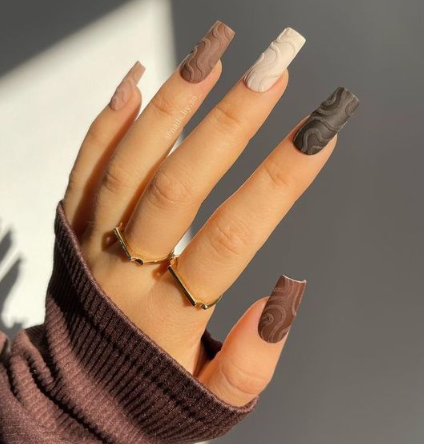 Solid nails are always everyone's go-to option when there is nothing new in our mind or on the internet, but these days neutral and solid nails are getting minimal upgrades that are more modern than ever. These colors are the perfect neutral palette inspired with a hint of black. And what I love the most about it is the swirl details on top that are the same color as the nail color which makes it even more appealing yet minimal.
Sage Green Leafy Square Nails
Another stunning solid manicure inspo is this one, a sage green nail manicure is an extremely trendy and sophisticated choice that are suitable for all kinds of skin tones and personalities. Sage green nails are perfect for all seasons so you can wear them all year long.
White Glazed Square French Tips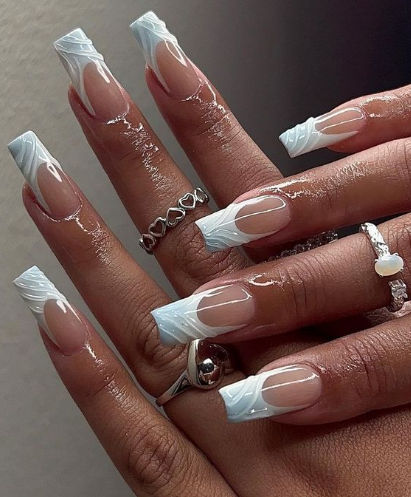 Clean and crisp white french tips are always classic but why not give them an upgrade this season by adding a glazed and swirly effect to them? Without a doubt this looks extremely appealing and stunning to opt for the next manicure.
Tortoise Square Nails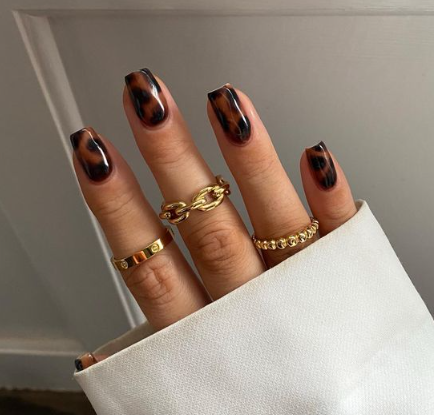 Ditch the solid nails with this tortoise-inspired manicure that's nothing but perfect for all occasions and skin tones. Bold manicures like this one are best for all year long no matter what the season is.
Chocolate Square Nails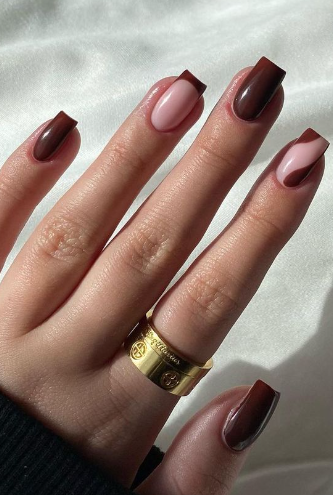 Chocolate nails are so popular this fall season and I cannot stress enough on this. These nails are so timeless and versatile that chocolate box nails are in-trend again and every single person is getting them this season with their own unique style.
Swirly Square Nails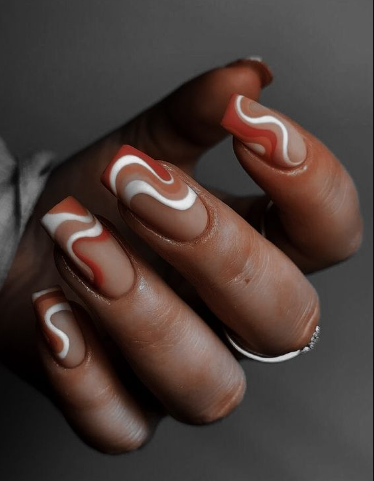 Talking of swirls, and the swirls arrive. This milky orange swirl french manicure is nothing but a piece of art for the manicure enthusiasts. These are too elegant to pair with your brunch outfits or even party looks if you are a minimal person.
Floral Accent Square Nails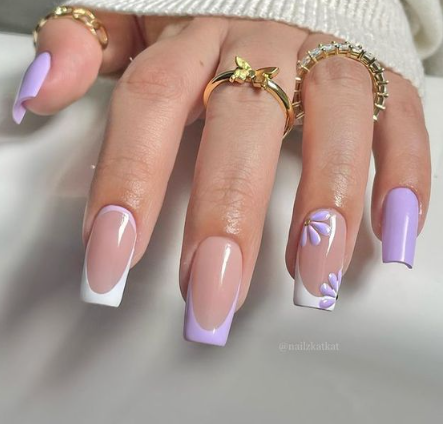 Light purple nails with floral accents look like a dream manicure for us enthusiasts. This one is so cool, sophisticated, minimal, simple, and the most stunning one of all in my opinion. This color is something no one can dislike and no season can replace.
Conclusion
Nail art has become a popular form of self-expression, and square-shaped nails are a classic and trendy choice. The eight nail designs presented in this article range from minimalistic to intricate and are sure to inspire your next salon visit. With a little creativity and skill, you can rock these stylish square nail designs and make a statement with your fingertips.
UP NEXT: Beautiful Butterfly Nail Designs To Spice Up Your Nails