A little while back, I decided to give Bubble Skincare's Level Up Balancing Gel Moisturizer a shot, hoping it would be the perfect match for my super oily skin. Initially, it didn't wow me; I stored it in my medicine cabinet, in that untouched products corner. But let's fast forward a bit. I've become a huge fan of the brand's vitamin C serum. It worked wonders in fading my dark spots, prompting me to reconsider the gel moisturizer.
Level Up Bubble Moisturizer For Oily Skin Review
Surprise, surprise! I've changed my tune after giving it a second chance. Now, it has earned a prime spot in my routine, residing next to my beloved Bubble Skincare Day Dream Serum. Now, before the normal and dry skin folks decide to exit this story, hold on! The brand has a moisturizer tailored for your skin types—the Slam Dunk Moisturizer that took TikTok by storm. It's definitely worth checking out.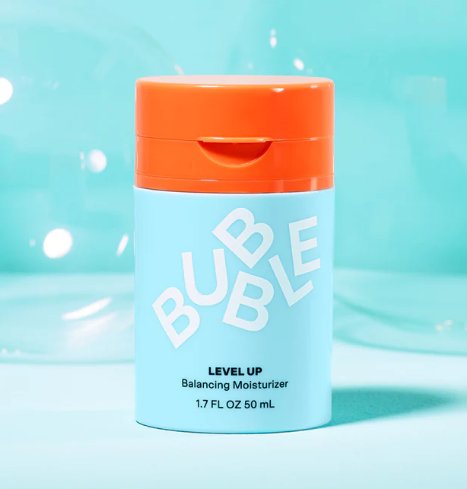 But let's get back to business. As I mentioned, I have oily, acne-prone skin, so I lean towards lightweight gel moisturizers. Thick and heavy formulas make me sprint in the opposite direction. The Level Up Moisturizer fits the bill and then some. It doesn't leave my skin looking oily or shiny; it's hydrating upon application, but soon after, it feels like I'm wearing nothing on my face.
Beyond the texture, the ingredient list is applause-worthy. Zinc PCA and niacinamide team up to smooth texture, regulate sebum, and boost radiance. Yarrow extract repairs and moisturizes, while a superfood protein compound shields your face from blue light damage. Glycerin and squalane also make notable appearances.
I'm a fan of the packaging too; no need to dip your potentially bacteria-laden fingers into the container. Just press down, and voila—a flower-shaped dollop of product. Bubble recommends one to two pumps, but trust me, one is plenty. If you're like me and have oily, normal, or combo skin, this lightweight gel moisturizer from Bubble Skincare is a must-try. Oh, and did I mention it's only $16? As if you needed another reason to add it to your cart.
Conclusion
So, the most important thing this Level Up Bubble Moisturizer did to me was make my skin so much better and most importantly (stopped my search for THAT moisturizer for me). The formula is so lightweight that you will love your decision of choosing this and putting this on your skin.
UP NEXT: Is Cetaphil Moisturizer For Oily Skin A Worthy Choice?