The process of selecting the ideal bridesmaid dress may be thrilling and difficult for any bride-to-be, especially with the ever-changing fashion trends. There are many different colors and styles to choose from, but few can match the classic attractiveness of long black dresses. These gowns are the perfect option for bridesmaids who want to radiate a feeling of traditional splendor and support the bride's vision because they are universally flattering and easily stylish.
Today, we're excited to show you Lulus's beautiful collection of long, black bridesmaid dresses, including some of my favorite outfits. Lulus is a recognized fashion retailer known for its chic, glitzy outfits that never fail to inspire with high annual revenue. We'll look at the various styles and talk about the distinctive qualities that make each outfit unique.
5 Beautiful Lulus Long Black Bridesmaid Dresses
In the following we have listed stunning long black bridesmaid dresses from Lulus:
Black Mermaid Maxi Dress
This gorgeous dress, which was created to arouse thoughts of love and elegance, perfectly combines femininity and refinement.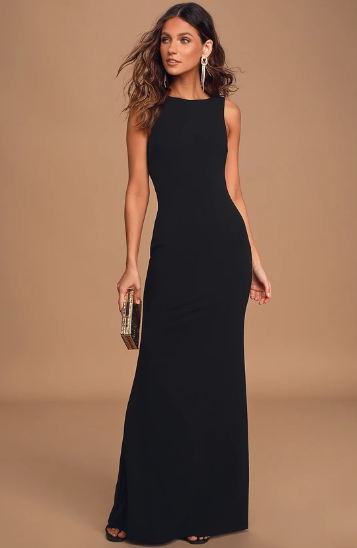 Lulus Love In Your Eyes Black Knotted Mermaid Maxi Dress ($89)
On her special occasions, it promises to make every woman feel like a true goddess thanks to its alluring form and delicate detailing. The knotted bodice design gives the wearer's physique more visual intrigue and gives them an hourglass shape.
The décolletage is complemented by the sweetheart neckline, which adds some charm without being overtly revealing. The Love In Your Eyes dress guarantees that every perspective is excellent for photos, whether you're dancing the night away or posing for them.
For a glamorous red carpet appearance, wear it with bold earrings and stilettos. For a garden wedding, go more bohemian with sandals and a wide-brimmed hat. The dress' versatility guarantees that it will continue to be a cherished wardrobe essential for many years.
Black Surplice Maxi Dress
The dress falls elegantly to the floor, brushing your body as it does so. The length is ideal, caressing the ground with each stride and giving your motions an airy feel. You get the feeling that you are floating on air as the fabric gently sways in response to the breeze.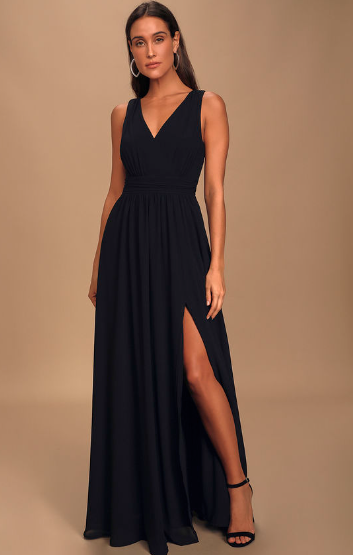 Lulus Thoughts of Hue Black Surplice Maxi Dress ($98)
The Hue Black Surplice Maxi Dress is beautiful not only for its design but also for its adaptability. Being able to go from day to night with ease makes it a classic item in your wardrobe for any occasion. For a stylish daytime outfit appropriate for visiting garden parties or wandering through streets lighted by the sun, pair it with delicate sandals and a wide-brimmed hat.
Statement jewelry, a purse, and a stylish pair of heels can give a touch of glitz to an evening event. The dress is a blank canvas for your imagination because its simplicity allows you to explore with accessories and other styles.
Black One-Shoulder Maxi Dress
The dress' deep black hue stands out dramatically against all skin tones, giving the entire ensemble a hint of drama and mystery. The dress's bodice's ruched detailing is both striking and attractive.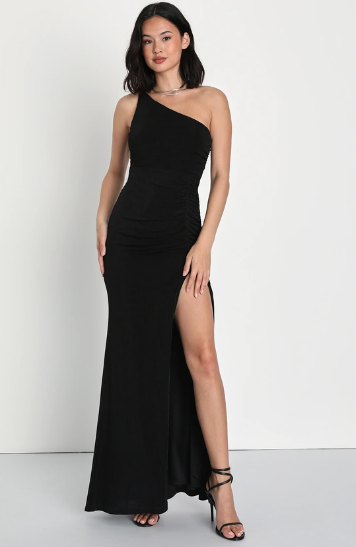 Lulus Especially Breathtaking Black Ruched One-Shoulder Maxi Dress ($78)
Ruching is a method of fabric gathering that emphasizes body curves and has a slimming effect by folding and pleating the fabric.
The maxi length adds a dash of drama and glitz, enabling the wearer to make an impressive entry at any event. This dress is certain to capture the attention of everyone in the room, whether you're gliding across the dance floor or striking a dramatic posture for pictures. This dress is an absolute masterpiece in the world of fashion with its superb design, flattering silhouette, and classic charm.
Black Halter Maxi Dress
The dress's silhouette is in and of itself a piece of art. The halter neckline shapes the shoulders and neck in an elegant frame that is designed to emphasize the feminine form and accentuate every curve.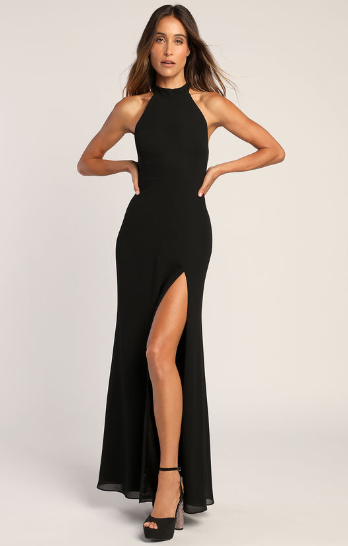 Lulus Captured Your Heart Black Halter Maxi Dress ($89)
The full-length skirt cascades down, gliding softly with each stride, exuding an air of poise and grace evocative of classic Hollywood glitz. The dress enhances the hourglass body and adds a touch of modernity to its traditional style by hugging the waist and drawing it in with a stylish belt.
The halter neckline of the dress elegantly frames the wearer's face, luring attention to her beaming grin and expressive eyes. The open back gives a hint of sensuality and strikes the ideal mix between subdued attraction and demure charm.
Black Strapless Maxi Dress
The dress is a classic shade of black that never goes out of style and oozes mystery and charm.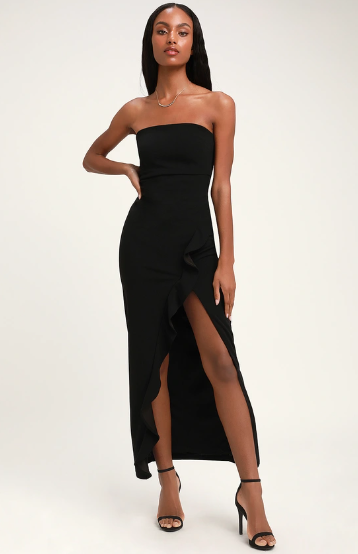 Lulus After Hours Black Strapless Ruffled Maxi Dress ($69)
The outfit is given a hint of sexiness by the strapless neckline, which reveals the wearer's shoulders and collarbones. It is painstakingly cut to fit tightly at the bodice, creating a feminine silhouette that highlights the body's natural curves.
Whether it's a formal cocktail party or a stylish and sophisticated dinner event, this dress' adaptability allows it to shine in a variety of contexts. Any fashion-forward woman's wardrobe will continue to include it as an essential item for years to come because of its timeless style.
Final Words
The long black bridesmaid dress collection from Lulus epitomizes class, style, and affordability—a trinity that any bridal party would be delighted to find. With these outfits, bridesmaids can shine alongside the bride and produce priceless memories and compelling moments on a day that honors friendship and love.
ALSO READ: 6 Must-Have Lulus White Dresses For Your Wardrobe