It's time to take a break from all those bold, metallic, neon, and bright yellow nails as now we are more pleased by nude, muted, and minimal nail designs.
These days we are spotting some of the gorgeous celebrities opting for more elegant nails like white nails with a milky effect to make them more subtle. When we say milky white, it's not only the white nails that come to our minds but the milky makes it a combination between white and nude nails. The milky white nails are a perfect choice for your next manicure if you are looking for a subtle but polished look for yourself.
Milky White Nails To Flaunt This Fall
Let me walk you through some of the most stunning ideas to flaunt Milky White Nails this fall season.
Classic Milky White Nails
What's better than crisp and clean nails? Well this is just the perfect example of classic white nails as they are simple, milky, and they provide just the right amount of shine that a minimal nail design needs.
Milky White French Tips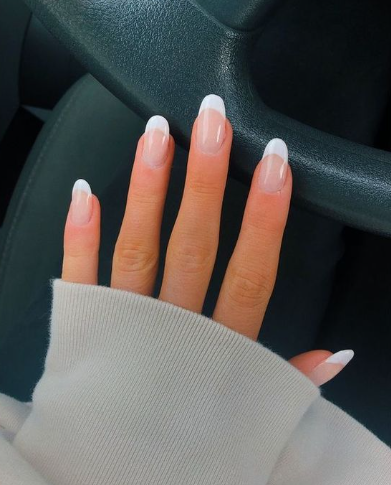 Calling all the french manicure lovers, as this is the most classiest french tips, as they are poppy yet sophisticated enough to flaunt to any occasion. These are really easy to recreate as you just have to go all milky with your whites with this.
Shimmery Milky White Nails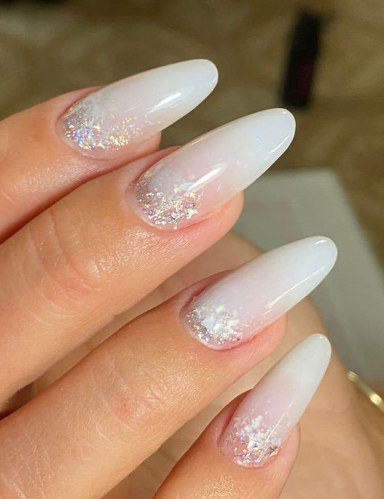 While we gave a makeover to our tips so why not sprinkle some shimmer to our cuticles too? This is just the perfect glitters that our classic milky white nails need to stand out in a minimal way. Too easy to copy as you just have to paint your nails milky white and then sprinkle some glittz to the bottom nail, and give the nails a hint of fancy effect.
Pearls Milky White Nails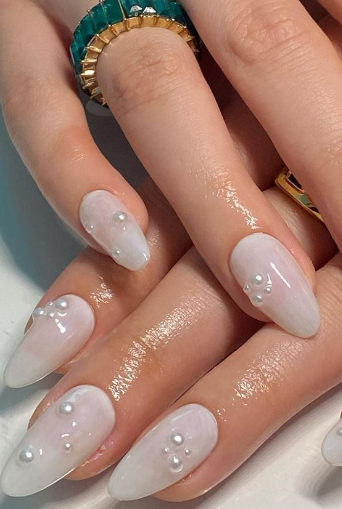 Who doesn't like pearls? From having them as jewelry to adding them to our nails, it has been a stunning detail to everything. This nail inspiration is what you want to give a pearly twist to your simple milky nails.
Chrome Milky White Nails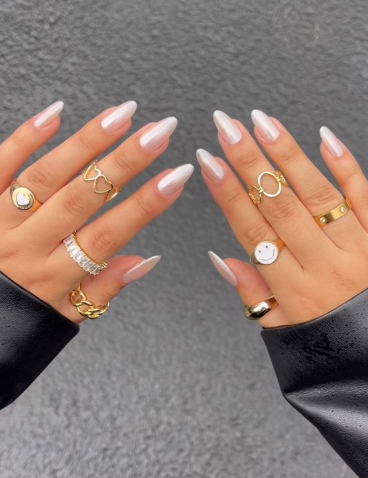 When you are in a mood to skip the time-consuming nail art, go chrome! The chromatic nails are always a stunning vibe to any nail color, and these milky nails are proof of that for sure.These are too simple to recreate on yourself as it's just the top coat you have to add to your simple milky nails to get the look.
Lavender Milky White Nails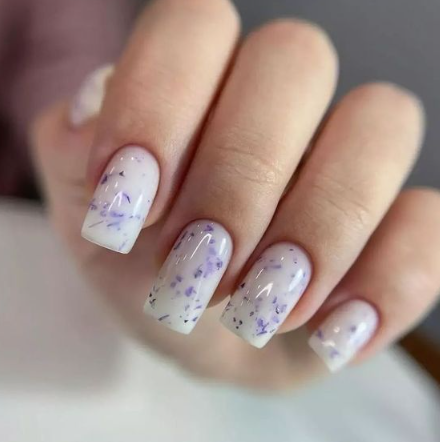 When we hear lavender, what comes to our minds is its soft, relaxing and calming scent that nobody can overlook. Here we are giving milky white nails a whole new vibe to create our own trend. These nails standout from others because of the lavender accents and the soothing color to make our milky nails pop a little more.
Soft Floral Milky White Nails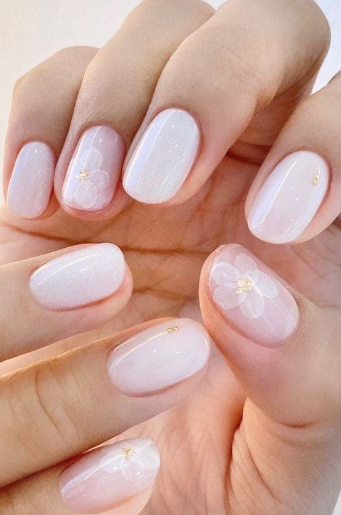 While we can go big on florals, we kept it minimal and stunning here. The minimal patterned white flower outlines are taking the milky white manicure to the field of white lilies for sure. These are a sight for sore eyes, because of its elegant details.
Swirl Milky White Nails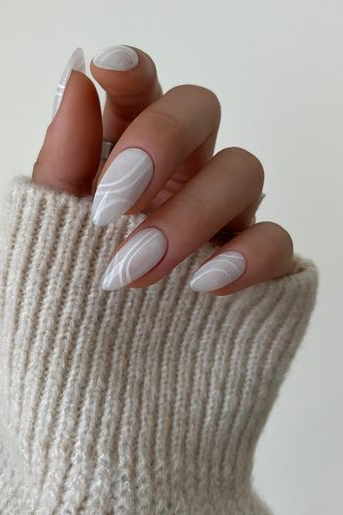 Our nails like to swirl sometimes, right? Well let's give them a perfect inspo to swirl their way into the fall season. These swirly nails are extremely simple and elegant to flaunt to anywhere any time.
Leafy Milky White Nails
As the leaves are falling and flowing, let's make them stay on our nails to make a statement this season. While we are skipping the autumn leaves, here we are opting for minimal white leaves and the outline is perfectly doing the job.
Conclusion
Milky nails trend is in full swing this fall season, and has endless possibilities to flaunt to any occasion. These Milky white nail designs are simple yet have the power to wow someone from a long distance. Stop waiting and go big on the milky nails trend with these top picks of our and make a statement when you go for your next manicure.