The love for the fall season that we have in our hearts is never-ending. With these Chill breezes, freezing noses, and frosty arms we joyfully spend our favorite season.
Thanks to all fashion designers and beauty enthusiasts to make our every season memorable and fun! So what has fall got for us? Although there are numerous latest fashion trends that I want to make you aware of, on your demand, we have come up with seven easiest yet stylish nail ideas.
7 Simple Fall Nail Designs To Rock This Season
We understand it's not always convenient to find the ideal nail designs and manicure that suits your style and taste but I am sure all seven of them will.
Dramatic Black Manicure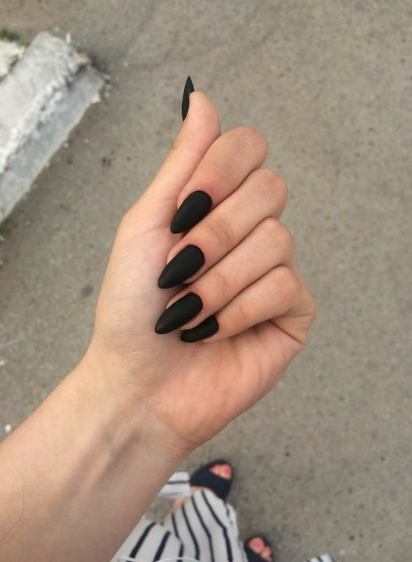 Who cares about gory details? Shiny black nail paint on all your nails is enough to make a statement. No matter the event is casual or formal, in both situations, you will rock the black nail design look. Even if you are heading toward your office, you won't have to worry about removing the nail paint. It helps create a daring look and is enough to give a dominating look to the person in front of you.
Minimalistic Look With Orange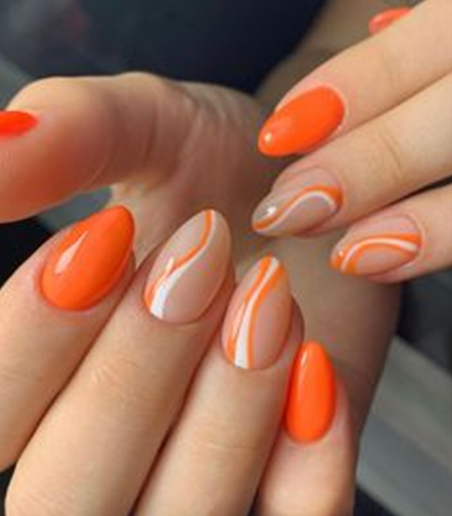 How about painting your nails with burnt orange? It immediately clicks in your mind and reminds you of the falling leaves. This nail polish color will perfectly give you the fall-season vibes. It is your choice if you want to keep it simple or want to add some details.
You can paint your nails entirely with burnt orange and glide over a clear base to give a glossy look and make it last longer. If you want, you can add details such as geometric patterns, or white floral prints. Remember details should be minimal so that the charm of burnt orange remains intact.
Swirly Nail Art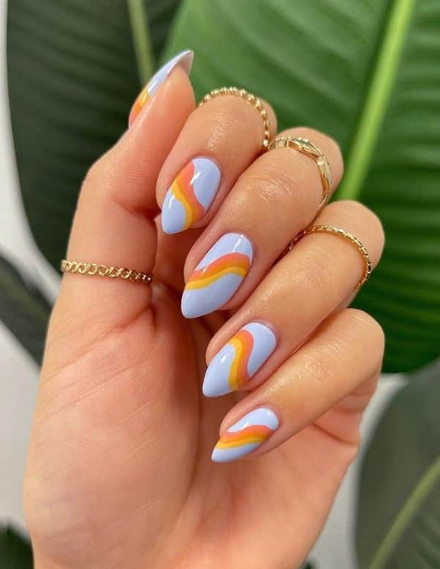 You can never go wrong on swirls if you want to create a stylish yet elegant nail art design. To keep it elegant, set the base with a nude shade or subtle pink and top it off with a glossy coat. After it gets dry, make swirls with contrasting shades that complement each other.
You may create a beautiful contrast by designing one swirl with a vibrant shade and the other one with white nail paint. Lock the design by gliding over the glossy coat. Although I am not a big fan of details, this elegant design has my heart!
Timeless White French Manicure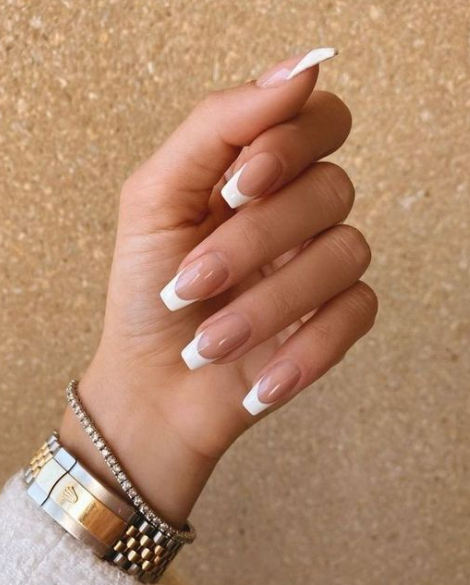 Sometimes, I only need my nails to look clean and beautiful without painting them but, couldn't achieve that kind of texture. Thanks to the white French manicure for existing!
This is the best way to make your nails look natural, shiny, and attractive by gliding over a transparent shade over your nails. Within no time, you can effortlessly achieve a natural that can, make your nail game reach a higher level.
Animal-Themed Nails
We have introduced this design for people who love to go for different themes and they are never afraid of experiments. You do not need to cover your nails completely with an animal print.
The other elegant and simple way to go for it is by opting for a nude shade or a subtle pink shade to cover one-half of your nails. While the other half can be covered with your favorite animal print.
Halloween-Appropriate Red Nails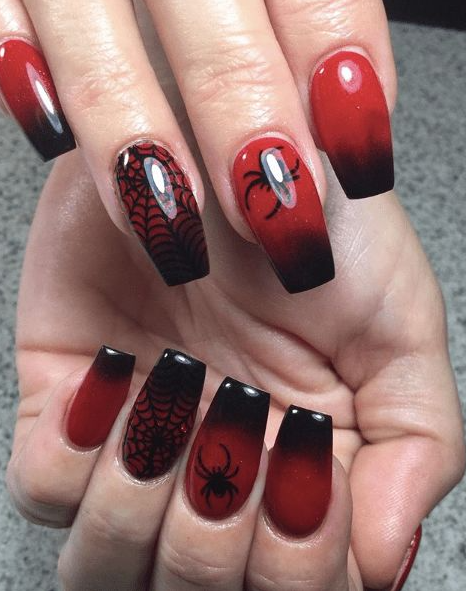 Are you excited about Halloween and finding the perfect way to make a statement on Halloween night? I have got you! Make the Halloween night exciting by creating a bold look with Halloween-appropriate red nails.
Opt for white nail paint to create a base and then create a design with red nail color that perfectly executes the Halloween vibes. To keep it simple, make the design either on the edges or on the tips only.
Coffee-Brown Nails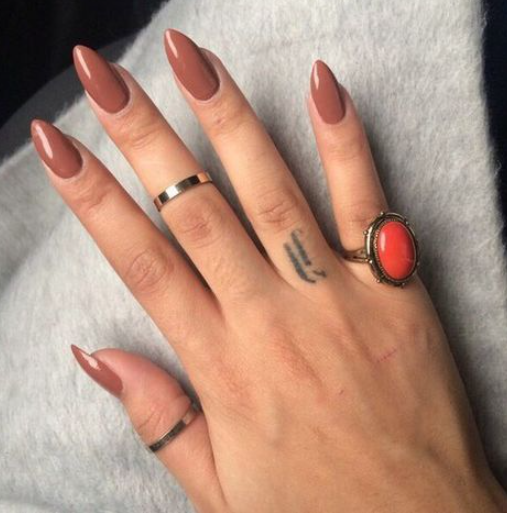 Latte makeup has become very popular as the perfectly nice and beautiful makeup trend to take our faces from summer glow to cozy winter glow. We want to make it a part of our nails as well for creating a trendy look. This fall is all about sophisticated dark colors.
You can give a sense of sophistication and coziness with a dark chocolate brown manicure that will perfectly execute the vibes of fall. Imagine you have a cup of coffee in your hands and your nail color is the same as your delicious coffee. I know it's very exciting, so do not just imagine, go for it!
Conclusion
Change in season brings an opportunity to show your creative side and express yourself with trendy makeup, outfits, and nail art. These simple fall nail designs perfectly and elegantly exude the cozy vibes of the fall season. These designs will help make a statement not just for daily cozy fall days but also for making your Halloween party exciting.
You have got the perfect time of the year to show off your personality and keep up with the current trends when the weather cools and the leaves begin to change. Are you still here? Go and get your favorite manicure done!